Our support team is always happy to help, but the answer maybe easy to obtain.
Here are a few helpful tips to check before hitting the submit ticket button. 
Knowledge base
We are constantly working on improving our Online Knowledge base. Have a look into the articles to see if the issue has been flagged. Understanding user access and roles is a common issue. If you need any extra help then let us know and we can provide simple cheat sheets for your users.
Green boxes are for administrator comments.
Yellow is for general tips and tricks
Knowledge base help
The online help is built into the question mark icon, in the quick links toolbar. 
Click on the help icon, and the following options appear. You can access the knowledge base from, or if you are subscribed to our support channel, then you can submit tickets directly from here. If you access the help whilst looking at a certain function (i.e. Announcements page), then the interactive search will produce articles linked to that specific function.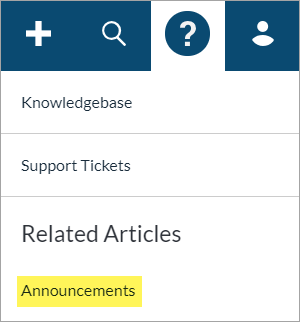 Previous versions, will have to access the knowledge base and enter the menu header title, and functionality into the search bar. (i.e Administer announcements). You will be presented with a list of related articles. Submitting tickets is done via the Help menu header, and clicking on Support Menu headers.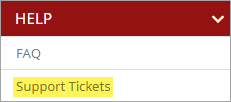 The FAQ section is no longer supported.
Understanding what a bug is
The system has an intended behaviour, and when something doesn't work as intended then we class this a bug. A bug is when the behaviour is out of the ordinary or wrong. For example if the grade report is not picking up the correct scores from a students grade grid, then this would be classed as a bug.
If User is not receiving an announcement, then you first need to check to which group the announcement was sent, then make sure the user is connected to that group, and has not unchecked the receive announcements feature in their profile. If you have checked this, and appears normal, then our back end team can class this as a bug.
Missing features
We are always open to discuss new ideas, and functionalities, let us know by posting the requests on the knowledge base. Understandably, we cannot always accommodate all requests, and we do have a pipeline with lots of new features, and new version updates. 
Administrators
If you are user of MySchool and have a question, then start by asking the local administrator within the school. This should be your first step. They may be able to help you with the feature. If it is something which is out of their control, then they will be able to open a ticket with our Support team.