MySchool school management is designed for all the staff members to be able to access the relevant modules and functionalities they need on a daily basis. with our user groups, schools can create interfaces for all of their community. let's have a look at the basic staff user groups. For more, a more advanced understanding then check out this article.
How do I create a new staff profile?
All staff members are created as users, so for super users with the correct rights, you create user profiles with the quick actions create button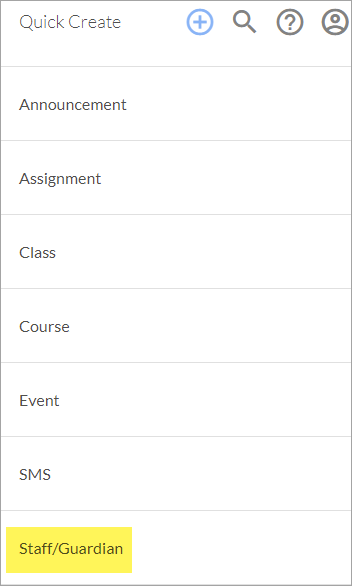 After completing the fields on the particulars tab, all staff members should have a valid primary email. Otherwise, they will be unable to log into the MySchool portal. The next step is to go to the employment tab and set them as an 'active employee' in edit mode. Assign them to the appropriate school levels, and then save.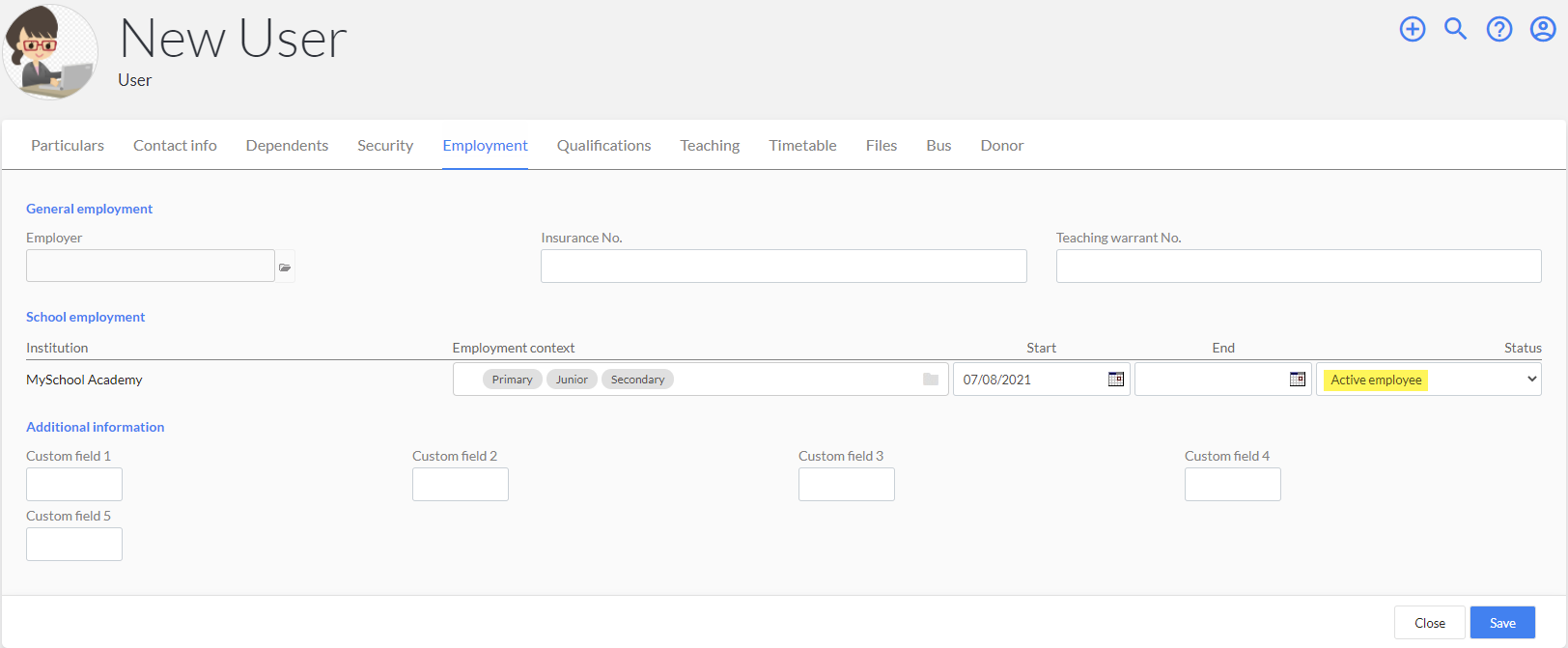 When the profile is saved, you will notice that the user changes to a staff member. They now have access to the staff user group. on default MySchool, which gives access to the portal and announcements. No other functionality is attached to this user group normally.

Inherent roles
In MySchool we have two main user group categories in MySchool. The first and most common is known as an inherent group, and the second is a fixed-member group.
The inherent groups are system defaults, and membership is acquired by enrolment or employment. These groups are :
1. Staff - Inherited by making the user an employee
2. Course Teacher - Inherited by assigning the user as the primary/secondary teacher within an active course
3. Class Teacher - Enrol the user as a class Teacher in any active class. They will inherit the class Teacher user group permissions.
4. Mentor - If a user is assigned to a signal student in their teaching tab, then they will inherit the Mentor user group rights.
Fixed member groups
Fixed member groups are designed for specific operational needs. The super user and administrator groups are created as default, but we can help you amend their viewing rights whenever you need them. For a list of the modules available on MySchool then check out this article. This will help you determine what the user groups should access.
Here are a few examples of what fixed groups can be created;
1. Admin/Superuser
We strongly advise that you maintain a super user group with limited membership. This group will be able to control system settings and maintain the MySchool infrastructure. They should have access to all areas and be the point of control for year and term management.
The administrator group can have reduced access but still be able to maintain the data within your system, so access to profiles and enrolment is key for them. They should have the right to change the infrastructure.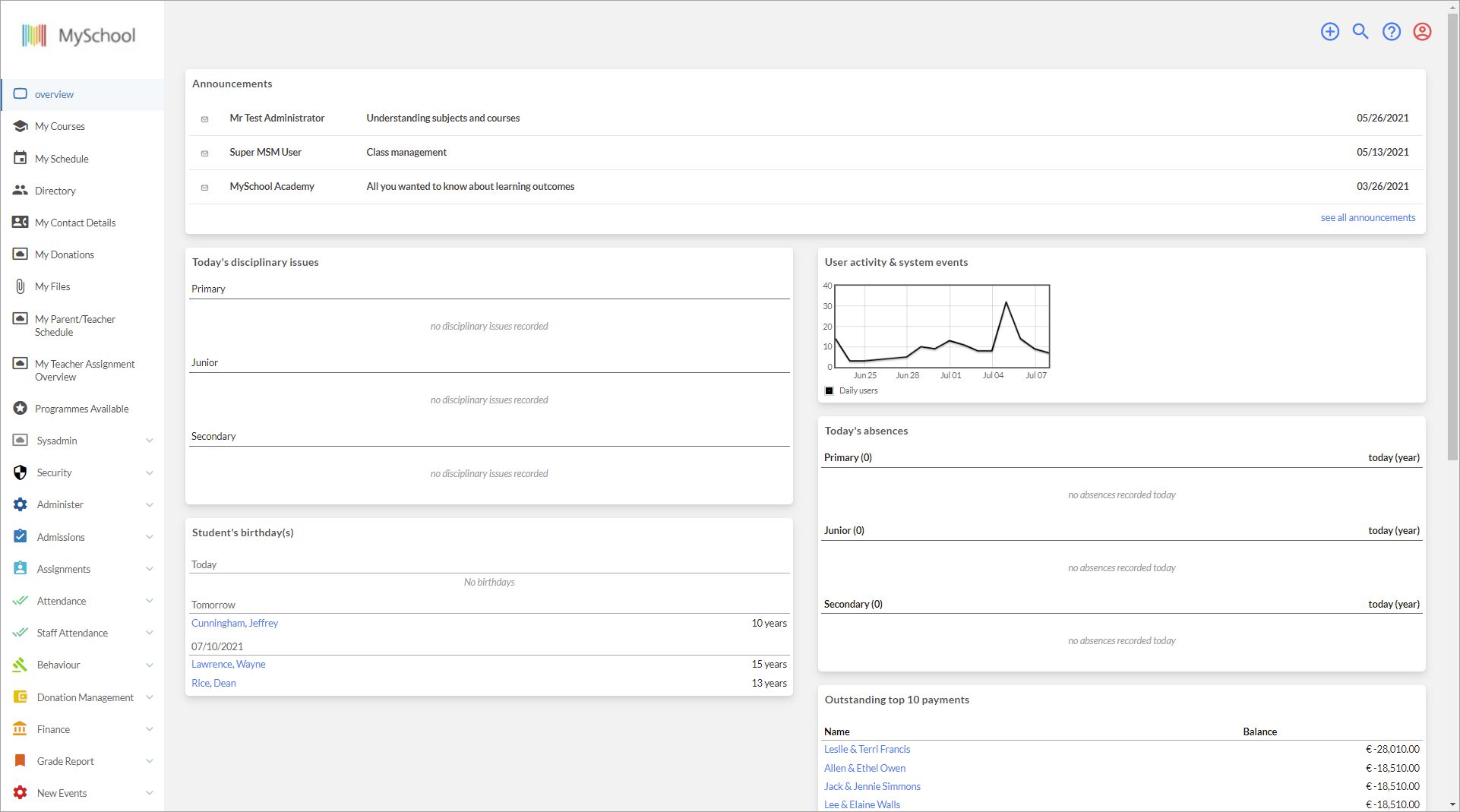 2. Finance
The finance team will not need access to attendance, assignments, or grade reports, and would only need to see a few of the tabs of user and student profiles. This can be set up for them to only have access to Finance, Donations, and profiles for example.

3. Admissions team
The admissions team will not need to have access to any system configuration, assessments, attendance, and possibly not finance options. They would be able to manage enrolment, and admissions modules, but also have access to the contact details for students and users.

4. School nurse/medical team
In certain schools, you may wish to create a fixed group for your onsite medical responders. So that they can access the student health tab and guardian contact details. We can extract the medical reports from the data report section and allow them access to these if needed.
FAQs about staff and their user groups
Administrators must be aware that although the system is flexible, and can be adapted, it still has security limitations. If you wish to create new user groups, then start by preparing an access tree, who should have access to what functionality. Organise this internally then arrange a call with your CSM for further guidance.
Can a staff user be a member of both inherent and fixed member groups
Yes, all staff users can have a mix of group memberships
I have placed the user in the user group, but they still can't access the functionality, why?
Remember to set the context in either the security tab in their profile or the members' tab in user groups.
If an employee leaves and then returns how do I go about reinstating this?
When an employee leaves, you have to set them to a past employee in their employment tab. You will need to manually remove them from the fixed member groups. Don't forget to set them as archived in the security tab. Once they are archived then they should not be able to access the system. When you need to reinstate them then simply place them in current classes or courses if they are teachers. Reactivate them as active employees. They would need to be replaced in their fixed member groups again.
Certain Teachers should have access to more information than others, is this possible?
For inherent groups 9Teachers, mentors for example) then we would have to look at the request in detail. It is not possible to split an inherent group, but we may be able to help with an SQL-based group or create a fixed member group with advanced access.
The group has access to functionality, but still, the member cannot see it on their interface, what is wrong?
Certain reports or functionalities are set at a school level, such as term or year management for example. If the member has been given only access to the school level and not the full school then this may block them from using this. Talk to our support team about the needs, and we can help advise you on the correct settings.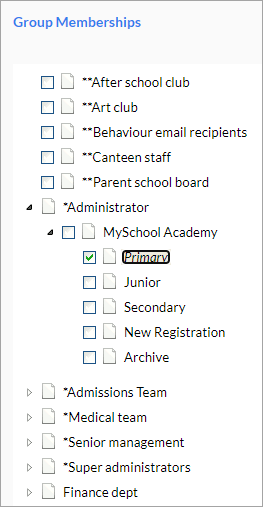 I can't see the Teacher's group in the security matrix, Help!
This role is classed as being inherent. The Teacher's user group does not show here, the same as guardians, staff and students. Add them to a course or a class for them to be classed as a Teacher.
All I can see is a green tick next to the groups. Why can't I see the school levels?

These are distribution groups used in announcements mainly. There is no security context. In edit mode, you can check the box to include the user in these groups.