MySchool has a quick and easy way to add the Parents/Guardians to a student profile and create a User profile for them. These are classed as contacts, or Parents/guardians. A User becomes a Parent/Guardian when they are attached to a Student record.
How to add a Guardian contact
From an existing student profile, open the Contact tab in Edit mode.

As we explained guardians, parents, friends or close relatives can be added to the student record, these are called contacts. Pick contact is used when the guardian has an existing profile in MySchool. A search field will appear and you can find a user by typing in the first few letters of their first name or family name for individuals. A new contact is used to create a new profile. A slide over will appear for you to create the profile. They require the same details as usual i.e Name, Surname, relationship to the student, and primary email).
Once you have a full list of contacts you can start to build the household.
Step 1. Create a household contact (optional)
You can create a family contact known as a household. Hit new contact and on the particulars tab where you enter the names, choose household as a type instead of user.

Use a generic family name for the household. This will be used for labels, invoices and communications.
Step 2. Add the household address and primary email for announcement purposes.
Open the contact info tab and enter the main email address that should be used. Note that the primary mail still needs to be unique, so it cannot be duplicated in an individual profile.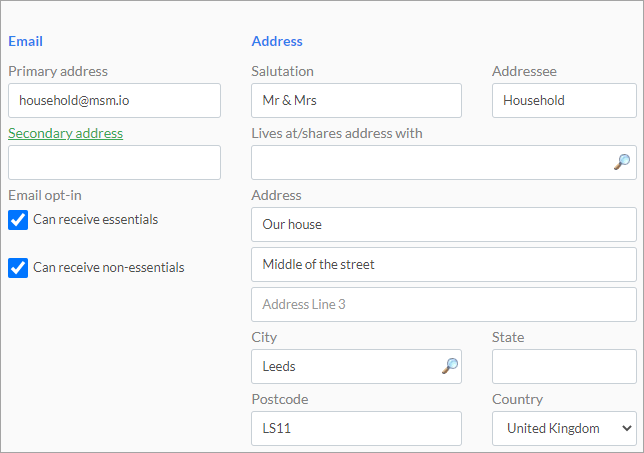 Step 3. Add relationship type 'Parents'.
Once the household has been added, you need to validate the relationship type and choose 'parents'.
Now when sending announcements users can select guardians>Parents and send mails to the household account instead.
Step 4. Share the address.
Now save the new household and start to share its address amongst the members. Choose the household contact from the drop-down in the list available in Lives at/shares address with.

You can also share addresses between individual users if both parents live separately.
The household contact is still controlled by the permissions (inv/main/emer/per/pick). So if you would like to invoice the households then they must be set as the invoice payer. If Permission or access is granted then the household can log in as a normal user using the primary email and password for that account.

Top tip: Remove permission/access from the individual parents if you wish for them to use the household contact to connect to their guardian portal. This will stop individual parents from logging in with the non-household address.