Your MySchool instance or system is designed on various levels. This helps you manage your data, and also allows you to control your user-level access. it also makes data storage easier for reports and filters.
A normal K-12 set-up starts with a school. The MySchool system is scalable and can manage districts (colleges) and multi-school setups as well.
The default single school (k-12) is;
The academic structure is created using subjects, and courses. These are applied at a class level.
School Management
An easy way to think of the system would be like a Matryoshka doll. Each level has its own hierarchy, and this hierarchy is important for a classical progression from Kinder to Graduation. It also gives context for security access.
School levels
A default vanilla MySchool instance comes with three main active levels. It will also include the system-generated Not processed and Archive levels.
During onboarding, we will work with you to build the structure of your school. As we said, it is scalable, but it is important to note that the configuration must be confirmed before you start entering data. Changes to names can be done at any time, but it would affect all historic reports in the system.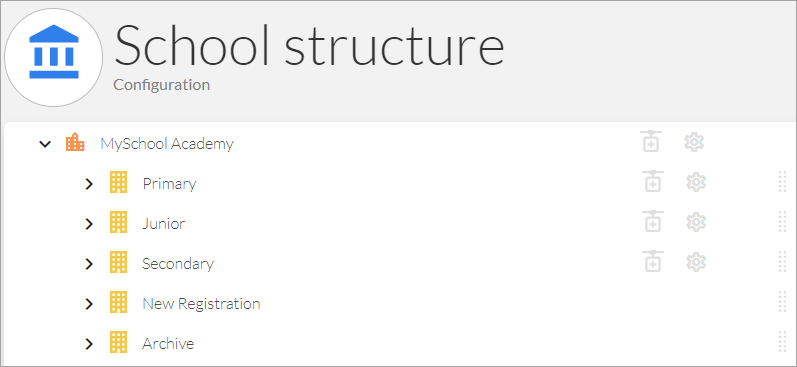 The most common school levels are Kindergarten, Primary, Junior, Secondary and post-secondary.
When setting staff employment, users are given a security context for access. For e.g., User A has access to the primary school level only, whereas User B can have access to all of the school levels. Administrators would also be given access to the New registration, and Archive levels as well.
New registration and Archived are system default school levels.
School levels are not mandatory and your institute can operate with just one. This is common for our Higher education clients. Talk with your CSM for advice during onboarding.
Class levels (Grades/Years)
Class levels (or at times called year groups, forms or grades) are the levels to which students are attached normally for a scholastic year. Once the year has ended they will then be promoted to the next level until they reach graduation.
Many of our features and functionalities are configurable to this level. Timetables, assessments and report cards can be customised so that your Grade 1's have a different set-up to your Grade 12s.
The above pages will not be accessible to super users. If you wish to discuss any configuration issues then request a call with your CSM.
Class
Not a level as such but a class is mandatory for your MySchool students to be grouped within a class level. You can split your students into smaller groups, homeroom groups, or for subject/language specialisations.
All students must be enrolled in a class for them to be considered students within your MySchool system.
You can have 1 class per class level or as many as you want.
The default system setup requires that a student has an active enrolment in only one class. This can be changed if needed.
Attendance can be configured for a class. Normally used in Kinder/Primary school levels.
be creative with your class names, there are no restrictions!
Academic structure
To help organise the academic structure, MySchool has a hierarchy of subjects, and courses. Subjects are vital for assessments, and in order to follow a subject during the scholastic, the students are enrolled in a course.
The subjects are set at the class level. Each subject has its own specifications and assessment criteria.
Courses are the lessons themselves. Students are enrolled on a subject via a course. Courses can be attached to subjects outside of their appropriate class levels, maybe for advanced students, or for specialist subjects that might be shared across different class levels. Please raise a call with your CRM to discuss this if needed.
Examples of academic structure
In your MySchool instance, we advise first to create subjects. Your subjects are not attached to a scholastic year, and any changes made to the settings will apply to historic or future subjects. If you need to change anything on a subject level. it is advisable to archive the historic subject and create a new one.
Have a look at this example to understand the concept of Subjects and courses. An educator who is responsible for primary school level mathematics (grades 1-4 for example). Even if the assessment criteria are similar, the curriculum would be different, so you would have 4 maths subjects. Then the educator gives a lesson on a Monday morning to half of your grade 1 students, and in the afternoon they are scheduled to give a maths lesson to the other half. The students would then need to be split into two courses as the example shows. You can name the courses as you wish, and may even follow the same conventions as your classes for example in Maths 3, students from class 3A will follow Maths 3A courses.
| | |
| --- | --- |
| Subject | Course |
| Maths 1 | Maths 1.AM, Maths 1.PM |
| Maths 2 | Maths 2.red Maths 2.blue |
| Maths 3 | Maths 3A, Maths 3B |
| Maths 4 | Math 4 |
Another example is the English curriculum for your secondary school level. The student in grades 10-11 would have different subjects for language and literature. As the subjects would have separate assessment criteria. There may also be subjects for creative writing or classical literature.
| | |
| --- | --- |
| Subject | Course |
| English Lit 10 | English Lit 10.A |
| English Lang 10 | English Lang 10.A |
| English Lit 11 | English Lit 11.A |
| English Lang 11 | English Lang 11.A |
Promotion management
At the end of each school year, you will go through the rollover process, this means that new classes, new courses, timetables, terms, and assessments need to be built for the next scholastic year. Your school configuration is important so that the system can be designed to progress your students from Kinder right through to grade 12. It is a classical linear progression, but it can help save time when setting things up. Especially for the younger students who will follow a classic progression from Yr1 Maths to Yr 8 Maths for example. Unless they double a year or follow an advanced path, you set up their promotion through your levels.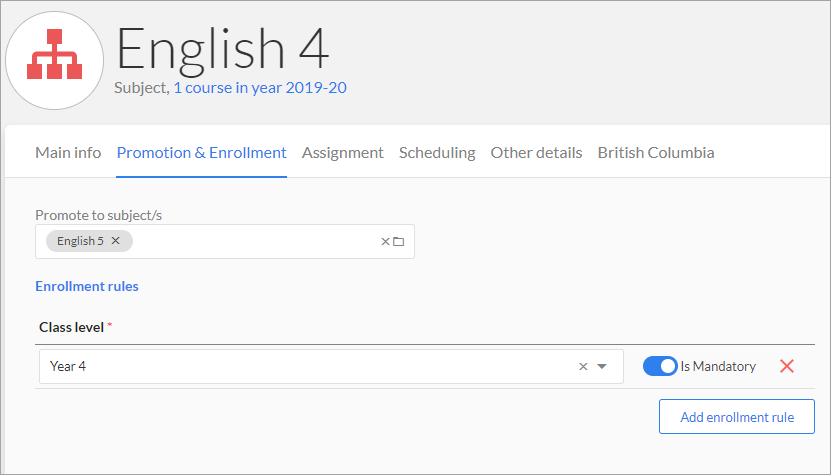 Inside your subjects, you can determine that all students following the subject English 4, will be promoted to English 5 at rollover. With our student subject selector enabled, students moving into grade 4 class level, must follow English 4 and it is not an elective.