MySchool is designed for your whole community, and guardians and family access is key to driving online engagement with many of our modules. Guardians can easily access live information regarding their dependants progress, schedule, assessments and attendance amongst others.
Where can you check the access rights
In a student profile, this is shown on their contact tab. This is shown in a relationship table.

Inside a user profile this can be found inversely in the dependants tab, where the students to which the user has a relationship are listed.

What types of relationship are available?
The system has a comprehensive list of default relationships already installed. It also offers edit rights to configure existing or add new ones suited to your communities needs.
In edit mode on a student profile, super users will see edit near the relationship column header.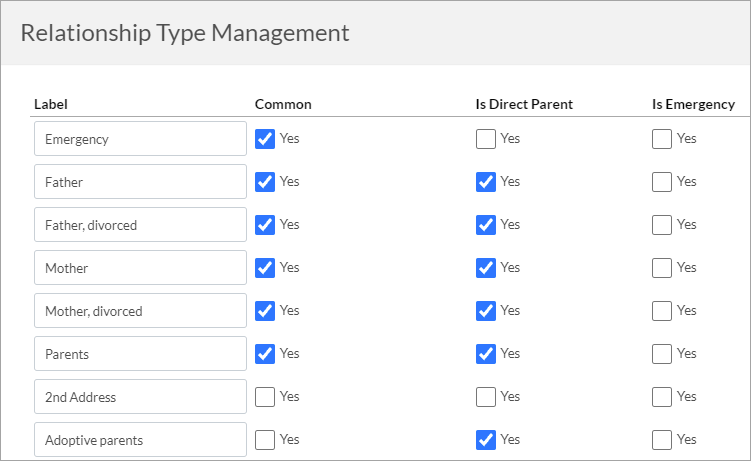 Common - Means that the relationship type will be set in the top part of the list for easy access when creating relationships manually.
Is Direct Parent - Can be translated as is main.
Is Emergency - Means the relationship type will populate emergency reports.
Please note that if you modify an existing relationship type, and this is in use, then ALL users with this relationship type will be affected by the change. e.g. If an aunt is needed to be added as a main guardian to one student, then ALL Aunt's in the system will become main guardians. Talk to your CSM before making changes here so as to fully understand the consequences attached.
What do the access settings mean?

Invoice payer (Inv.)
This is assigned to one guardian who will receive the invoice if your school uses the our finance module. On certain network systems, this is a mandatory fields.
Main
This designates a main guardian, the student can have multiple main guardians. This is also classed as a Direct Parent. Guardians who are classed as main can answer questionnaires, and permissions. One of the main uses is also to reduce communications, and SMS numbers. By selecting main guardians then schools can reduce their contact lists, but still ensure at least one guardian has been contacted.
Emergency (Emer.)
This will designate the guardian in the emergency contact reports available in the data report section.
Permission/Access (Per.)
This is the most important access right. It allows the guardian to access the portal and view their dependants information. On a guardian profile you will notice the label changing to Access.
Pick up (Pick)
Designates if the guardian has the right to pick the child up from school. It can be exported in quick reports.
Points to remember about guardian access
A guardian is a user who is attached to student profile via a relationship. You can add guardians to a student profile in edit mode, new or pick existing contact from your user list.
For the guardian to access the portal, the student must be in an active class, and they must have the perm/acc ticked.
A guardian can access multiple student dependants using the drop down options on the guardian portal.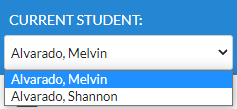 Any amount of guardians can be attached to a student profile. However, try to determine if it is needed to have a long contact list. It may complicate the issue of reporting and communications. Consider using the contact comment field instead.
What if....?
The parents are separated?
The permissions remain the same, and from a system perspective, a student can live only at one address. In case of access to information or payment, we advise the school to liaise with the guardians directly. A sole invoice payer is allowed for them moment. Any payment should be resolved between the family and the school. Certain functionalities are only available to main guardians, however, they cannot be equally accorded.
We really want all the family to be listed, can we do this?
Yes of course you can, there is no limit to the amount of contacts. You must take into consideration that if you ever send an announcement to ALL guardians, then this is sent to guardians with permission/access ticked. Think about how this will affect your communication strategy. Also iif the contacts have been added with no email, then the system will still go through the process of checking and sending. Large contact lists can cause slow down in sending. Don't forget the more data you have, means the more data you have to manage!
The guardian logs in but has a blank screen or just the announcement inbox, Why?
Have a look at this article explaining context. A guardian can get disassociated with the student profile. This means you will not find them in super search either. they can still log in and are still active, but the system doesn't know what to show them.
Top tip: When a guardian has no parent portal functionality but can still log in, then use advanced search to find their profile. You will see under the name that it will not show 'Guardian'. Simply add the connected dependent student to their profile. They will then regain context as a guardian and have access.

It can also happen that the student becomes non active, which means that they are no longer enrolled in one of your classes for this year. In this case, find the student using advanced search, and re-enrol them in an active class.