Donation management is used to create, manage and promote donation drives. Here you'll be able to track multiple campaigns, campaign donors, communication and donation amounts. The function has features which enable you to produce audit reports to keep track of different events. 
Menu Details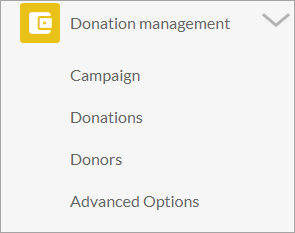 Campaign creates and stores campaigns, Donations manages the financial aspects involved from a school administrators point of view. Donors integrates existing users who wish to donate into the system, but also allows external donors to be stored. In the advanced options, MySchool lists the possible donation types, which can be configured. 
Campaign
Create campaigns for different events or target audience. Tracks donations against a target amount. Automatically tracks dates and times of the campaign. Can also be used to track non monetary charity events. Messaging templates to contact a wide range of donors managed via the system. Everything can be exported to excel.
Donations
Each donation is accorded a receipt number for audit purposes, and these cannot be deleted from the system to ensure complete transparency. A system is in place to void the payments for audit purpose. Filtered lists to track donors by name, campaign, and amount. Personalised messages are handled automatically by the system. History management of each donation which logs user actions. 
Donors
We understand that managing donors during a campaign is tricky, making sure that everyone has been contacted, thanked, and given receipts can be a challenge. Having the donor management system integrated into user profiles, enables MySchool to assist your teams in their admin duties. Understanding the progression from prospect, donor, inactive, or not interested is explained in this section.
Donor event type
In the Advanced options, Administrators can add the source of the donation to be able to direct their campaigns to be as successful as they can.