As an Administrator or staff with front desk responsibilities, we provide an administrator feature in order to complete attendance records in bulk. The Attendance Administration function enables updates to be made for a single student on multiple days, or multiple students on a single day. Have a look at this video which shows an example of the feature.
How to access
You need to have Attendance Administrator as a role to be able to access this feature, with the relevant permissions.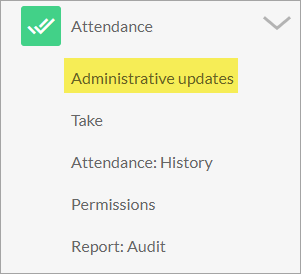 The following screen appears with the options to create a bulk report.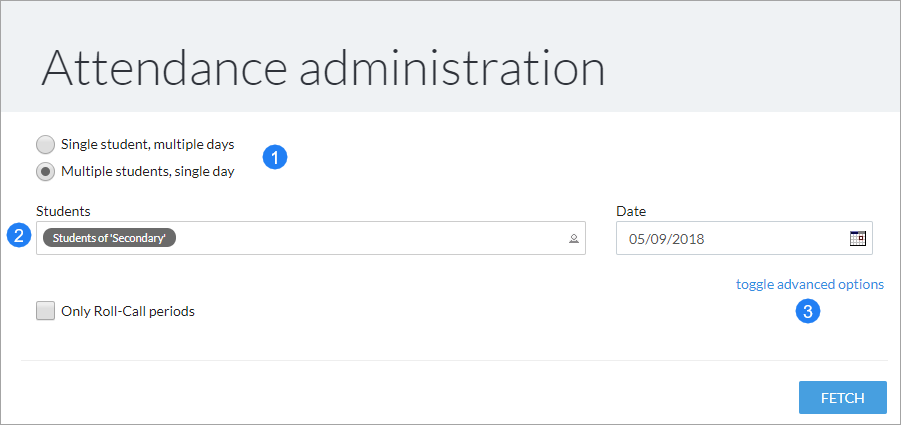 1. Single/Multiple
Select either option, with Single student, the search field will have a magnifying glass and you can enter the first three letters of their name. If Multiple students are selected then the people picker will give the options of the classes within the school levels.
2. Students/Date
Select the target population for the report, and the date. It can be reduced to class level if needed.
3. Advanced Options
The report will list all the periods scheduled for that day, depending on how you have configured the timetable, the report will only select the defined roll call periods.
Admin update
The report below is selected for a student over a period of 2 days. Each period has been set as a roll call, so all need to be updated.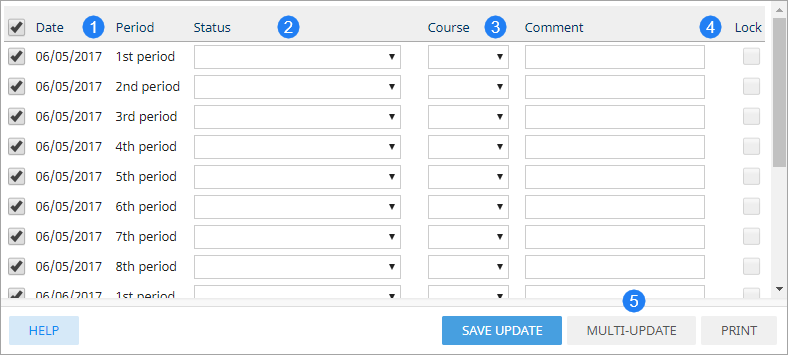 1. Date/Period
Shows the dates that have been selected, and the roll call periods.
2. Status
Allows the user to select the Attendance status. This can be configured to your schools requirements.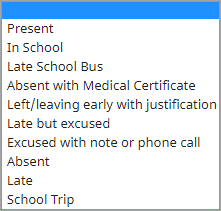 3. Course
Here the Administrator can select the course for which they need to update the students attendance.
4. Lock
In cases where the student has sent an excused certificate to the Admin office, the entry can be locked from here, so that there is no possibility of override on the Take Attendance screen.
5. Multi Update
This allows an Administrator to enter one status for all the selected periods. In the case that a long medical certificate has been received, it enables a quick update to entered and locked. 
Attendance administrators
In order to use the feature, the User must be classed as Attendance Admin within their User group. Depending on how your school is set up, a user group can be created for front office staff who may have reception duties, to update these records. 
In many countries, government bodies or Educational Authorities may require official reports concerning attendance. Contact our Support team to discuss your needs. 
One of the key notes is to include the admin attendance updates into your process and policies.