MySchool is based on your feedback, and our team is available to help School Administrators get the most out of the application. If you have any questions or find any bugs then let us know. Have a look at this video explaining how to submit a ticket.
How to open the support page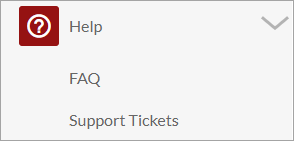 In the menu headers, go to the bottom and open the Help function. There are two options, FAQ, which will provide screen tips and links to the knowledge article, and Support Tickets which brings you to our Help Center log in.
You should have received a Welcome mail as part of the on boarding process.
If you have not received a mail, and are classed as Administrator for your school, then contact us via the online web form.
Submitting a ticket
To Submit a ticket click the Submit a request link at the top of the Help Center page. there are mandatory fields for the ticket.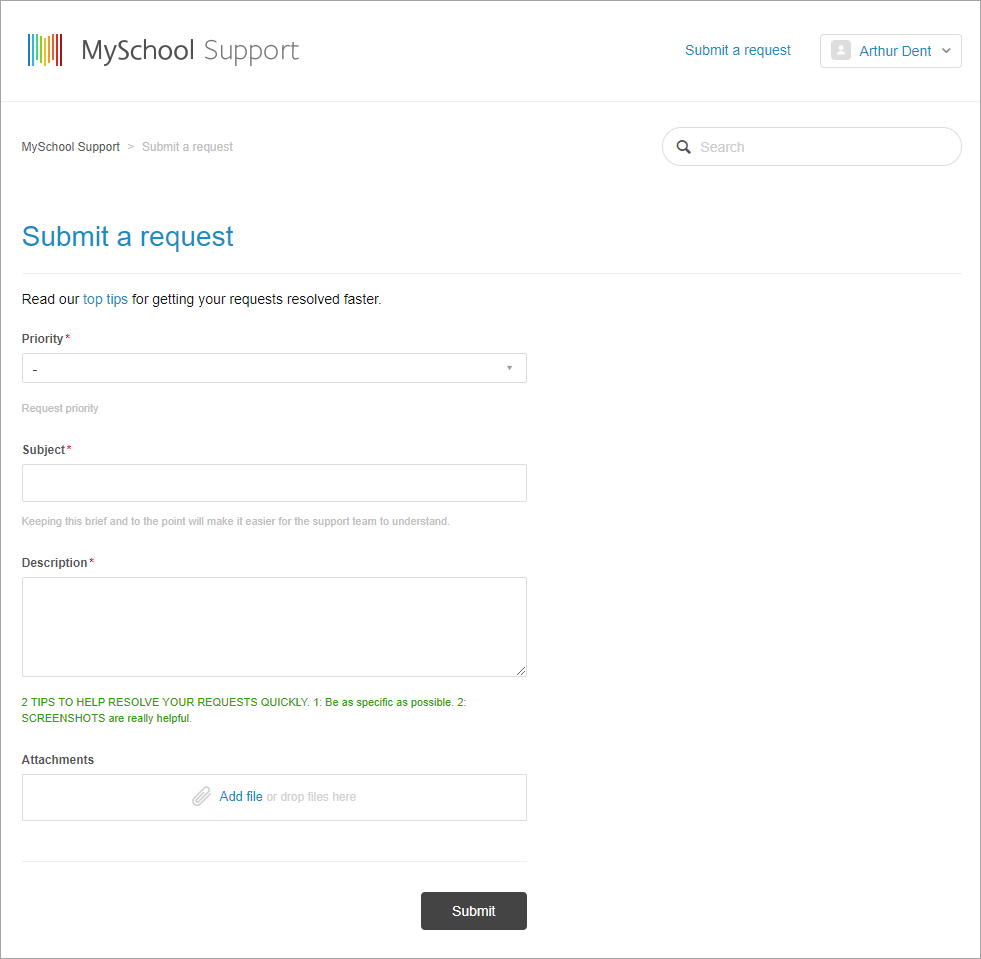 Please note the priority is important for our Teams, please use the Urgent priority in cases of total breakdown, or missed official deadlines. We will not forgot about you whatever the priority.
In the subject field, start by entering the menu header title of the problem (Administer/Admissions/Attendance etc) or the feature which covers your question. This will help the system propose articles in relation to your problem.
In the description, be as clear as possible. Our team loves to communicate with you, but we still have to break this down for the back end team. Use bullet points, explain the steps you were trying to take, and include screenshots. The ticket submission form asks you to look at this article.
Add files if the problem is in relation to a report, or if you would like us to look at uploading a large data set.
Managing your tickets
Click your name at the top of the help center and choose My activities to view and manage all your tickets. Click on the ticket title to open it.
Each ticket has a status associated with it:
 Request that are currently being worked on by MySchool

 Requests where MySchool is waiting for a reply from you

 Requests considered solved
They can be filtered by status, so that the list shows only open tickets if needed.
Marking a ticket as complete
When you are happy the issue is resolved, along with your last reply, tick the checkbox Please consider this request solved. This helps us keep the channel clear for your next request.
The checkbox is only visible when you put the cursor in the comment box. If you solve the ticket, then you can reopen the issue if needed. if we close the ticket then you will have a create a new one if the problem reoccurs.

Related articles