Comment templates are used by Educators who need to enter a specific text format, or give generic feedback to multiple students. It can be personalised with the student name and adaptive pronouns, using the replacement tags.
How to access
Go the Grade report menu header, and select comment template from the list. This is available for course or class Teachers.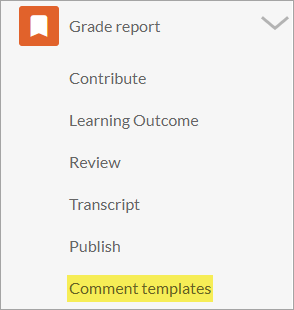 Organising the templates
The screen is a list of saved templates. These are classed under general headings. Conclusion, General, Introduction, Knowledge, Suggestion.

These help to organise your comments. Click on NEW TEMPLATE to open the create screen.
Note that saved comments are controlled by security access, and will not be visible by other users unless they are made public. The template select options are only applicable in rich text assessment fields, and the overview panel in the review page.
Creating new templates

1. Type/Description
Select which list tab the template will appear under. The description is the title of the template
2. Subject/Is Public
Templates can be made for all subjects, or subject specific. If you do choose a subject then you must create separate templates for each relevant subject. Leave the subject field empty if you would like the template to be available across all subjects in the assess/review pages.
3. Content

Enter the body of the comment into the box. If you are copying from another software, then don't forget to clear the formatting. The replacement tags make the message personal and allows Educators to use formatted comments, but with adaptive pronouns and names. Open the replacement tab drop down to see the options. Click on the option to add it to your text. Please do not manually edit the Tag format.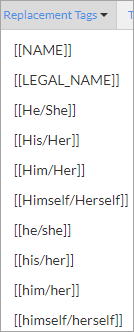 Entering templates into the comments
To see how templates work then go to Grade reports, and select Review. In the overview section or any any rich text assessment field, the option to add a template will appear. Click to add this as a comment, and the adaptive pronouns will pick up from the gender field within the students profile.