If you require comments to conform to certain phrases or language styles, then building Comment templates is the ideal way to make grade reporting simple. It is also a quick way to fill out general overview sections for large numbers of student populations. With automated tags, the student name will be filled and personal pronouns adapted to the students sex. 
How to access
Go the Grade report menu header, and select comment template from the list. This is available for Teachers in their default set up.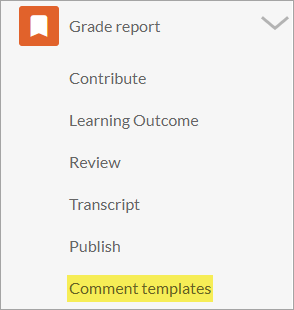 Organising the templates
The first screen is a list of saved templates. These are classed under general headings. Conclusion, General, Introduction, Knowledge, Suggestion. 

These help to organise the comments when adding in the review box. Click on NEW TEMPLATE to open the create screen.
Creating new templates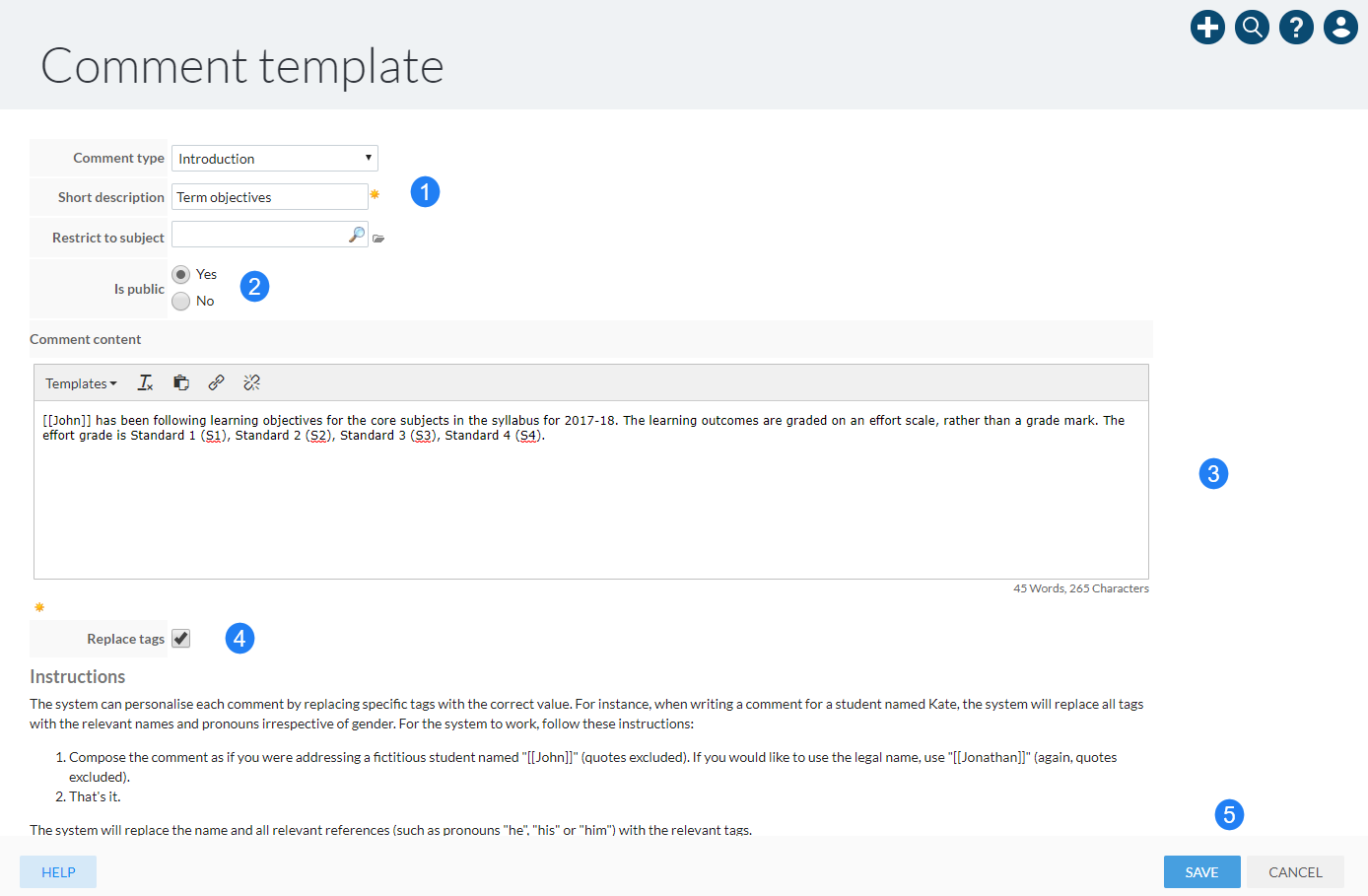 Creating templates can make grade report reviewing simpler. Let's look at the steps.
1. Type/Description/Subject
There are different topic headings as we saw in the list page. Conclusion, General, Introduction, Knowledge, Suggestion. Enter the description (Title) which will appear in the comment template drop down when reviewing. You can restrict the templates to certain subjects as well.
2. Is Public
The comment can be used for internal reviewing purposes, by selecting Public No. The default is for the comment to visible to the guardians/students. 
3. Content
Enter the comment in this box. You can copy from other sources, add external links to supporting evidence or further information held on your website or on nationally recognised information sites. (National Education Board etc).

When entering the comments, you can automatically include the students name, and also change the personal pronouns to adapt to the student. This tag checks the student sex, so this must be entered on the student profile for it to work correctly. When you wish the name to appear then simple add the tag [[John]] exactly with the capital J. When entering personal pronouns then always use the masculine. (He/His/Him). Myschool will automatically change these.
For example the screen shot above, is the base for a male student, whereas applying the template in the review section of the grade reports automatically changed the name, and the pronouns.

Entering templates into the comments
To see how templates work then go to Grade reports, and select Review. Open a grade report with a text comment section, the overview for example. In the comment box, there is the drop down menu for Templates.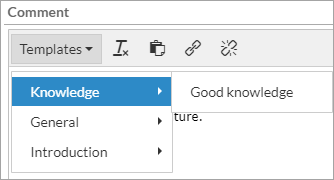 You can see the headings that appear on the list page. Only headings which have a template will show. Choose the heading, and the comment to add. This be added to the comment text field. After return to the Comment templates function, and select the template which you have just inserted. You will notice the tag [[John]] has now changed to [[Name]], and the pronouns replaced with [[HIS/HER]] etc.