During any scholastic year, administrators have to enter holidays, public holidays, and special event days to ensure that all users are aware of school close downs. MySchool allows you create these for each school level, and apply them to the calendars and schedules.
How to access
Go to the Administer menu header, and open Advanced options in the list.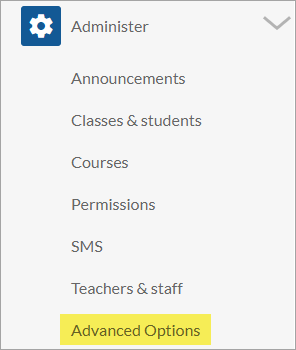 Entering Holidays (Events)
The system categorises holidays/vacations as events, the holiday management tool is designed for mid term breaks, and single days. Term management is the key function to the end and start dates for the longer breaks (Holiday periods) in the scholastic year.
Events are used in individual schedules, and are taken into account for the overall attendance statistics. Default view presents a blank list, and shows the current year list. If an event covers more than one day, it will appear as a multiple day event automatically.
1. School Level
As each school may have common holidays, they will also have days which are specific to the school level (e.g. Longer holidays for Primary, Teacher training, Sports Day). When you create a new event you will asked which level the holiday applies to.
2. Event label
The events can be ordered alphabetically, enter the first few letters in the description search field to find a specific event. Clicking on the tick box to the left of the name enables the list to be exported to Excel.
3. Date
The date format is set to MM/DD/YYYY, clicking on the arrows will reorder the events as required. If you wish to remove an event, use the Red Cross (X). You will be prompted by the system as to whether you want to remove just the single day from the event, or the whole event if it is over multiple days.
4. Actions
You can look at historic dates by selecting the year. If you have clicked the check box next to the description, then Export will be in Bold, and you can export the list. If you wish to create a new event, then click the appropriate button.
New Holiday
There are mandatory fields, denoted by a red asterix *.
Enter an appropriate event/vacation name. Enter a small description, if needed, this be visible to the targeted population. Then enter the date, if the event is longer than 1 week, the system will include weekends as well. The two options for Publicly Available and Scheduled Courses are set both to be ticked. If you want Parents/Student User group to see the event, then leave Yes. The system will cancel courses on the dates if this option is selected.
Open the Applicable to folders and select accordingly. Once the information is complete, press Save. The Event will be recorded in the list.