National public holidays, school specific training or closed days, and if required term end holidays can be entered into your MySchool system. These will be shown on My Schedule, user timetables in the profiles, and can cancel courses scheduled for that day to avoid attendance errors.
How to access
Holiday management is located in Administer/Advanced options/Holiday management. It should be assigned to super users and central administration user groups. In order to access the page the user group would need access to these permissions;

Holiday list and adding new events
Open the list page and you will notice it is is split into school levels. Holidays can only be attributed to school levels, and not class levels. We suggest that you use administrative updates and use administrative updates to enter an appropriate attendance status for these events.
You can time travel to previous years, or export all information to excel. Select the year in the drop down.
Open a new event to create a new holiday.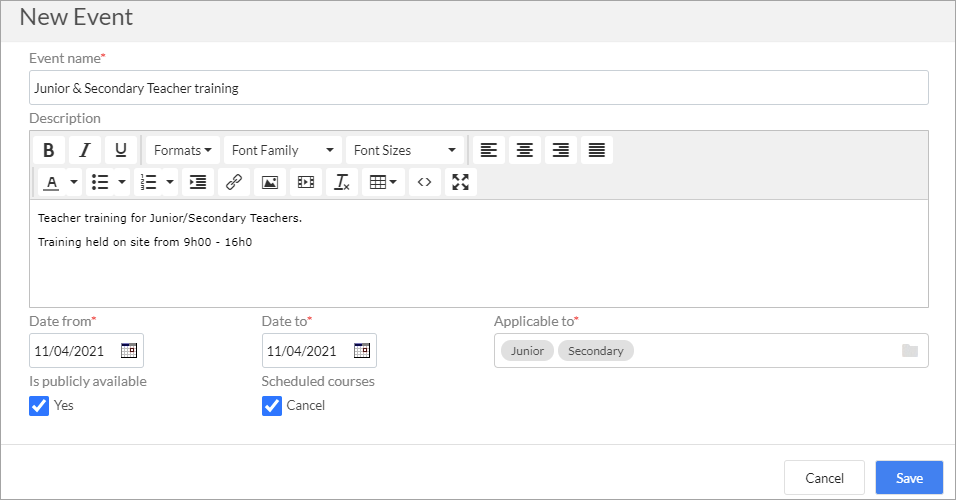 1. Give it a name. This will appear across all concerned users timetables so make sure it isn't too long, but at least descriptive. You can add a description but this invisible only to users who can access the holiday management page. It is more of an internal note.

2. Choose the date range. For one day events then this still must be entered as a start and end date as the fields are noted as mandatory*
3. Choose which class level the holiday applies to. It will automatically populate the tab on the list view. In multi school networks this will be independent for each school.
4. If the event is not yet confirmed, then you can uncheck the make publicly available box. This can be activated afterwards.
Please note that once a holiday event is saved, you cannot alter the date. The event must be cancelled individually across all the appropriate school levels.
5. If you use course scheduling, then the holiday event can cancel the courses that were scheduled during those dates and across the whole school level. Uncheck if certain courses may still be active and need attendance stats for example.
Deleting the event
In the list view, there is a red cross next to the event. Event dates cannot be edited. Chose whether to delete individually or delete the whole series.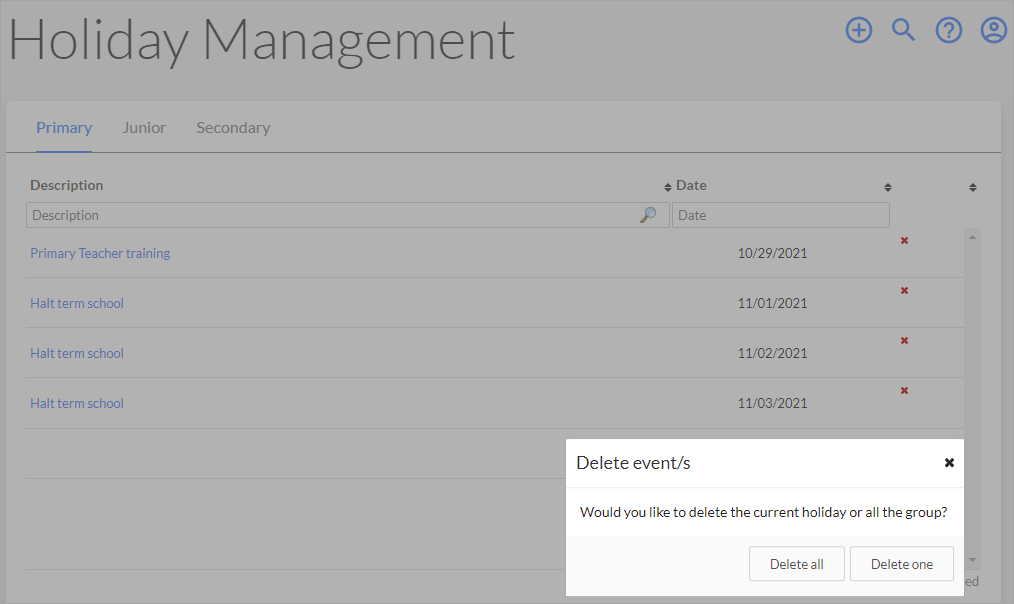 Courses will be rescheduled automatically after deletion.
FAQ for holidays
Can we add half day holiday events?
No unfortunately not. There is a way to configure timetables to finish at midday, but this would need to be set up at the start of the year to avoid problems with attendance data. If you have this need then please raise the issue with your CSM during your rollover call.
What happens if attendance has been taken, but we cancel courses?
The attendance status will be still recorded against the students profile, but your Teachers will not be able to remove this. Super users with access to the attendance admin tool can remove the statuses for the students.
Do we need to enter summer and term end holidays?
No. The operational length of the year is set in year management. In most scenarios school will enter the first day back and the last day of school (1st Sept - 1 July for example). So no need. In term management, you determine the term length which will do the same thing. Terms must be set as 'is schedule' terms.
In term 1, the dates are from 1st Sept - 20 Dec, term 2 is 5th Jan - 15 April, and term 3 is 30 April - 1 July. Courses will not be scheduled outside of the term dates, so will not appear on the users timetables. The only difference is that a blue notice will not be shown in this case.
Can we have more holidays?
Sorry, we would love to provide this service, however if you configure your MySchool to help out during the year, it maybe a more relaxing experience!