MySchool has the functionality that allows Admins and Super Admins to impersonate other users. This is needed in order to test usability, and also to confirm security access levels to data.
How to Access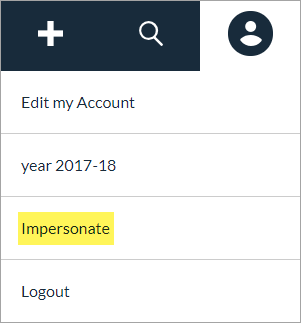 Under the user icon, you can see Impersonate. If the feature is missing, then please contact our Support team to discuss User group security. Open the window and type the name of the User you wish to impersonate.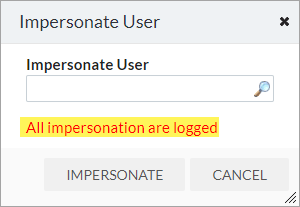 As the pop up reminds you, the impersonation is logged. If you have any concerns about user account integrity, and data, then have a look at our blog outlining GDPR guidelines. 
Use cases
Impersonating a user is primarily used to replicate errors, and configure user group roles. As an Administrator it is helpful for the communication between your users and yourself, and it helps us understand your query and replicate the fixes.
Top Tip: When creating new user groups, we advise you to create Test Teacher, Test Student, and Test Guardian, and place in dummy classes and groups. This way you can impersonate these users and test the functionalities before going live.
Sometimes, MySchool Administrators may have the authority to perform actions for other users. Impersonating the user then keeps the data signatures of that user. e.g. A Teacher has no access to MySchool but needs to input marks or comments. The Administrator can impersonate and perform this task for them.