There are features built into the MySchool system which allows users to manage behaviour and disciplinary measures within their schools. From creating and recording events, to reporting for internal or external sources. 
Menu details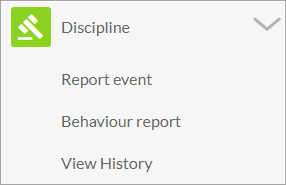 The three components each have separate functions, report event & view history have their own articles. Behaviour report can be placed under the DATA REPORT menu item for user convenience.
Contact our support team if you need to restructure the menu contents and order.
Reporting an event
The function allows a comprehensive reporting mechanism to record a disciplinary event in the MySchool app. It allows for different types, different locations and has a text box for a full description. The drop down options for event type and location are customisable, and should you need any assistance with this, then please contact our support team for more information.
Behaviour reports & history
Once an event has been recorded, there are two ways of viewing the event from an administrator or teacher viewpoint, either via the reports or the event history. The behaviour report is used for individual, class and year reports with full details being produced. Ideally used by teachers to address individual events or for Parent Teacher discussions. 
The View history feature is mainly aimed at Heads or Administrators to produce bulk data both on screen or via excel. This function can be individual but is designed for a fuller overview over a longer period.
MySchool allows administrators and staff members to send notifications to parents & guardians via SMS regarding serious behavioural incidents.