In terms of user groups then donors can be classed as being part of the inherent groups. You become a donor when you effectively makes a donation. A user profile is created, and normally, the user will have access to Myschool. A great way to manage Alumni and group donations.
How to access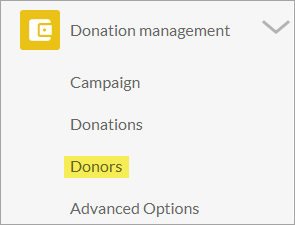 This will bring you to a list of donors, who are filtered by the following statuses:
Active
Prospective
Contact personally
Do not contact
Deceased
Not a Donor.
These statuses are set via the users 'donor' tab on their individual profiles. From the list pages, you can create new donor profiles, export donor lists to excel, and populate the not a donor list from MySchool existing profiles.
If the user already has a profile, then you do not need to create 'New donor'. This would only be used in the case that the donor has no relationship within Myschool. 
Donor profile
In some cases, new schools may not have access to the donor tab on user profiles, contact MySchool support to enable these features within yours schools instance. Donors are classed as an inherent user group. If the user has given a donation then they automatically gain access to 
 The last tab on the user profile contains information about donors. The most important being the status. In terms of alumni management, then you can set the relationship to the school from the pick list, and the year of graduation if applicable. Events can be populated directly from the Donor tab, or Event management. Once donations have been entered in Donations they will appear here and be accumulated in the donor list. 
Managing communications
Communications can be managed from the campaigns tab, or event management. Once a campaign has been created, it will also appear in the announcements people picker.
It will act as distribution group.