The MySchool interface adapts to your user group and roles attached to your profile. Staff portals can be designed to meet your needs internally. Class and course educators can have access to different data points on student profiles and access modules. As an administrator or Super user, you have access to all areas and data points, or this can be restricted to your school level access in certain cases. This
User Interface (UI)
There are two levels of Administrator views in MySchool, Normal and Super. In most cases, Administrators have access to the basic functionality with no configuration access. Super users would have access to configure core features in MySchool, that affect your whole school. we highly suggest that these are managed by a single team or key person.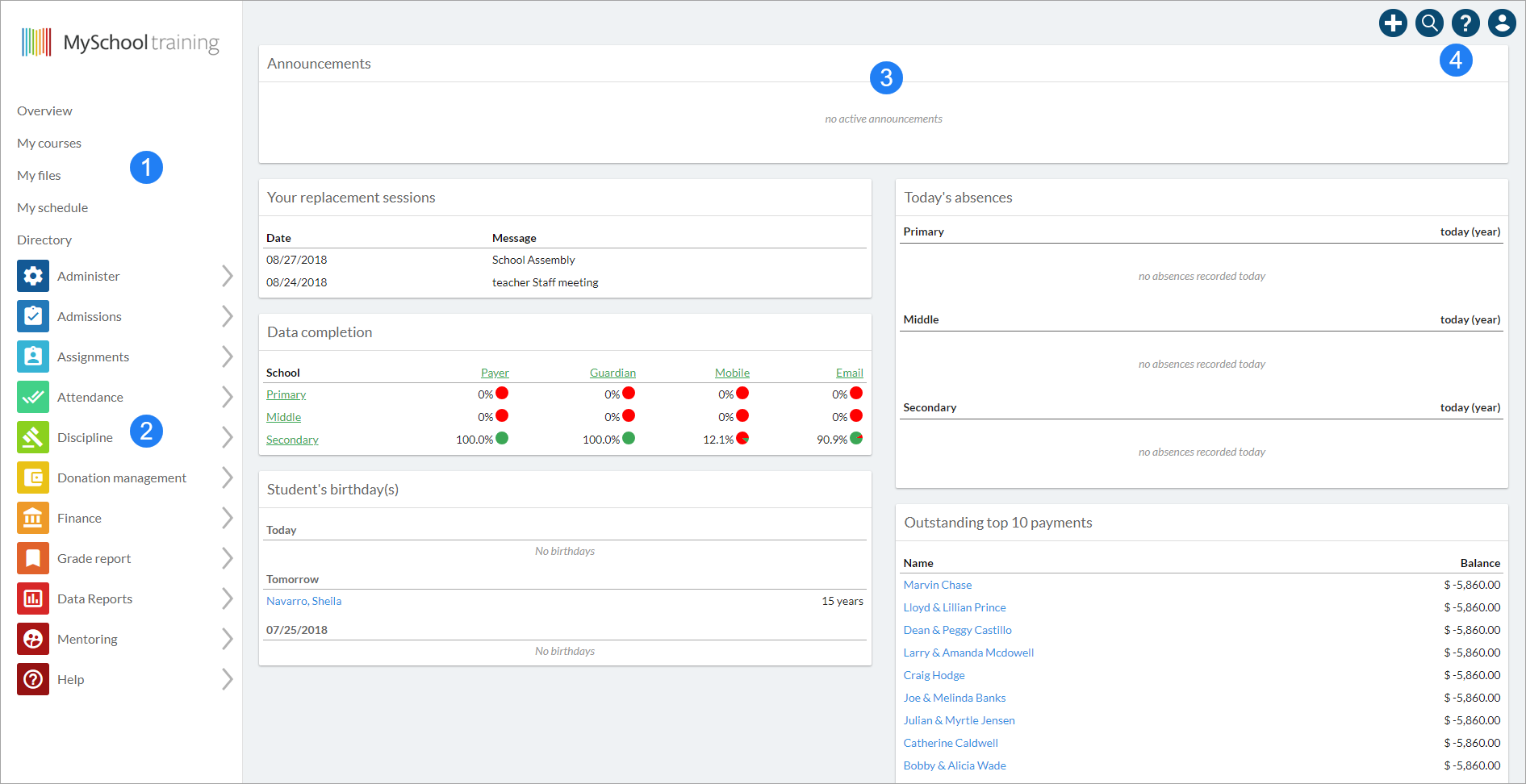 1. User menu headers
This section can be adapted depending on the communication structure used internally in your school. If you wish to use a full directory with contact details, then we can enable the Directory functionality. Transferring files from user to user is made easy with the My files feature. Scheduling and booking appointments/events can be accessed via these menus as well.
2. Modules
These are adapted to the user group, and in certain cases the country. Contact our support team to configure these for your school. In Malta, we include the DQSE menu header, whereas in Canada, this would be TRAX/1701. if your school does not require modules like Finance or Donations then we can hide these from the menu headers. Within the menu headers, you will find functions, and advanced options. Clicking on Advanced options will provide further functionality related to the menu header.
3. User dashlets/widgets
When a user logins they have access to a set of dashlets. These are adapted to the user groups, and offer quick views to features such as finance, attendance and announcements. The data completion tab gives a simple overview on user profile data and whether the school should send a questionnaire to update to ask users to update their personal information.
4. Quick Links tool bar
A new feature which provides users with a quick link,

The Plus icon is to access the quick link feature, listing appropriate menu functions most widely used by the user group. The Magnifying glass is the Super Search feature, which allows users to search the database for actual users. If you wish to search archived or non registered users then use the advanced search feature. The Question mark allows users to access the interactive help desk, and submit support tickets if their account is registered with MSM support. The People icon (head icon), gives the user access to their account details.
This screen allows users to change their password, and set a signature for Announcements. Users can see the groups they are attached to, by clicking on the link next to membership. It also shows the Unique UID (user identity) which is used when flagging problems with a user account to our support team.
If you wish to incorporate Google calendars into your dashlets, please contact our Support team for assistance.