MySchool combines the internal organisations and clubs within the school to produce the official DQSE report. Have a look at the organisation article to correctly fill out the non educational clubs available in your schools extra curricular calendar.
How to access
Go to the School leaving cert (DQSE) menu header, and select the Non formal education function.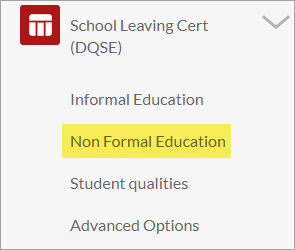 Entering organisations
In the same way as you add external organisations, the same screen applies, although in this case the search fields will only produce internally created organisations.
First filter the required class or class level, and the year. To add an internal organisation to a students record then select from the drop down list with the arrow, or search by entering the first few letters of the club or organisation, and select from the options shown. 
This will be entered onto the students membership tab within their profile.