Handling medical information can be a challenge for schools, which is why MySchool have created easy-to-access reports for your school's needs. Administrators can produce reports if the medical data fields have been populated within the student's profiles.
In order to keep this data up to date, why not use a questionnaire to collect this from the guardians. Request they provide full details by making the important fields mandatory.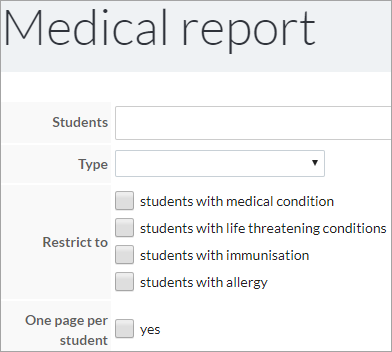 How to access
In the restricted data reports list, search for Student medical conditions. The filters appear for you to choose the population using the people picker. After there are four types of report styles available: 

The short report gives information on the doctor's name and number, and the main guardian's name and contact number.  The medium report provides the contact details and a short list of the medical alerts attached to the student. The full version gives a complete list of the contact information and student profile details, along with medical alert information with a photo if applicable.
Creating a field trip report

If your school is organising a field trip or outing, then you can produce a concise but complete printout of the students who are participating in the trip. Print it out and keep it with the Teachers and event organisers in case of medical problems.