In order to monitor student efforts during the year, and not just during exam periods, MySchool has the function to set assignments, assess the results, and record and evaluate. The results can also link into your Grade report. A comprehensive solution to monitoring submissions over a defined period. This article covers some of the basics steps needed to set up your own assignment modules, to allow for continuous assessment during the scholastic year. 
Grade Grid & Grade report
In the term management set up, users can set terms to be either Is schedule, or/and Is exam. These are important settings for grading and assessment. Decide internally when you wish for course work (assignments) to be monitored, and whether a Report card is needed at the end of the term.
Our default set up is based on terms 1,2 and 3 :
| | | |
| --- | --- | --- |
| TERM | IS EXAM | IS SCHEDULE |
| Autumn (Term 1) | NO REPORT CARD | YES COURSEWORK  |
| Mid Yearly (Term 2) | YES REPORT CARD | YES EXAMS (Classed as Coursework for calculations) |
| Summer (Term 3) | YES FINAL REPORT CARD | YES COURSEWORK/YES EXAM |
Although each school has different requirements, the above model shows that during term 1 Teachers can create coursework assignments and enter them on the Assignment grid (Grade Grid). No report card will be created at the end of the first term. In the second term, then further coursework can be assessed during this term, and the schools mid yearly exams are scheduled. A Grade report will be available for the Teachers to assess the term work
This scholastic year will end with coursework being assessed, with the averages being brought across into the Final report card. Teachers will be able to contribute, and make a comment and enter exam/final result if available, and also add comment. The assessment is attached to the courses, whereas grade report review is controlled within the class. 
Have a look at the steps needed to configure your schools assignments.
First Step - Assignment Configuration
Heads of subject/curriculum or Administrators/clerks can configure assignments, set scales, and decide how to calculate grade averages. They can also determine who can modify assignment categories. Have a look at this article which explains the assignment configuration options available.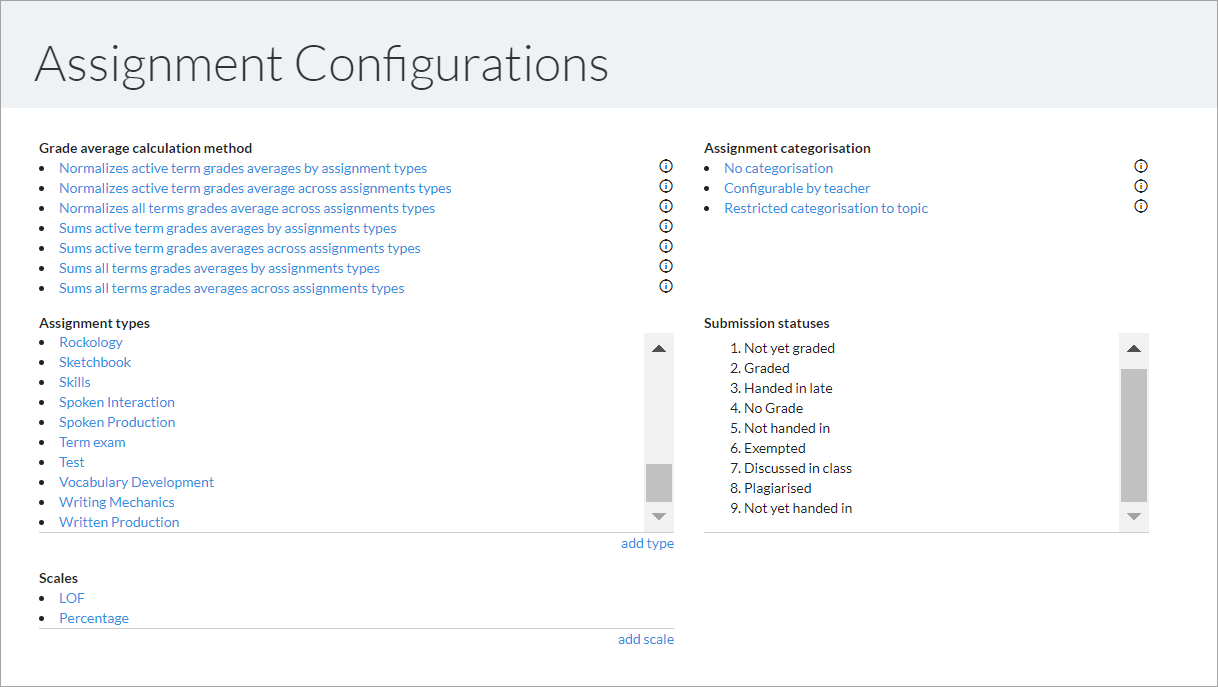 Choose the grade average calculation which is most appropriate to your needs. This will appear on the grade grid, and can be ported to the end of term grade report.
Create new types of coursework or assignment types which are applicable to your requirements. These can be added to subjects across the school.
Users create their own scales, apply weight, choose either Alphabetic or Numeric. Create a Likert or effort scale with colour coding. 
These scales are applied at assignment and grade report level.
Second Step - Subject management (v1.8)
You can assign Assignment types, and scales from the Subject management screen when creating your Subjects. 

Note that you cannot create new types or scales in subject management.
Third Step - Learning Outcome/Subject Specifications
Attaching learning outcomes to a subject allows educators to set goals, or establish learning progression within their subjects. Content guidelines, Assessment help, and evidences can be attached. Here is an external example from edglossary.org which outlines learning progression. 
Kindergarten: Identify the front cover, back cover, and title page of a book.
First Grade: Know and use various text features (e.g., headings, tables of contents, glossaries, electronic menus, icons) to locate facts or information in a text.
Second Grade: Know and use various text features (e.g., captions, bold print, subheadings, glossaries, indexes, electronic menus, icons) to locate key facts or information in a text efficiently.
Third Grade: Use text features and search tools (e.g., key words, sidebars, hyperlinks) to locate information relevant to a given topic efficiently.
Fourth Grade: Describe the overall structure (e.g., chronology, comparison, cause/effect, problem/solution) of events, ideas, concepts, or information in a text or part of a text.
Fifth Grade: Compare and contrast the overall structure (e.g., chronology, comparison, cause/effect, problem/solution) of events, ideas, concepts, or information in two or more texts.
Grades 6–8: Analyze the structure an author uses to organize a text, including how the major sections contribute to the whole and to an understanding of the topic.
Grades 9–10: Analyze the structure of the relationships among concepts in the text, including relationships among key terms (e.g., force, friction, reaction force, energy).
Grades 11–12: Analyze how the text structures information or ideas into categories or hierarchies, demonstrating understanding of the information or ideas.

Step 4 - Assess/Review/Publish
Create the assessment grid for you subject requirements, apply assessment types, Weights, and Map them to the assessment grid for Teachers.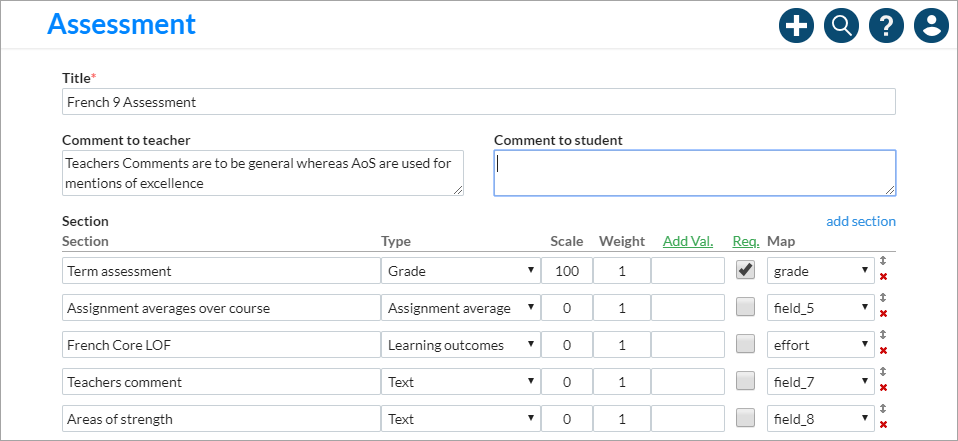 Setting the assessment scales to a numeric grade allows Teachers to enter mid term and final exam grades into the grade reports. Averages can be imported from Assignments/coursework, if this has been recorded on the grade grid. 

Teachers can choose which screen is best for them, depending on their preferences. Here is an example of how an effort scale is represented in list view.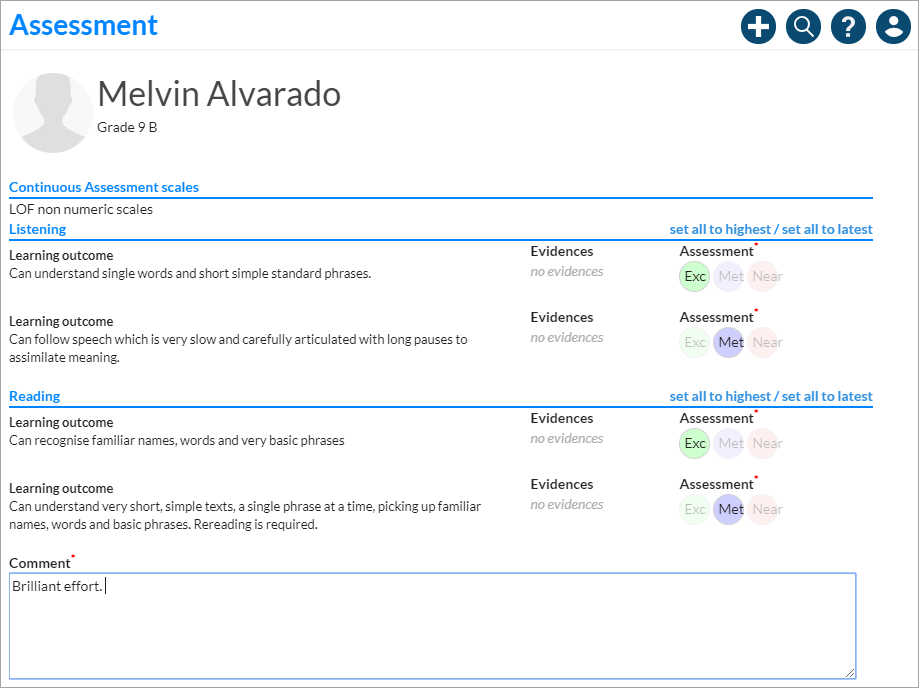 Review and Publish
Once Teachers have added their assessment contribution then this is recorded in the Grade report, and ready for review. The review stage is a security feature enabling peers or Subject heads to modify comments and grades if needed. 
If all is good then using the Publish function all grade reports can be published on the Guardian and student portals in one easy click.