The MySchool file sharing system allows users to easily share files between themselves. This can be accessed via the user menu header My Files. Users can store files, and with the appropriate access levels download files from other users. The system creates a series of file buckets, much like the folder system in Windows.
How to access
Some users may only be able to download files shared with them, whereas others will have the possibility to share files, and Admins can access all files available on the system.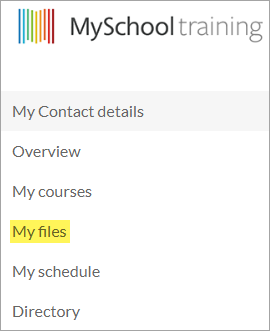 Sharing files

When opening My Files, most users will see the first two tabs. All system buckets is an Admin only security role. Click to open the folder and access the files contained within it. You can also see details about the folder. The buckets are stored on a year to year basis. In order to access a previous years bucket, change the year in the drop down menu found in the bottom right hand corner of the screen. To create a new file bucket, click on the button next to the year selector.
Creating a new bucket
Click to open the new file bucket upload.
Add a title and if required, create a folder to keep your documents together, otherwise choose a preexisting folder from the drop down. You can determine the audience who will have access to the files, and the year. If you wish them to always be available, even in future years then select all from the drop down.
Upload files by clicking add files and choosing your file to upload. Users can now access the files via their own File bucket (My Files menu).