If you have decided to switch solutions, and wish to stop using MySchool services, you will be provided with a secure link to your database for data extraction purposes. This will expire on the last day of your contract, or 30 days from your request email/ticket, whichever is sooner.
Our support team will be available to help you through this process. Any custom work or requests will be dealt with on a case by case basis, and these may incur additional charges.
We would suggest using MySQL and you would need some knowledge of database structure before extracting.
Here are a few tips to help you obtain simple lists already available from your MySchool instance:
1. Quick reports
To export your active student data then Quick reports is the easiest way. Select the student data, with no filters added. This will give you the entire active school population.

In the export tab, you can select the fields you wish to export. This is the same for Users (Guardians/Donors/Staff). If you wish to extract historic lists, then change the system year dates and use the time travel feature.
2. Export to excel/Custom report
If you need to export courses and subjects, then we suggest using Export to Exel. This is normally found within the data report module. if it is not available on your instance, then please contact our support team to add this to your instance. The export is filtered by school level and scholastic year. We maybe able to use custom reports to assist you. If any custom work is needed, then this may incur additional charges.
3. Admissions
A list of admissions can be exported from the Prospects & Application list view. It will export the details shown in the grid. Individual applications cannot be exported in mass.
4. Invoices
The transaction page allows you to export your invoices in PDF form. Select the year, then mass select the invoices by checking the box located next to Type. Then Print the invoices/credit notes issued.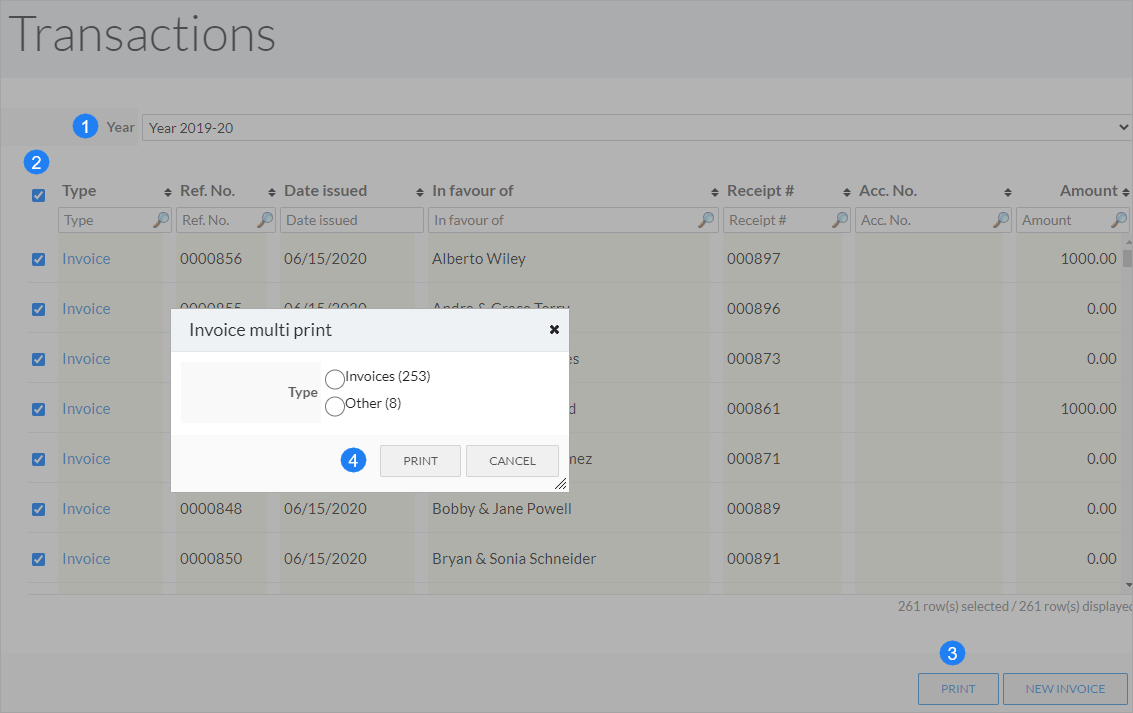 Fees will need to be exported individually, via the Print screen function.
5. Grade reports/Transcripts
MySchool grade reports can be downloaded per class per year. They are generated individually at each download, it is not possible to export them in bulk for the school. if you wish to keep a copy of the PDF's, we advise you to use the Download class overview available in Grade reports/Review.

If you just need an overview of the grades achieved then use the Transcripts for a lighter version. If you select multiple students, then limit your selection to a class level or school level depending on the size of your school, as this can take time to generate if you have a large student population.
6. My Files/Student files
You will need to download these per user. Ask your staff, parents, and students to download a copy before the end of your contract. The documents will be deleted with the system upon termination. We cannot extract files from the student profile tab.
Exit period
Please let us know at least 30 days before the end of your contract. In order to avoid loss of data after contract expiry.
As with any business, we would like to understand the reasons behind your decision, so our CSM/Account team, will reach out during the notice period to organise a meeting with yourselves. We would really appreciate your honest feedback so that we can improve in the future, and encourage you to return to the MySchool community.