For our British Columbia clients, we provide a comprehensive module for schools to handle their TRAX & PSR data submissions. Using data entered into MySchool, schools can import and export .XAM, and .CRS files.
As of 2017, the Ministry has set out specific requirements for the export from provider school management systems. Check out the attached document at the bottom of the article. MySchool has made system changes to subject codes, and the .TXT created for the course information.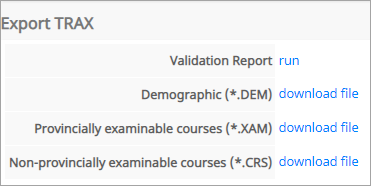 DEM file (Demographics): relevant demographic information for students enrolled in valid
graduation programs (programs of study).
XAM file (Exam): all exam records for students with provincial exam records for the current
year.
CRS file (Course): all non-exam courses for students who meet the DEM file requirements
noted above. The CRS file will include courses that would normally be examinable, but for
which the transcript record indicates the exam will not be written.
Subject TRAX code
The major change implemented into the MySchool BC system, is with the Trax code linked to the subject. Access this using subject management, or through attached courses. If your school is located in BC, then you should have access to customised tabs, BC Param.

The Trax code is set by the Ministry, and you can access information on their web portal. The format that MySchool now requires 5 Alpha Characters.
If in the case of the above example, then there are only 2 Alpha Characters, MySchool would require you to finish off with 3 spaces to complete the entry.
For the course level, this is numeric and would require 2 numbers, (Max of 3)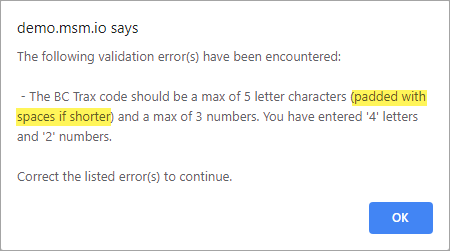 In case you do not follow the above label conventions, then a pop up will inform you of the problem and advise on how to rectify.
Examples of Trax codes
Here are a few examples of subject codes with spacing
| | |
| --- | --- |
| 20th Century History (Grade 12) | HI 12 |
| Foundation of maths (Grade 11) | FOM 11 |
| IB English Lang/Lit (Grade 11) | IBLLS11 |
| Numeracy Assessment (Grade 11) | NME 11 |
| Pre-Calculus (Grade 12) | PREC 12 |
Note that with 5 alpha characters, no space is needed between them and the numeric characters. In case of problem, then contact our support team for further information.