We can now offer integration with the Google classrooms suite. Google will pull information from MySchool to either create new courses and users, or synchronise with existing lists in Google. We can also synchronise with assignments created in Google classrooms, check out this article explaining how to go about this.
Important to note
Please note that MySchool data will override Google classroom data, but not the inverse.
Users within MySchool will need to have their gmail address as their primary email field.
If you select to create users from MySchool in Google classroom, then the initial synchronisation may take a few days.
The synchronisation will happen daily after the initial set up around 00h00.
What can be synchronised?
Academic year (current MySchool system year only)
Course name
Course status
Owner (Please note we will need a Google super admin account to be set as the owner for all Google courses)
Description
Student enrolment
Course Teacher
What are the steps?
1. Navigate to https://console.cloud.google.com. We suggest that you create a new project for the integration. Find API's & Services, then search for 'Google classroom API' and enable it.
After find 'Credentials', and create credentials. Then select 'Service account'. Give this account a name (sync bot/MySchool account etc). Then press create and continue. Continue through the remaining wizard steps and then select done.
You should return to the credentials screen. We now need to edit the newly created service account, find the edit pencil icon and open the account.
There should be a tab named 'Keys'. Click Add key and select JSON. This will automatically download a JSON file, which we will need you to send to us in the next steps.
Whilst still in edit mode, now find the Details tab, and expand the Show domain wide delegation field. Enable this field.
On the consent screen you maybe required to enter a name. Use MySchool as a suggested default naming convention.
Take note of the client ID as you will need this in step 2.
2. Now log into https://admin.google.com.
Find security, and open API controls, within this page you open Manage domain wide delegation.
You now must add a new client ID. Please use the client ID created in Step 1. Following this you will need to add the below scope.
https://www.googleapis.com/auth/classroom.courses
https://www.googleapis.com/auth/classroom.profile.emails
https://www.googleapis.com/auth/classroom.rosters
https://www.googleapis.com/auth/classroom.courses.readonly
https://www.googleapis.com/auth/classroom.rosters.readonly
If you would also like to synchronise assignments with Google course work. You need to add the following as well:
https://www.googleapis.com/auth/classroom.coursework.students.readonly
https://www.googleapis.com/auth/classroom.coursework.me.readonly
https://www.googleapis.com/auth/classroom.topics.readonly
3. Now we will need to impersonate a super user on Google. We need this to be able to complete the synchronisation. We suggest you create a new user called MySchool Sync or Sync.Bot for easy recognition. This user needs to have the super admin role in in Google.
4. You must send us the JSON file, and the email address of the super user created for impersonation. This information can only be sent to our secure email box : integrations@msm.io
Final phase
We will confirm the integration, and map some new pages to Administer/Advanced options
A) LIS courses/classes
This page will list the courses available in MySchool, and allow users to CREATE new courses and enrolment rosters in Google. Check the box, should sync school, then select the courses. This will only work if you have added the create API to the client access.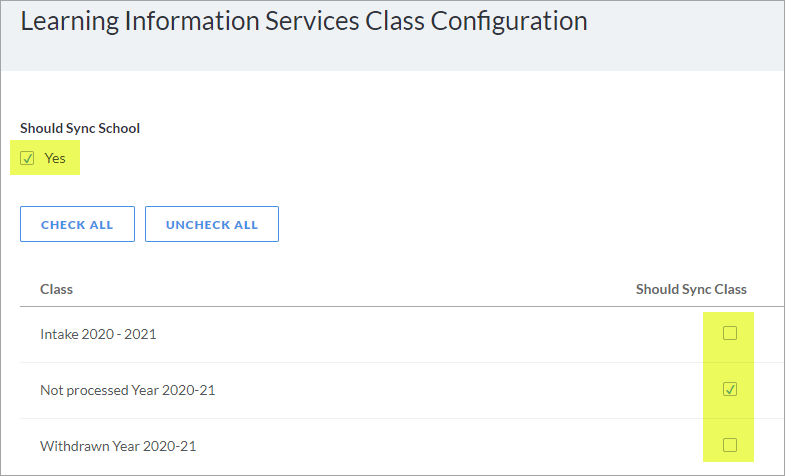 B) Google classroom existing courses
If you have courses created already in Google classrooms, and only wish to synchronise with MySchool rosters, then use this page to establish the link. These are presented as a non editable list. Choose the course to which the google entry should be mapped from the drop down list.
If you wish to manually start the synchronisation after completing all the above steps, then please contact our support, if it is within our operational hours, we can run a manual script to begin the initial synchronisation.