MySchool can push student course enrolment data to your Google classroom suite. When set up, we can also synchronise with assignments created in Google classrooms. Check out this article giving further details on how to achieve this. You must synchronise your courses first.
Please note that you will need to have knowledge of and access to your school's Google console.
What can be synchronised?
When we have set up, then MySchool information will be the controlling data set for your Google classrooms. It will override data in Google for the below fields.
Academic year - This information will populate the section field in Google. Please note that Google classrooms do not have a concept of an academic year. At the end of each MySchool academic year, you must archive all classes and resync after MySchool rollover is complete.
Course name - As listed in MySchool course list view.
Course status - If the course is listed in MySchool, then it will be pushed to Google classrooms. There is no possibility to align on course duration dates in Google classrooms.
Owner - Please note we will need a Google super admin account to be set as the owner for all Google courses. You should not change this as it will cause the synchronisation to fail.
Description - From the description field within the main info tab for the course.
Student enrolment - It will pull the students as enrolled.
Course Teacher - Both main and secondary teachers will be assigned in Google classrooms.
How to start?
To start the process, please raise a request with your CSM via support. We will organise a preliminary meeting and go through the steps together.
During the first meeting, we will add three new pages for your super administrator group. These pages will control the synchronisation between MySchool and Google classrooms.
Google create and sync (/learning-information-services/courses)
This page should be used if you wish to create courses on Google. If you already have courses created, you just need to select the 'Should sync school' box on this page but do not select any courses. This needs to be done at the end of the setup.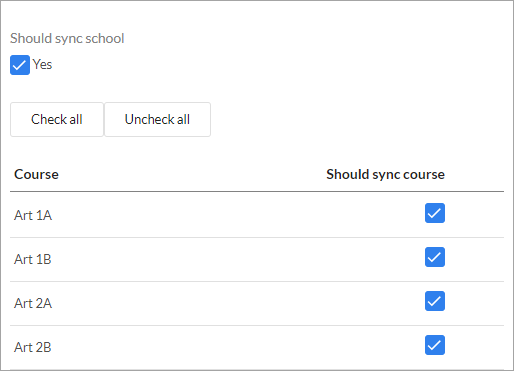 Your MySchool courses will populate from your current course list. When checked on this page, they will be created within your Google classroom suite. If courses are already set up, it will create a duplicate. Once set up and created MySchool enrolment will be synced daily.
Google course synchronisation (/google-classroom/mappings)
This page should only be used if you have already created and started using Google classrooms. It will populate with courses found in google after the first synchronisation is complete. You can select the equivalent in MySchool and enable the 'Should sync school' on the Google create and sync page.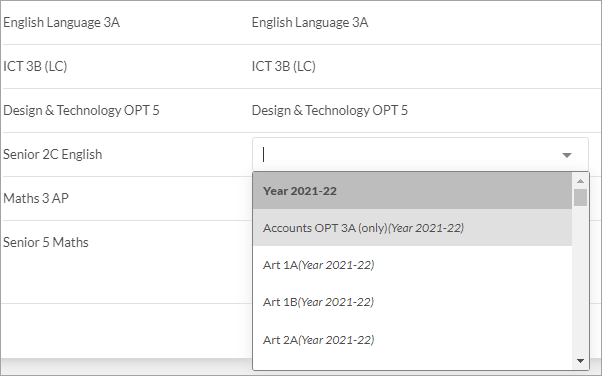 The first column shows the MySchool course, with a drop-down course list of Google courses.
Before synchronising, we strongly suggest that you check your google enrolments to match MySchool enrolments beforehand. Once the sync school is activated, MySchool will delete any student in Google that is not confirmed in MySchool.
Google sync log (/google-classroom)
This is the log page, which will be populated daily following the synchronisation. It will show issues that cannot be synchronised. it will provide a reason for not being able to complete the sync.
Step 1: Google console project set up
You will need to have access to https://console.cloud.google.com.

Create a new project specifically for the integration. Navigate to "APIs & Services" and click "Enable API and Services" then search for "Google Classroom API" and enable it.

Navigate to "Credentials" under "APIs & Services". Click "Create Credentials" then select "Service account". Give it a name and click "Create and Continue". Click continue through the remaining wizard steps and then "Done" at the end.

You will be returned to the credentials screen. Click the edit pencil next to the newly created service account then find the "Keys" tab. Click "Add key" and select "JSON". This will automatically download a JSON file with the newly created credentials. Save this download file as you will need to send it to us.

Still in edit mode, now open the "Details" tab and expand "Show domain-wide delegation" and enable it. You may be asked for a product name for the consent screen. A value such as "MySchool" is a good default.

Take a note of the "Client ID", we will need to use this for the next phase.
Step 2: Add API access and security settings on Google console
You now have to assign settings to the project. This will allow us to push information to your Google suite.
Login to https://admin.google.com then navigate to "Security" then to "API Controls" then to "Manage Domain Wide Delegation". From here click "Add New". The "Client ID" will be the "Client ID" you copied from Step1.

Enter the following scopes:
https://www.googleapis.com/auth/classroom.courses
https://www.googleapis.com/auth/classroom.profile.emails
https://www.googleapis.com/auth/classroom.rosters
https://www.googleapis.com/auth/classroom.courses.readonly
https://www.googleapis.com/auth/classroom.rosters.readonly
If you would like MySchool to synchronize assignments then you must add these scopes:
https://www.googleapis.com/auth/classroom.coursework.students.readonly
https://www.googleapis.com/auth/classroom.coursework.me.readonly
https://www.googleapis.com/auth/classroom.topics.readonly
If you would like MySchool to create missing users in your Google directory then you should add:
https://www.googleapis.com/auth/admin.directory.user
If you decide MySchool should create missing users, then the primary emails within MySchool must be claimed by your user directory in Google.
Missing users will show on the synchronisation log page.
Step 3: Creating a super user in Google
The MySchool synchronisation will need to impersonate a Google super user. This user will need to have access to the scopes and settings relating to Google's API. Name this user 'Sync Bot' for example. The synchronisation will also assign them as owners of the created courses in Google.
Step 4: Send MySchool JSON file and email address of superuser - 'Sync Bot'
Now we just need to set up your MySchool platform for synchronisation. Please send the JSON file you downloaded in Step 1 and the name and email address of the superuser created in Step 3. As this is sensitive information, we ask you NOT to share this in the support channel. Send these details to our secure inbox:integrations@msm.io.
Once we have received this information, we will finalise your integration with our development team. It is recommended to reach out to your CSM to confirm that you have sent the details. We can monitor the request from there.
Step 5: Activate courses in the Google synchronisation pages
Once we have confirmed, you can now enable either the creation of courses in Google classrooms using the Google create and sync page or use the synchronisation page to map MySchool courses to existing courses in Google.
Don't forget to enable the 'Should sync school field' in both cases.
The synchronisation is programmed as part of the main automated server update. It is set for 00h00 each day. If there are any problems and the synchronisation logs are empty, please contact our support team for further advice.
FAQ about Google classrooms synchronisation
We are not using google classrooms and have followed the steps to create users, but nothing is happening?
The initial creation task may take a few days for Google to handle. This is not something we can control. If the courses and users are still not created after 48hrs, contact our team, and we can check to see if everything is being sent as expected.
I do not understand how Google console works, can you help?
We can certainly have a look at the steps together. You may need to reach out to Google directly however for further guidance on their console and set-up.
So will Google roll over with MySchool?
Google classrooms do not have a concept of an academic year. So each year, you will need to perform the rollover within MySchool with new courses and enrolment. Once this is done, you can then use the create functionality to rebuild your Google classroom suite. Make sure you have communicated this to your staff using the functionality to avoid them creating duplicates once the synchronisation is carried out.
We already had Google set up and MySchool has created duplicate courses, why did this happen?
Firstly check to see if you are using the mapping page rather than the create page. Also, make sure you do not have any courses enabled in the create page that maybe cause this.
We have lost students from Google classrooms when we synchronised, why?
As we explained, MySchool will push the data to Google. If you already had enrolments in Google classrooms and these do not match the enrolment data in MySchool then the system will remove these students. Disable the synchronisation and isolate the issues in the log. You may need to manually update your enrolments in MySchool to make sure the students are correctly assigned to their respective courses.
We set up assignments to sync as well, but it is not working, what can we do?
There are a few extra steps needed when setting up Google assignments. Please check out this article and follow the steps listed.