Here we will look at how to manage the programmes in the list view after they have been created.
Programme list
The list page will show created programmes from the current scholastic year. You can view future and previous years by adjusting the filter at the bottom of the page. The view page can show programmes, applicants, modules, or the lesson calendar. The action buttons will change according to the type of list selected. Select the programmes with the check box in the appropriate list view.

1. EDIT STATUSES
This makes it easier to manipulate applicant statuses in bulk from either applicant, module, or programme view. Use this feature to move applicants to accepted, or wait listed, or cancel programmes in bulk. The slide over has a quick email feature so that you can inform them of the change.
2. BULK UPDATE
This allows administrators to update the list view in bulk, it is adaptive to the list type selected.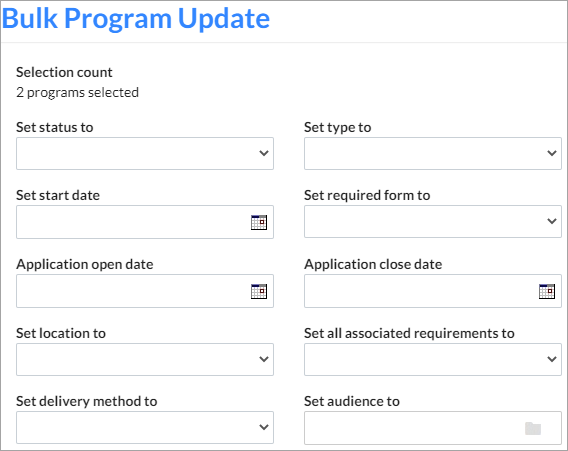 Please note that RESET APPLICATION will clear all information connected to the enrolment of students into the programme. It will clear enrolment, payment, and submission data. Check that the correct date has been selected in this view.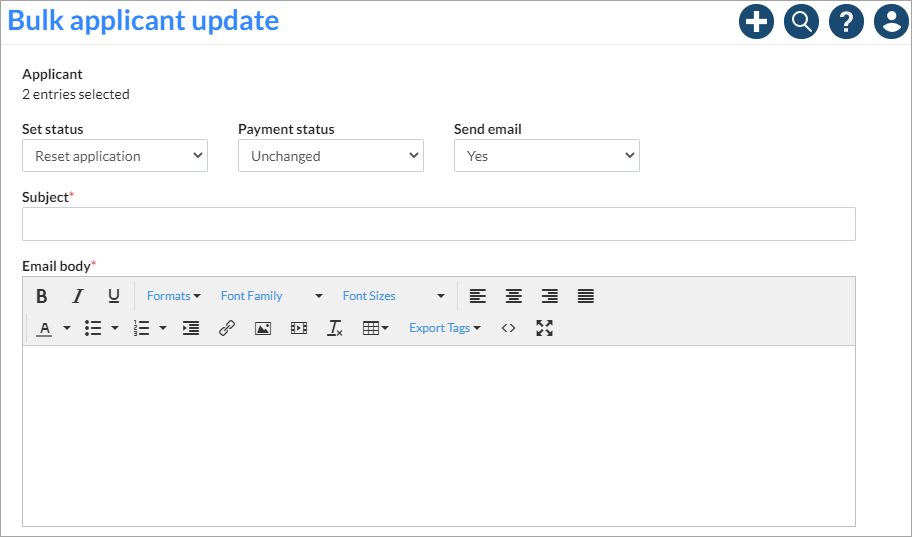 Bulk options do not exist in module or calendar view.
3. BULK EMAIL
In List applicant view, you can send bulk mails to applicants. In List programme view, you can also bulk mail applicants depending on the programmes selected.
4. EXCEL EXPORT
You can extract information from the list page directly. Depending on the view, further details maybe added. If you require detailed exports then try using the Quick report filters and export options for programmes.
Programme management
Programmes can be created manually, or imported. If you need to import programmes in bulk, then please organise a call with our support services. We would advise that manual creation of the programmes is the best way to understand the module and the attached functionalities. On a yearly basis the programmes can be easily rolled over, and new modules attached.

The list view shows various information:
Locations are all created in our room management module.
Qualifications are set within the programme builder and can be customised for your institute.
The number of applicants and their status can be controlled from within the programme or using the applicant list view. It will show a simple count of their programme application status.
The start date of the programme will show the date of the first lesson scheduled within the attached modules.
When a programme is set to active, they will appear on the available programme list (yourschoolurl/programme/apply), draft is to be used when creating the programme content. Closed is to be used when applications are no longer accepted.