For the third and fourth steps, we can now create classes and enrol the students we have imported previously. You must create the classes via the onboarding wizard in order to move through the steps.
The import templates are attached to the bottom of this article. Do not change the column headings.
Class creation
A class in MySchool is where we group students in a year or grade group. You can have one class per class level, or split these into smaller units. read through this article explaining the levels in MySchool, and classes.
Here is some advice on how to complete the class template:
We can import classes for past or future years, but for onboarding we will concentrate on the actual system year. The template requires just the end date, so in the example we have scholastic year 2016/17. The classes should be created with 2017 as the academic year.
To check your trial instance academic year then go to the quick action tool bar and click on the user icon.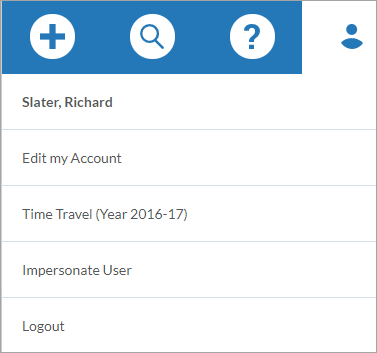 The class level needs to follow the naming convention you built when creating the instance. For example K1, K2, Year 1, Year 2, Year 3 etc.
When creating classes the class level is used as the stem of class name, so you dont have to repeat it in the class name column. So in our example we have K1, then the class name is set to Nursery
If you wish to have a space or a full stop then you need to set the excel column as text and enter the space as the first character or use the . to differentiate.
To add a Teacher, then these must have been imported in the User import. Please write SURNAME, NAME. They can also be added manually after the wizard.
Class enrolment
Once the classes have been created, we can now start the enrolment step. The download template is attached at the bottom of the page.
We will now start to use the external ID to make this easier. You will need to find your original student import sheet.
Follow these tips to complete the template;
The academic year should be the end year of your system date i.e. 2020/21 scholastic year, you would need to put 2021
Use the external ID as the student name. This avoids confusion if you have two John Smiths in your student samples.
Make sure the spelling is exact for the class names. You can locate these by going to Administer/classes. Equally you can use the UUID which is located in the URL when you open an empty class.