Our MySchool product is comprehensive, sometimes daunting, but certainly offers a whole panoply of useful functionality for every institute's needs. When schools are onboarding, our CSM team will go through the default modules, and list goals and priorities, helping you to understand how these can help your daily tasks. Let's have a look at the default modules available;
Administer
Here we find the main list pages and communication tools;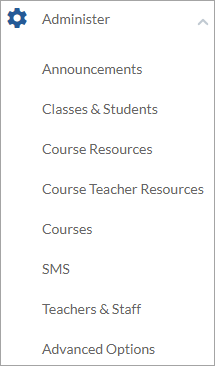 Announcements - The core communication tool in MySchool. For staff members to send, and for all users to receive announcements either via their portal inbox or via email.

Classes & Students - A list of all classes, assigned teachers, and student counters. This can be restricted to a class level only view.

Course resources (Admin) - Lists all course VLE resources (assignments, lesson planners, quizzes and forums). Used for administrator view.
Course Teacher resources - Single course view for VLE course resource listing. Enter details via content and topics to be able to roll over your yearly scheme of work and lesson planning.
Courses - A list view for all courses, their Teachers, rooms, and subject.

SMS - Send SMS text messages to your users via MySchool.

Teachers & staff - list of all staff users created in the system, with their position and email.
Under the advanced option, many functionalities are used by central administrators and super users. Check out the article links for details
Admissions
Create and design your online applications for your school. Guide applicants from prospects to enrolment.
Prospects & Applications - View and manage your applicants and guide them through your workflow.
Application workflows - Create admission process and steps for all types of applications.
Form builder - Design custom external and internal application forms for your online admissions process.
Statuses - Control the stages of your workflow using configurable statuses.
Assignments
Assignments - Create assignments, and lesson content (SOW), and record all types of academic tasks from homework to group projects. The assignment module is designed for your continuous assessment needs.
Assignment configuration - Configure all assignment settings from averages, types and scales.
Assignment audit - New tool explaining how your average is calculated.
Programme Builder
Programme builder - For higher education institutes, or for schools following a subject-based curriculum instead of a K-12 scenario. Programme builder is designed to create and manage your courses or modules.

Programme calendar - When modules are scheduled as ad hoc lessons, the calendar will show these as a normal schedule.
Attendance
One of the core modules within MySchool. Customise timetables, and lesson slots, and apply them to courses. Run completion audits and detailed reports. Permission slips can be sent from the Teachers to the guardians for trips, events or special education content.
Take attendance - Course or class educators can take attendance in four simple steps.
Administrative updates - Administrator tool to bulk manage your attendance records.
Attendance audit - Amazing tool for super users to keep track of whether the attendance data is up to date.
Attendance history - Detailed attendance report tool.
Permissions - Send permission slips directly to the guardian portal for guardians to approve participation in special events or lesson content.
Attendance configuration - Control the attendance statuses and the automated triggers attached to each. This is a superuser tool which will affect historic attendance as well.
Staff attendance
This module is used to flag Educator absence and find last-minute replacements for scheduled courses.
Find replacement - Quick and easy tool to find non-scheduled course teachers to fill in for colleagues who are unable to take a specific course lesson.
Take staff attendance - Light attendance register for scheduled course educators to be marked absent, allowing for finding a replacement to schedule colleagues.
Staff attendance report - Produces a report with absent staff.
Behaviour
Reporting daily events can help monitor students' behaviour, we strongly promote the use of this module for positive reinforcement of efforts.
Report event - Tool designed for staff users to note positive and negative behavioural events. Post the information to the student and guardian portals.
Behaviour report - Detailed report for student event history.
View history - Superuser tool to extract a more detailed and filter report for behaviour events.
Behaviour configuration - Superusers can add behaviour event types, and points, and configure the automated notifications for each.
Donation management
A comprehensive donation management system. Issue receipts and manage your school campaigns via the MySchool system.
Campaigns - Create your own campaigns, and manage donations and donors throughout the year.
Donations - Manage and issue receipts for donations gathered from the campaigns.
Donors - Add specific users to the donor group, or use existing ones.
Donor event type management - Add new campaign event types for your donations.
Finance
MySchool finance is designed for schools to create invoices and record payments.
Balances - Shows a live breakdown of payer balances.
Transactions - Raise invoices and record payments received for the invoice payers.
Accounts - Customise your receivable accounts for different fees or business requirements.
Adjustments - Issue credit notes, or discounts to accounts or invoices.
Fees - Create a detailed list of fees using conditional values, with multiple display options.
Payment report - Outlines payments received into the configured accounts.
Revenue report - Basic details of total invoiced items.
Grade report
MySchool assessment is a complete toolkit for schools to design, manage and create assessments and assessment reports. MySchool assessment module covers all academic assessment configurations from K-12, specialist schools and higher ed needs.
Assess - Once assessments have been created, educators can use the asses grid to enter scores for their students on a term basis.
Review - Once assessments have been entered, the next step is to review the contributions of grades for the students before publishing.
Publish assessment reports - Publish your whole school's assessment reports straight to student and guardian portals. Reduce paper costs by moving this online with MySchool assessments.
Assessment reports - Create your own personalised assessment reports for each class level. Use style elements to build engagement with your community.
Grade statistics - Download reports and stats for your student's assessment contributions.
Subject specifications - a powerful tool for academic super users to design assessment criteria for your school's subjects. Use learning outcomes, self-reflections, achievement scales or formulas.
Data reports
MySchool has useful reports for both educators and super users. Split into restricted and public access levels.
Mentoring
Create IEPs or specialised learning plans for the students. Set goals and objectives and share these with the guardians.
IEP - Mentors can create detailed reports for their students, and share these with the guardians.
IEP rollover - This allows schools to copy IEP records from one scholastic year to the next.
IEP diagnosis - Add new diagnosis types to the IEPs.
IEP template - Add new sections to the IEP report
Trax
Specific module for British Colombia independent schools for state reporting needs
ES attendance audit - Detailed attendance report in excel for your eligible student submission needs.
PSR - Generate the PSR report for leavers with a link to Trax grades.
Trax data - Manage your Trax data submissions, add z-courses, and link with the MySchool assessment module.
Trax import/export - used for your submissions to the BC govt website. Export PEN file, 1701, XAM/CRS files for upload to the ministry website.
Trax populates - Configuration screen to synchronise student TRAX records with MySchool assessments.
DQSE
For Maltese independent schools, the module helps build the DQSE and NSO reports
Informal education - Add informal organisations to the student's profile
Non-formal education - Add non-formal organisations to the student's profile.
Student qualities - Add student qualities to the DQSE download.
Import organisations - Import informal organisations
NSO export - Export attendance stats for NSO office
Generate DQSE report - For students in the final year of secondary school.