Both students and Teachers have an enrolment or teaching tab in their profiles. Respectively this contains the list of classes and courses to which they are enrolled/attached. It is a great way to trouble shoot any grade report, attendance or reporting problems.
What information is stored here
In both it will specify which class, and list the courses for the current scholastic year.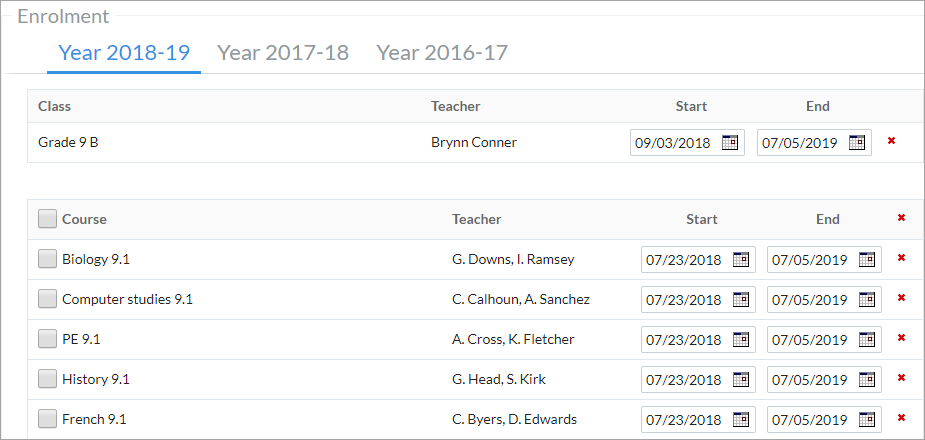 Teachers have their list, which does not have dates as they will follow the course or the class during the whole scholastic year. Their access to the student information is confirmed by them being employed in the correct level, and being appointed as the Teacher.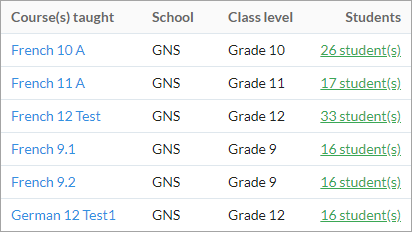 Students are enrolled into classes and courses within the scholastic year dates. These can be edited if they do not complete the year or are transferred to another course or class.
Limitations exist when the student is withdrawn, then returns to the same course/class within the same year. Please contact our support team to go over possible solutions.
If a student changes a course during the year, then do not delete the course enrolments. Amend the end date, and add the new courses to the list with correct start dates.
Attendance and assessment data will not be lost. If the student has not been enrolled in a course during the assessment period, then they will not appear in the assessment grid for that course.
In the case that a student is withdrawn from the school then use the leaving date field. If you set this to a future date then the student will be moved to the withdrawn class after that date (After the server update). If the date is set to the past, then class and course enrolment dates will be set automatically, to show the new end date.

The assessment terms are not connected to the course enrolment dates. If a student is enrolled in a course during an 'is exam' term
Attendance data
If students appear in the attendance lists, and they should not appear then you will need to check the enrolment dates. If a student was incorrectly withdrawn from a course (i.e. deleted enrolment), then the system will still store their historic attendance data. If a student was enrolled wrongly in a course and has had attendance taken in this wrong course. You will need to reenroll them into the original course, use admin updates to nul any attendance statuses, then remove them from the course again.
If a student has attendance or assessments taken within a course, these statuses will remain stored against a student irregardless of their enrolment dates.