MySchool has an inbuilt email and browser-based notification system. It is configured by your school administrators, with you as a user deciding which type of event push notifications you wish to receive. Let's explain how you can configure these and what information they will show.
What notifications are available?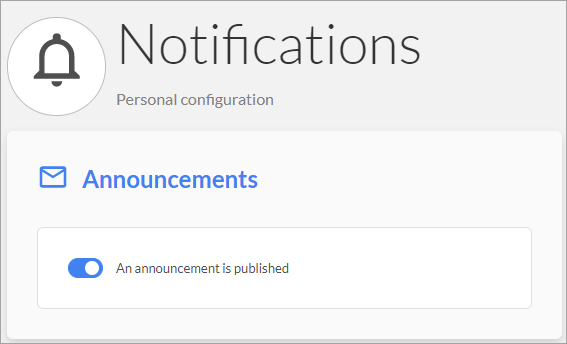 Your school/institute will request to activate the notification system on the MySchool platform. They will configure and enable the notifications they wish to use. The full list of notifications available are;
Announcements - All users are notified when they have been included in the recipients (target audience) of the published announcement.
Assignments - Students and Guardians are notified when an assignment has been published, graded, and a comment left by the educator. Guardians must be classed as main guardians.
Attendance - Main Guardians and students will receive a notification when their dependant attendance record has been updated.
Behaviour - Students and guardians will be notified when they have been included in a behaviour event. if you are a staff member you may also receive a notification if you are included in the relevant user group.
Finance - Guardians will be notified when an invoice has been published and they are set as the main invoice payer.
Grade reports - Students and guardians will be notified when the grade report is published. They can access the PDF directly from the notification panel.
What do I need to do?
Firstly, you need to set up your browser to receive notifications. Your browser will stop this from working inside your MySchool platform. Once activated the bell icon will show new unread notifications, and you will receive a pop up from your browser.
Here are a few of the help guides from the main browser providers;
After this has been enabled, you can now click on the bell icon in your MySchool platform and sign up for the notifications you wish to subscribe to. Use the slider to enable or disable. Don't forget to subscribe to the push notifications at the bottom of the page. Once selected and saved, it changes to 'unsubscribe'.

How do I check the notifications?
Once enabled on your browser, within MySchool notifications centre, and you have hit the subscribe button. You will start to receive notifications from MySchool, via emails and a pop up on your browser.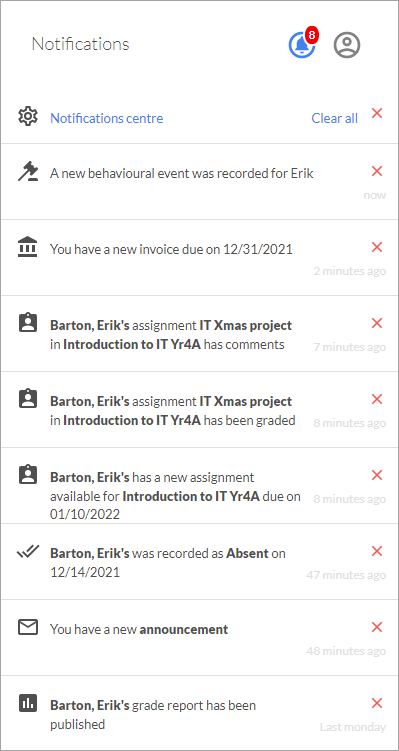 Click on the notification to be taken directly to the announcement, assignment or other events.
Please note that the access to these pages are still controlled by your general security settings. If you are not classed as the main parent, then you may have a restricted access page. Contact your school's local administration team to help with this. Equally some schools may have the notification enabled, but not have access to the end page. (e.g. Behaviour event). Talk with your school about this, or simply deactivate from your personal settings.