Welcome everyone to the end of the year! With a retrospective in view, the MySchool community has really had a great year 2021. We have made big changes for the assessment report builder and subject specifications, not forgetting the update which was a success for us internally and has been appreciated by a large part of the community. We now have a clear path for 2022, and continue to take your suggestions for improvements to make MySchool the most comprehensive school management system out there.
Here is a run down of the last updates for this year.
Upper value within an achievement scale

Previously no decimal value could be placed as an upper range, as in most cases, schools were using whole numbers when translating numeric grades into an achievement grade. Due to the introduction of a new GPA system, we added the possibility to refine the upper limits to 2 decimal points. We do not suggest you change already existing achievement scales as these may affect historic grades. Create a new achievement scale and apply this instead if you wish to use this level of granularity. The legacy default calculation rounded up/down to the nearest whole number.
Multi school assessment report changes
MySchool allows for multiple schools to be managed within one system. Due to this, we have added the possibility to adapt the assessment report to pick up each individual school or colleges logo from the configuration settings. The logic will do the following
Use the logo if uploaded in the override filed within the specific assessment report.
If no logo override, then it will use the logo uploaded into the school configuration page
If no logo in school config, it will use the default system logo.
Easy introduction of mandatory student fields
We are now able on a simple request to make nationality and gender mandatory fields for your student records. Before requesting this, please organise a call with your CSM to discuss how this will affect your profile management. Once activated, each student must have a gender or a nationality set, users will be unable to edit and save the profile without this information.
This does not affect questionnaire or admissions forms.
Review slide over panel
Due to feedback from users, we implemented a change to the review panel. When reviewing an assessment report, the user selects the course from the dropdown list and in edit mode can make updates to the assessment pulled from the assess grid. We noticed that users were not submitting their entries which caused frustration as the data was lost when switching courses. We have now removed the possibility to choose another course without saving whilst in edit mode.
Subject specifications
We have added the possibility to make a text field show 'in line' instead of below the entry. This is specifically used for abnormal assessment contributions e.g. Time, date, negative values. This field cannot be included in a formula or in a calculated scale field. It also cannot be used as a stated term grade.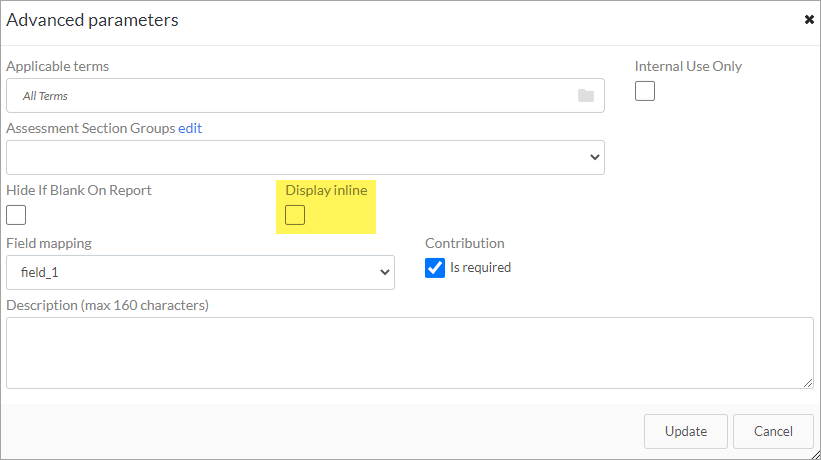 Improvements, fixes and updates;
Reworked the permission module to include new students once the slip had been sent.
Updated the programme builder calendar view to show a full month rather than two weeks.
Improved the comment overview field on the review panel which did not size correctly on certain resolutions.
Added the consent status to the questionnaire export as this was not working as expected.
Continued work to move custom legal and medical alerts to system settings.
Corrected a spelling mistake in language database list.
Works carried out on custom network school certificates (MLT).
Added new signatory to custom invoice.
Reworked report alignment for network schools custom reports. (EU)
Fixed a UI error in the review panel as calculated scales were editable.This is now not the case.
Works to incorporate transcripts into the legacy/new assessment build for one school.
Solved a problem with contribution statistics export that was not rendering correctly on the UI.
Updated the directory functionality to show correctly on Safari and Mac.
Work carried out on the NSO report for network school (MLT).
Last fix of the year.......To wish you all happy holidays.