Central administrators and super users have access to the announcement configuration panel, which allows them to control certain settings for their school's announcement users.
Where can I access the settings?
You will have access to the new announcement configuration page. This will be mapped to your administer/Advanced options list. The panel will allow you to configure general settings, create templates and determine your migration date. A new feature allows administrators to configure user groups directly from the configuration panel. This makes it easier to control how your user groups can access and use all the required new features within the module.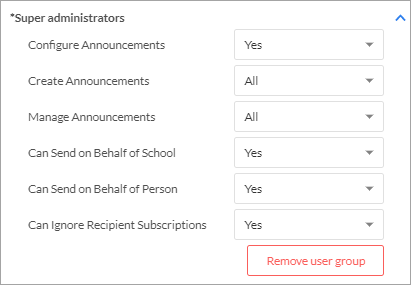 To access the page then configure announcements that need to be set to Yes.
Configure your rules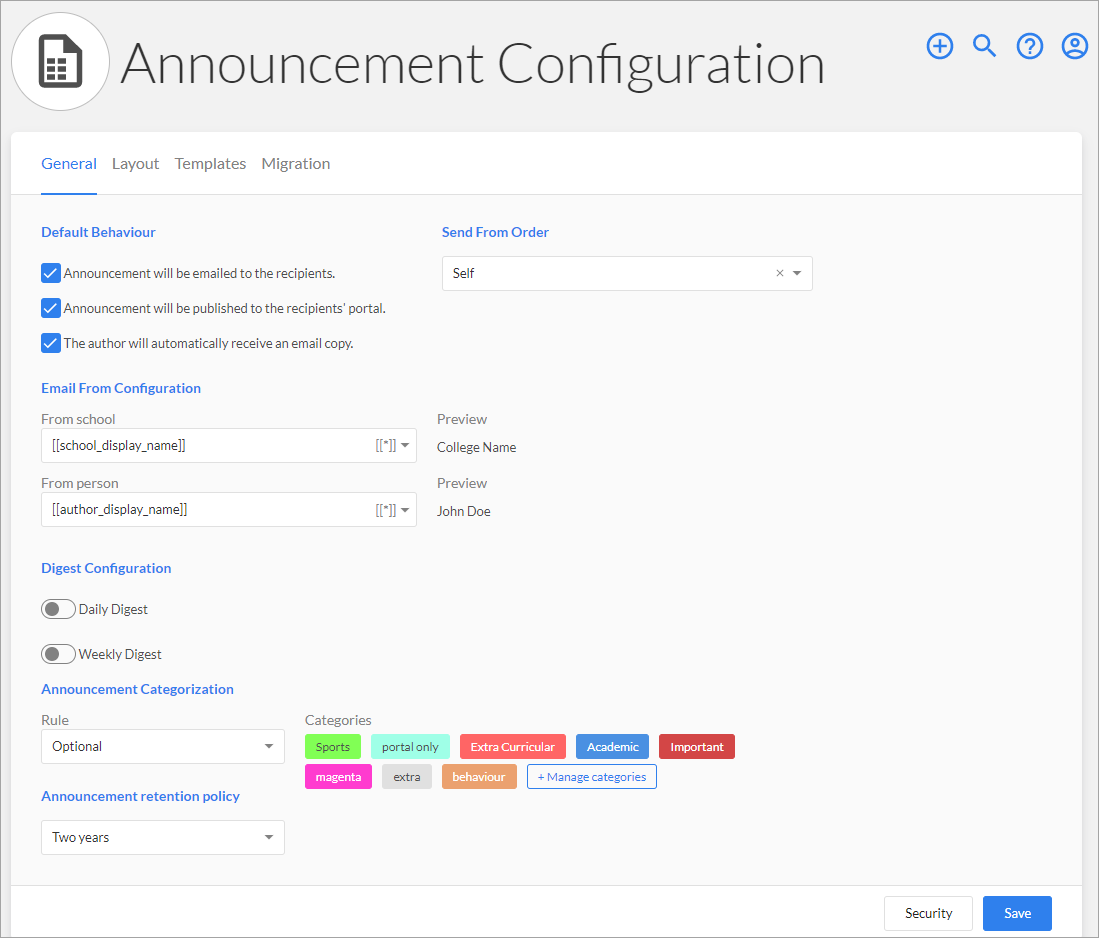 Default behaviour
When users send an announcement they have the options set in their user groups, you can decide which options are checked and available for your users automatically when they create an announcement.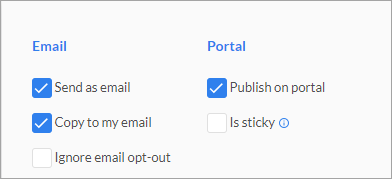 Send from order
When users create their announcements, and if they have the appropriate security permissions, they can choose from three sender options. The administrator can choose the default send option for their users;
Send from email configuration
Administrators can change the message on the template and personalise the message. This will affect all announcements sent by users.

Introducing categories
Administrators can create categories for their community and add a colour code to them. This will allow users to filter and search by category in their MySchool inbox. Admins can choose the behaviour for categorisation for their school;
Always required - The sender will have to choose a category before sending
Optional
Do not use

Retention policy replaces expiry date
We have replaced the expiry date, and have introduced the functionality to enable users to schedule articles for publishing. Central administrators can set a retention date for all announcements. Choose between one, two or three-year policies. After this time, the announcement will be deleted from your portal.
Changing the layout and adding templates
It is now possible to adapt the email and announcement templates sent by your school to add branding to your messages. Open the layout tab and the new MySchool layout can either be adapted or you can create a new one.
Layouts are in HTML format, and we are unable to assist with this. Customisation requests will be considered but would be invoiced accordingly. There are many services online that offer free template builders or complete templates.
Whilst building your templates, you can preview and also send the draft template to an email address to evaluate how your template works on different devices. whilst the system supports only one active template at a time, you can create seasonal variations or add some extra information for key periods during your scholastic year.
Template your most used announcements
Administrators can create templates using the rich text editor, this will only apply to the body of the announcement and not to the inner/outer layouts as described above. Administrators can create standard format templates, for events, regular meetings, or even birthdays and seasonal events. Use the announcement rich text editor to add links and images, and with just a few minor changes, everyone can use the same template if it is made public.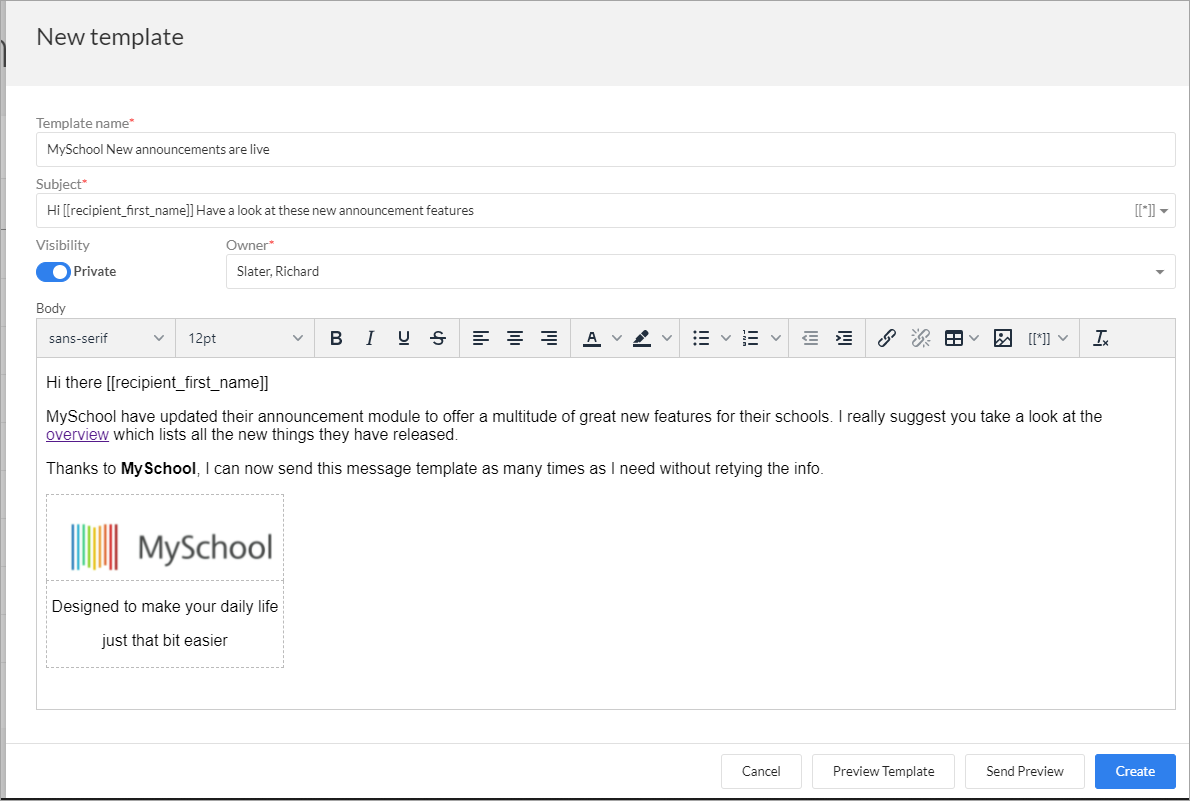 Give your template a name. With the new search features, you can quickly find your template in the list view. This is mandatory for the template to be saved.
Add the subject. Make it adaptive by opening the replacement tags available at the end of the line. Don't forget to add a space before and after if you are using the tags in a phrase.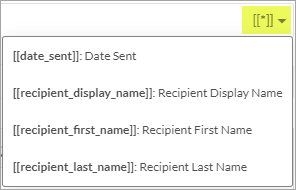 Decide if you are to make the template visible to the public or just for an individual user. Search and select the user from the list when the slider is set to private.
Preview the template and try sending it to a valid email address before making it available to your community.
Note that attachments are now 50MB, try using a link to online storage or share larger files via the My Files module.
Migration
We plan to invite all our community to trial the new announcements which can run in tandem with the old format. Schools can then decide and set the most appropriate date in the migration tab for them to transition to the latest version. The old module will be phased out completely at the end of July 2022. Transitioning to the new announcement system will not affect your contract price.