We are into the final session of the year and are pleased to announce that most of our independent school clients have updated their announcement module. We hope you like the new features. Check out the articles and if you have a question then let our support team know.
Programme builder
For our higher education institutes, we have added the possibility to roll over the programmes in bulk. Use the bulk update button and we have a new tab with the same functionality available for individual rollover.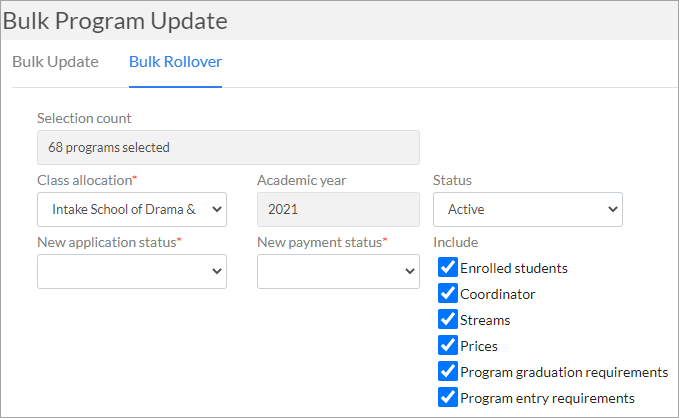 Further updates were;
Added applicant enrolment status to programme list view.
This status is now available when exporting.
The enrolment status was added to the registration tab.
When selecting the module from the calendar view, users are now sent directly to the course and not the parent programme.
Questionnaire updated
It is now possible to send the completed questionnaire back to the submitter in PDF form, so they have a confirmation and a copy they can save for reference.
You must create a new confirmation message using edit messages. There is no system default message, so a new one needs to be added.

Once a confirmation template is set, the option to attach the submitted replies in PDF form will be available. Don't forget to select attach to student files if you wish to keep a copy for your internal records.
Behavioral events can hold attachments
When creating a behavioural event, you can now add an attachment to the communication.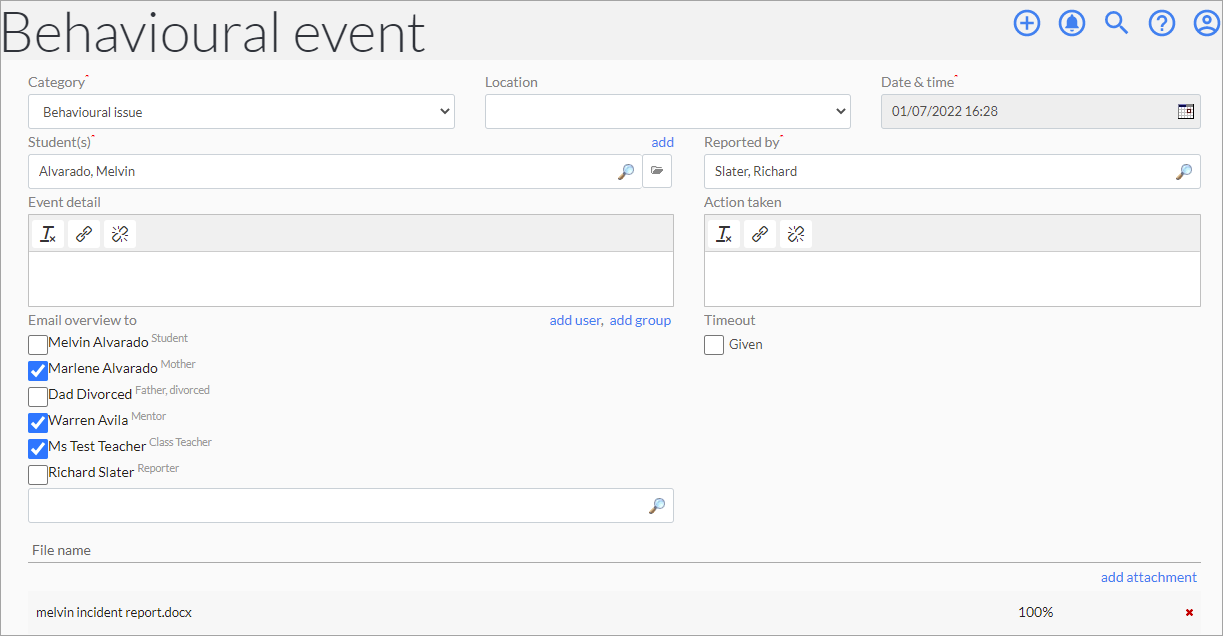 Why not use it to promote achievements and attach a PDF certificate for the student to share?
We also did some changes to the following functionalities;
Worked on time out fields which were not saving correctly.
Missing information pop up was showing wrong details as errors.
When cancelling or closing an event the user is now directed to the history view page.
Time line added to My Schedules
We have now added a time line to the My Schedule view, which picks up from your regional settings on the system, and adds a line to show the current time of day.
Changes to IEP rollover
When using the IEP module, we have changed the rollover behaviour for students. When selecting rollover, it will check to see if the student is in an active class for the target rollover year. make sure your students are enrolled in a future class before hand. Otherwise they will not be rolled over.
Updates and issues resolved;
The incomplete attendance dashlet was showing non-active courses. This is now resolved across the system.
Minor UI improvements to notification module for enterprise clients.
Continued work on issues encountered with new announcements. Most issues are now resolved and work continues to improve people picker.
Fixed an issue with room scheduling and availability clashes.
Questionnaire submission will not respect the mandatory fields and stop submission with out them.
Worked on questionnaire submitted counter which was different from export data.
Changed DB structure for project client due to custom work (MT).
Fixed issue with signatures being wrongly assigned in new announcements.
Resolved an issue on communications log which was showing a system error.
Worked on save profile error for project school (EU).
Further works on customising the rollover tool to include parent/root programmes for project school (MT).
Quick reports filter was not being saved.
Worked on custom certificate which was blank for project school (MT).
Changed director signature for project network (EU).
Continued to update new people picker to show legacy group settings.
Various works on calendar/My Schedule functionality following time line update.
Fixed system error on timetable configurations.
Changes made to allow 2 subjects to show on TRAX download.
Staff members were not showing consents when set as past employees. This has now changed.
Active employees list view was not adapted to mobile view. this has now been improved.
Changed course diary due to be be in descending order.
Realigned the class view in the rollover tool.
Resolved error when adding an educator directly to the module in programme builder.
Further changes to applicant statuses which did not align with payment statuses.
Made changes to legacy custom report.
Reworked UI on assess grid which was not aligning correctly.
Major works on attachments for new announcements. Issues resolved system wide.
0 was being rejected as a value in Assess/Review.
The assess grid list view had an error with save & next which was fixed.