Here is a list of some new features and updates released during May/June this year. More exciting news to come this summer with a complete IEP migration, finance and online payments, and a new module management tool.
Questionnaires
You can now add confirm student details and contact details using questionnaires.

We are still in the process of allowing students to answer questionnaires following some great feedback on our ideas board. Stay tuned for more updates.
SMS templates
Following the latest edition of adding templates to SMS, we have continued the improvement to allow users to send these templates directly
In Edit messages, you will notice an SMS template check box. When enabled, the template will be made available in our send SMS module.

Back on the SMS send page, you can select these templates, a great time saver for recurring announcements or emergency messages.
Please note that SMS charges are not included in your MySchool contract and are invoiced separately.
Telephone numbers
All contact numbers in MySchool are now migrated to href's. What's an href? Good question, it will allow you to link your contact numbers to your VoIP software or autodiallers.

Changed the layout of the personal account page
In the quick action toolbar, users can view their account details. We have removed the edit function and added an access log.

If you wish for users to be able to change their details, then we can add the edit contact header to your systems, please contact support for further details.
Update to the native ancestry field (BC)
We have added further options to the native ancestry field for our BC community.
'No',
'Yes'
'Inuit'
'Metis'
'Non - status'
'Status - Off Reserve'
'Status - On Reserve'
Translate application forms
Following community feedback, we have amended the behaviour of the Google Translate feature available on application forms. You can choose to disable or limit the languages to a few appropriate ones for your region and in accordance with local legislation.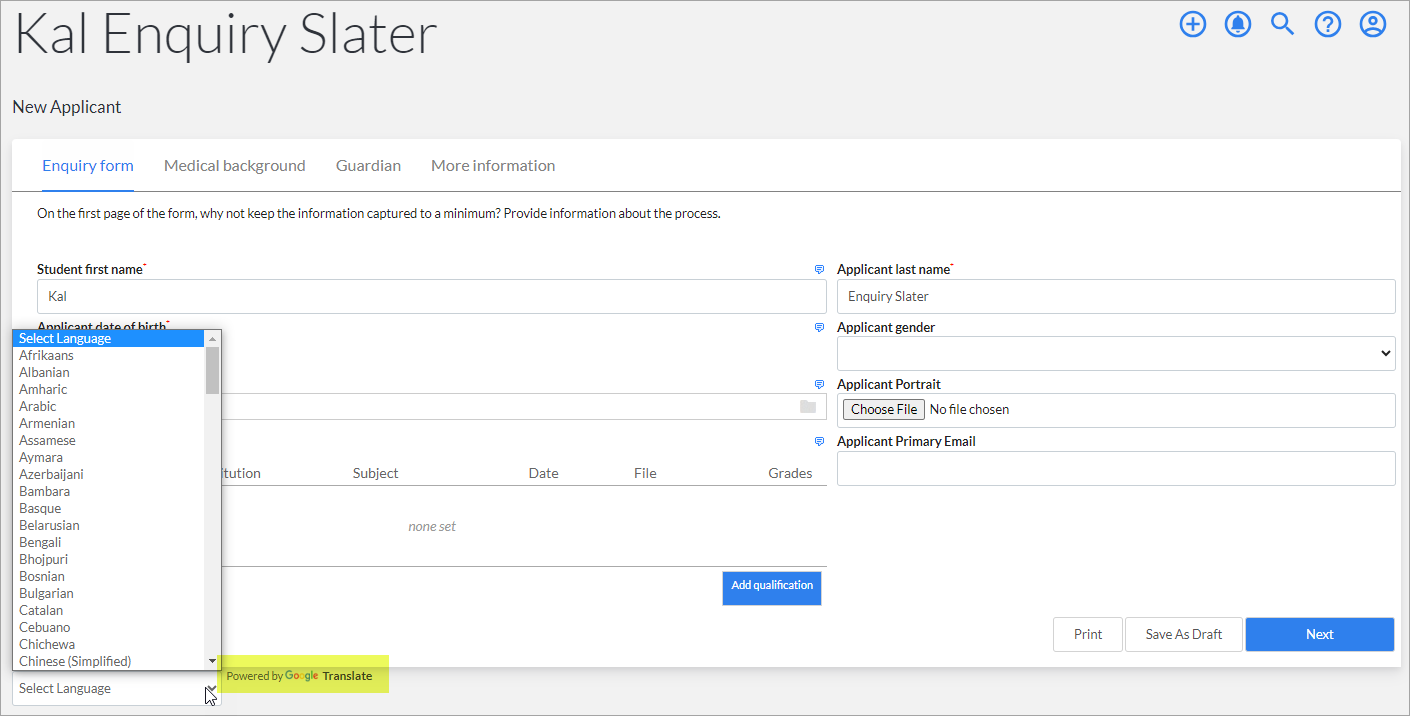 Here are some of the recent updates and fixes to the system;
System - An information icon has been added to the additional values available in assessment types. This reminds users not to enter a space when creating the list
Project (MT) - Added room to communication within the programme builder
Project (MT) - Comments added to custom engagement export
School - Change transcript signature
System - Changed login screen footer which interfered with login on certain devices.
Project (EU) - Restore course enrolments 23/24 due to user error
System - Resolved an error which stopped membership type changes in user groups
Project (MT) - The class people picker was not finding students. This was repaired.
System - Repaired intelligent attendance handling which was not working as expected following system upgrades.
School - Updated transcript which was not showing grades as expected
System - When an access lock for assessments was in place, Teachers could still enter grades via LMS. This has been resolved.
System - New IEP module had an issue whereby support options could not be deselected. This was repaired.
System - Updated system message for users to contact support with details of the issue.
System - Updated UI and padding on the new finance page.
System - Repaired issue where classes nor subjects would appear in list view on the class list or subject specifications.
School - Issue noted on balances for Beta new finance test. This was repaired.
System - Repaired merge tool to include files attached to both profiles.
System - Resolved small issue of headers whilst using mass action button on course view.
System - Resolved an issue with rich text editors, that stored a null value when copying and pasting into the same field.
System - Updated new IEP labels which had a discrepancy between the list and the normal view.
System -Updated new LMS to include assessment and attendance stats as the previous version.
System - Resolved issue when setting an appointment from the calendar view was giving a different time slot when clicking directly on the grid.
School (BC) - Resolved issue with ES audit. The day count was not calculated correctly
School - Fixed an issue where timetables were not loading on student/user profiles.
System - Updated the people picker to include course Teachers attached to the class selected.
System - Online payment provider, Paysimple, added as an option for online payments.
System - Update to new IEP module to include the class level in student view to include class level.
System - Corrected spelling mistakes on quiz permissions
System - Request to update coms logs available on the user profile to include replacement tag values.
System - Resolved an issue where guardians could disassociate their relationship with the student when filling out a questionnaire. This caused ghost guardian user accounts.
System - Resolved an issue with teacher attendance block notices. These were not updated when Teachers had correctly completed their attendance.
System - Noted an issue where consents were not exporting fully.
School - Updated layout of the custom transcript.
System - Update to the new tooltip helper in beta testing. These can now be reordered
Project (EU) - Complete rework of a custom grade certificate for school leaving. Updates continued during May/June. Released early July
School (EU) - Updated logo on S5 report template
Project (EU) - Resolved an error when exporting grades from legacy contributions. Excel is now correctly populating.
System - Increased the number of buildings that can be logged in the system.
System - Repaired an issue where subject codes were not included in the new import tool.
School - Noticed an issue in state reporting whereby columns were repeated and not exporting correctly.
System - Improved the UI for learning outcomes with long titles as these splashed onto the progress bar.
System - Updated permissions to include new finance.
System - Issue with reordering class lists in the fee view.
System - We noticed an issue with V11 branches, whereby an audience was not selected when creating an announcement.
School - Custom works started on custom transcript build.
School (BC) - Updated new course code for TRAX level subjects, which needed to be updated.
School - After the custom invoice change, it was noted that invoices were not correctly updated.
System - Donor distribution groups were not shown in the announcement people picker. This was rectified.
System - Small update to a custom continuous assessment page to amend H2 formatting issue.
School (BC) - Fixed an issue with ES audit calendar dates which were not aligned with the system holiday dates.
System - Updated an issue with staff attendance which was showing absent teachers as available.
System - Updated new LMS to include content and topics created in subject specs.
School (BC) - Updated PSR report which was not populating with primary grades.
System - Repaired an issue where calculated scale settings were not copied when using the copy function in subject specifications.
System - New IEP, updated for BC clients to show PEN number in IEP template
System - As project schools can have large single-class or course populations, this was causing an issue with adding students. We improved the system to be able to show only new students and not enrolled students in both course and class views.
System - Fixed issue with Beta new finance whereby family fee types were not showing in the correct columns on the invoice template.
School - Updated transcript job title to new signature
System - We have optimised the coms log to be paginated. This will improve load times.
School (BC) - Repaired bug where primary grades were not populating the PSR report
School - Restored LO's which had a system date hidden in the folder. This was rectified.
Project (MT) - Improved the programme builder list view which was timing out due to number. This was changed to allow correct loading.
System - Repaired show free students report which did not show a full student list according to their lesson schedules.
School - Resolved a transcript formatting issue where headers were overlapping on pdf.
System - Applications form builder will automatically pick up all school years created in year management. There is no need to remove the field and re-add.
System - Updated ID field to allow for 20chars max
Project (EU) - Communications log was not loading correctly and giving a system error. This was resolved.
System - Added programme builder options to the new people picker for announcements.
Project (EU) - Finalised late changes and translations for leaving certificate.
School - Rectified error on transcript changes.
Sprint 180