When creating Student profiles, MySchool has a quick and easy way to add the Parents/Guardians to the record, and create a User profile for them. First have a look at this article. which explains how user groups work. A User becomes a Parent/Guardian when they are attached to a Student record.
How to add a Guardian contact
Open an existing student, or create a new one, open the Contact tab on their profile, and press Edit. If the Guardian/Parent is also a staff member then this can be done under the Dependant tab on the Staff members profile. This article explains how to add a staff member.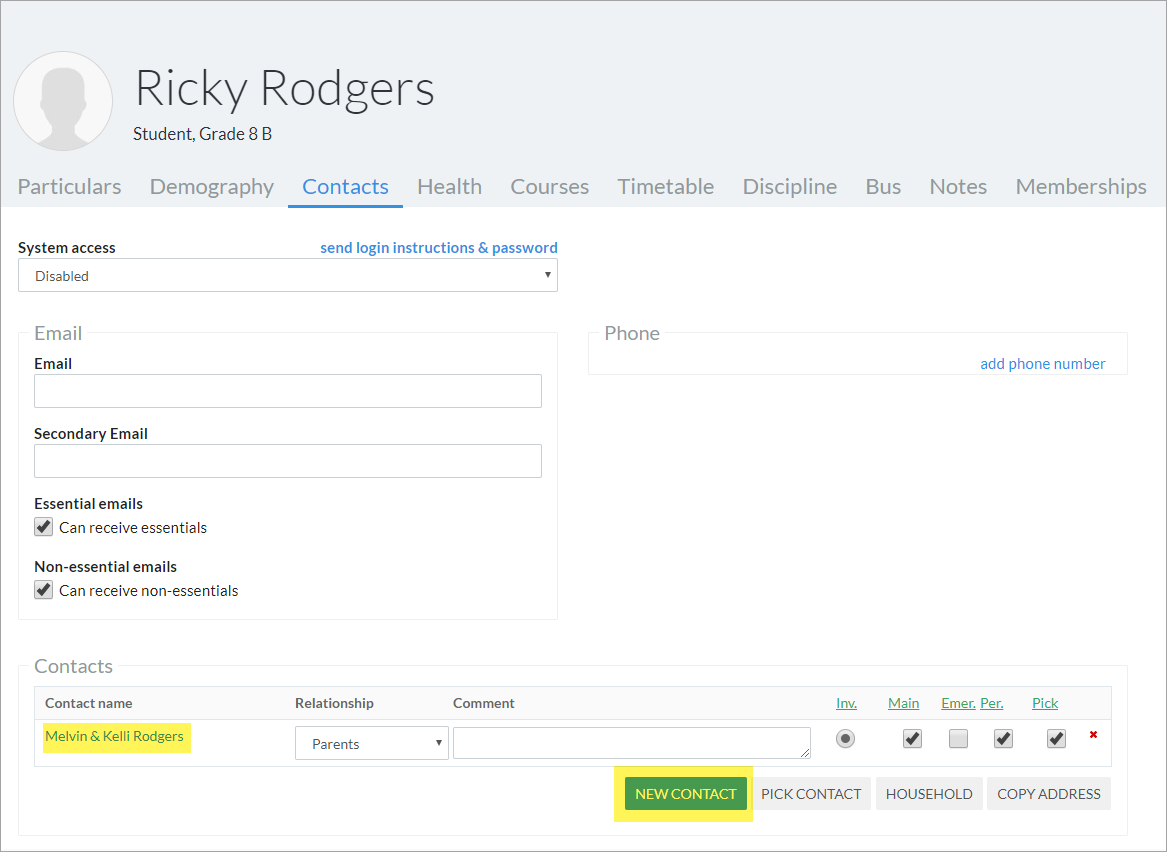 Whilst in edit mode, the contact box will have the options of New Contact, Pick Contact, Household, Copy Address. Open a New contact, a pop up screen appears.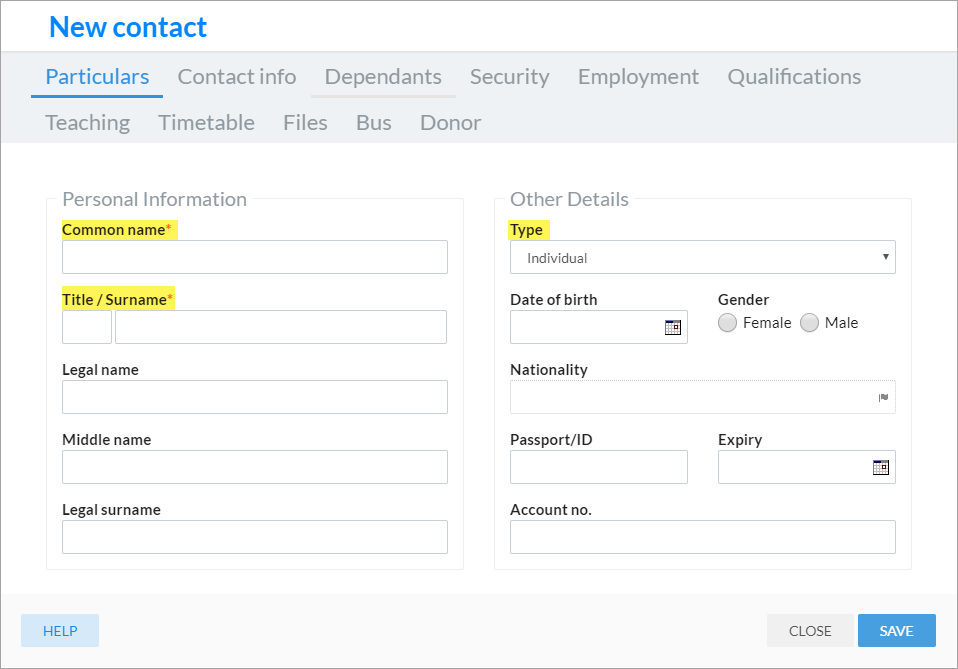 The mandatory fields are First name (common name), Title, and Surname. These have a red Asterix. In the other details section, you can select whether you are adding an Individual or Creating a Household.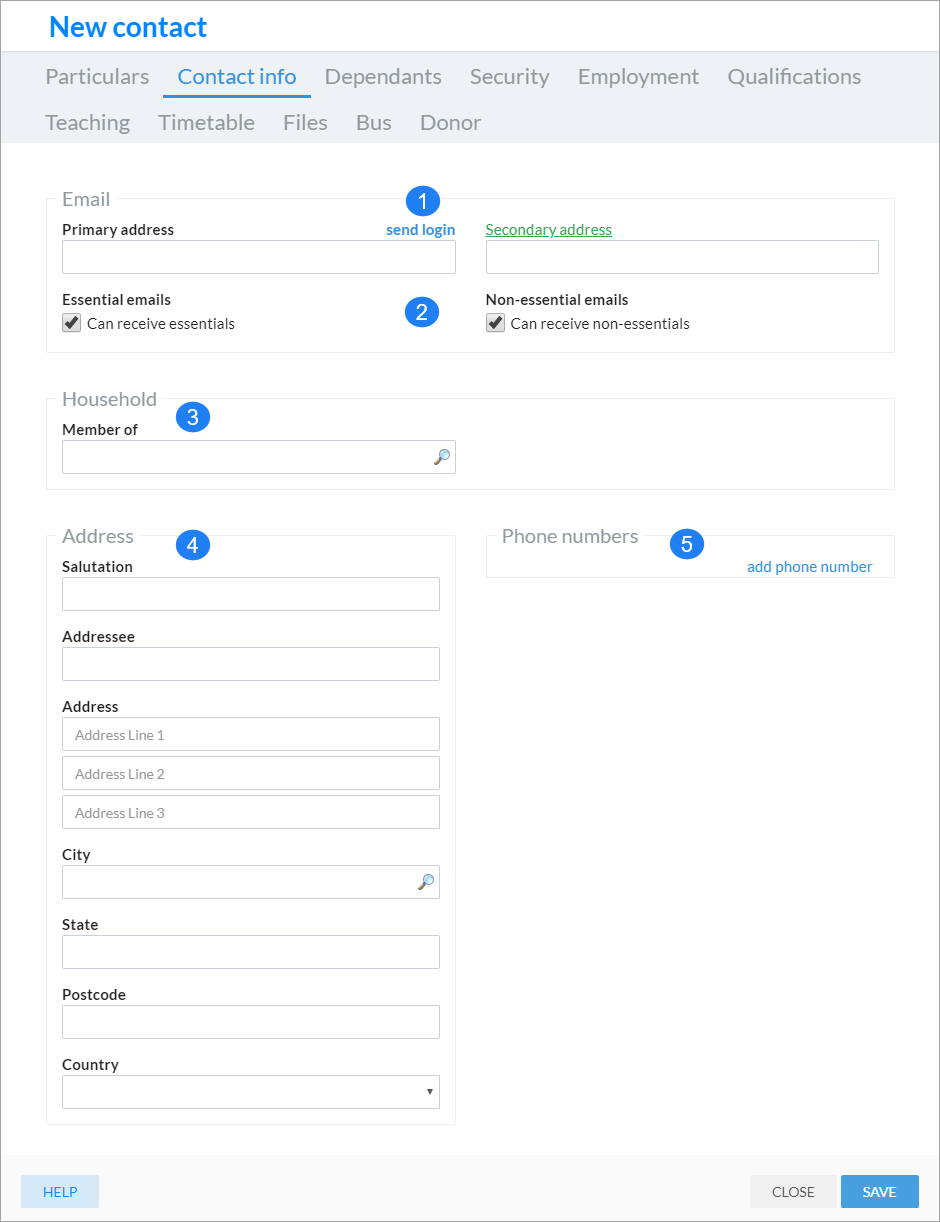 1. Email Primary Address
We strongly advise you to open access to MySchool for the Parents, the system is designed to provide transparent communication between both parties. Guardian/Parent users must have a valid email address so that they can log into the system. Login details can be sent at this point, by clicking the send login link. This article explains the login process.
If guardians do not have a unique email then you can still save their profile, but they cannot be classed as active and must be set as archived in their security tab. They of course cannot access the guardian portal nor receive communications.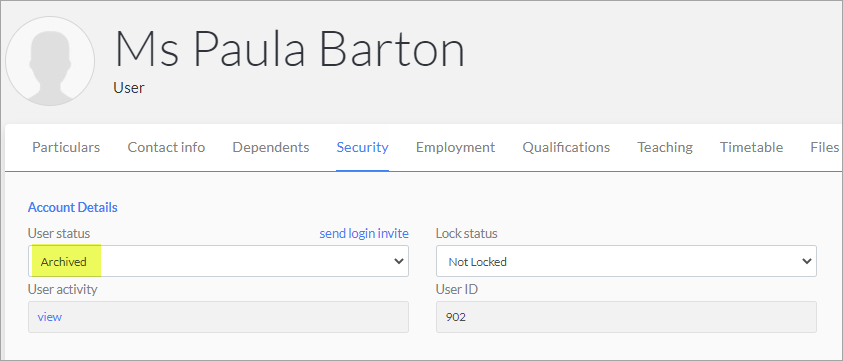 2. Essential Emails/Non Essential emails
Users can opt out of receiving mails sent by MySchool, and for security reasons, some parents may not wish to receive non essential mails regarding the school. Both are marked as Default.
3. Household
If you have households already set up then enter the first three letters of the family name in the field with the magnifying glass. The address field will automatically take the data from the Household.
4. Address
The address fields are used for various reports, and labels, when requesting user details, ensure you provide clear instructions as to what is required in these fields.
When creating an admission form or questionnaire, you can include help panes on the questions, which provide instructions to users. If the Address field 1 is for the Number/Appt Block, and Address Field 2 for the street name, then make sure the users understand what you need.
5. Phone numbers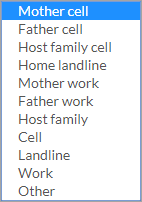 There are many different types of phone numbers that can be stored. Different reports and features use these fields. When inputting the number then make sure you follow a recognised national system (i.e. ++44, or 00 44). This helps keep your data conform for other Administrators.
When you have completed these fields then press Save to return to the Student Profile. You can add more Guardians/Parents from the Contacts tab.