MySchool uses a system of levels to manage the curriculum. The curriculum determines a students scholastic path whilst attending your school. The subject controls the Assessment part of MySchool. Each year, they will be allocated to a subject, which manages a series of courses (or lessons). All current and future courses are attached to a subject. If new courses are introduced within your school, then you will need to create new subjects before the course can be created.  
How to access
Subject management is restricted to Administrators. Find the option under the Administer menu header, Advanced Options, then open Subject management.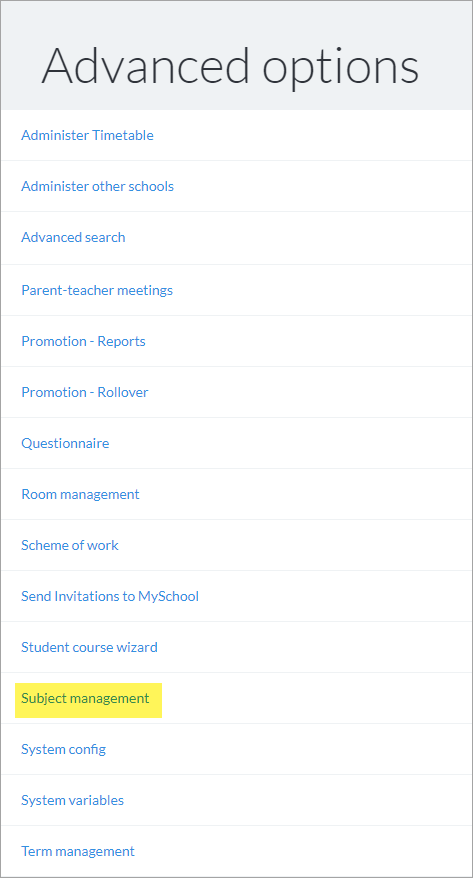 The list of subjects is listed in alphabetical order, it can be filtered by class level on the right hand pane. Click on the subject to open the edit screens.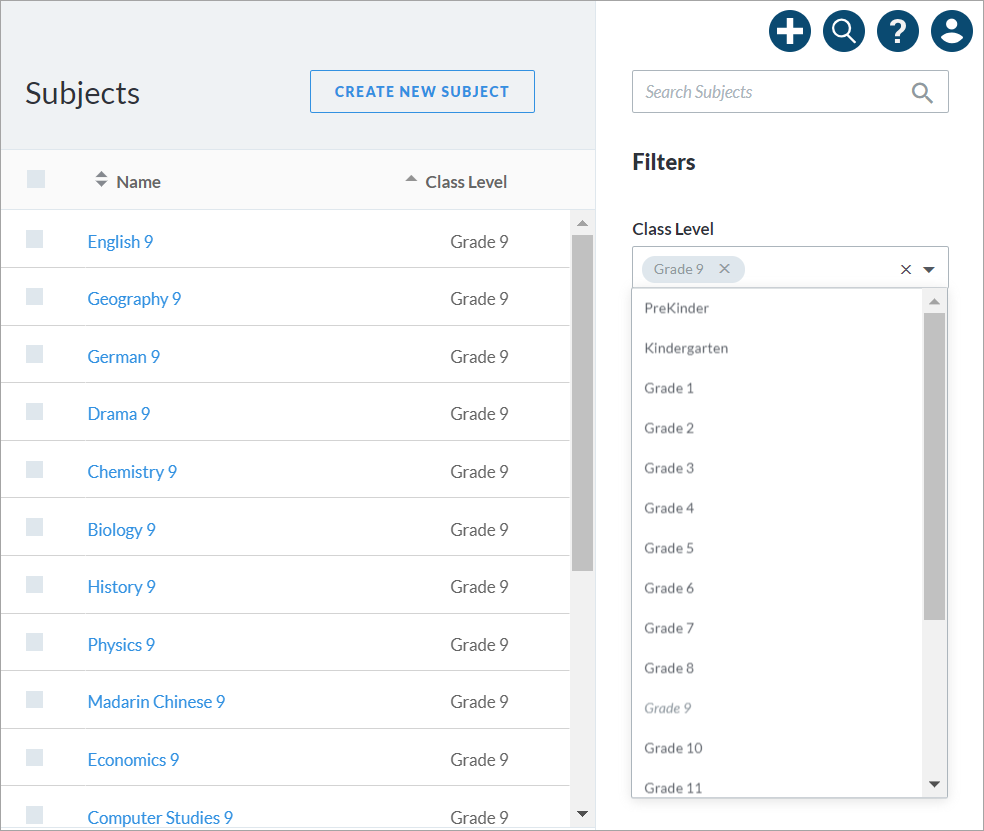 You can also edit the following criteria directly from the list screen, by selecting the box next to the subject name. When a subject is selected the MORE menu appears next to the delete icon.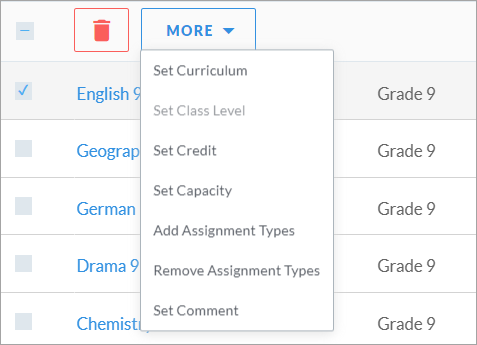 You can set the curriculum, class level, credits, capacity, add/remove assignment types and add a comment to subjects selected. 
You can create subject English 1,2,3,4 etc to apply for each grade/year, the course can be the same title. For example English 1 is a subject which is applied to Grade 1 students. The course can also be labelled as English 1. When moving towards a wider subject curriculum then the English 12 subject which applies to grade/year 12, needs to have separate subjects for English Lit 12, English Lang 12 etc. Each subject would then have it's courses attached.
Creating a new subject
Open a New Subject with the action button at the top right hand corner of the subject list page. There are four tabs to configure subjects;
Configuration
Promotion & enrolment
Assignment
Other details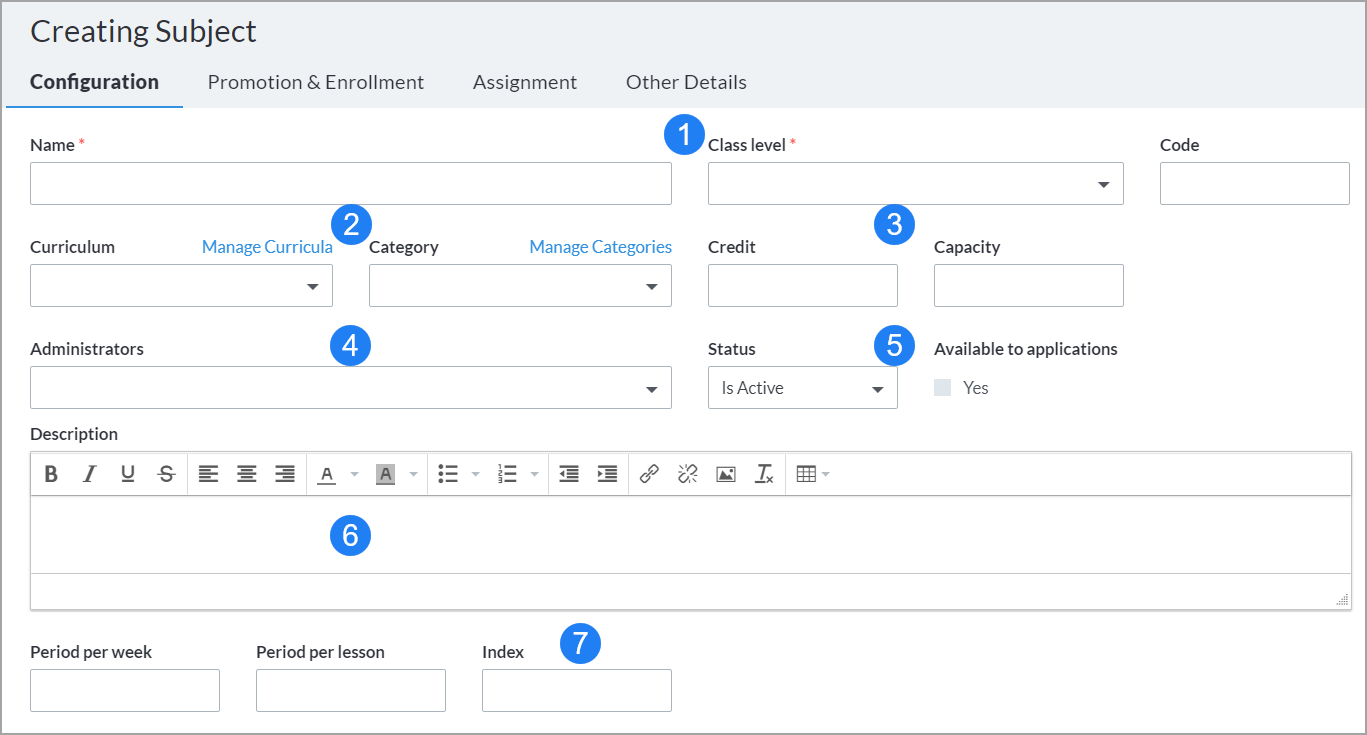 1. Name/Level/Code
Create a name for the subject, this will appear on grade reports, then attach it to a class level. These are the two mandatory fields needed to create a subject. If you do not wish to ad more detail you can save at this point. The code appears on grids and reports where the full name is not needed.
2. Curriculum/Category
if curriculum have been created then the subject can be attached from the drop down menu field. To add new or edit the curricula then select the option. The same applies to the category. This feature allows schools to collect then extract data relating to internal and external reports.
3. Credit/Capacity
If you have a system of course credits in place then these can be entered here. Equally if there is an optimal capacity then this can be controlled from here. This is important in the BC region when calculating TRAX data.
4. Administrators
Certain members of the Teaching staff, or Heads of Subjects can be allocated to the subject management. Enabling them as Administrators will allow them to manage assignments, learning outcomes, and configure settings in connection to the subject.
5. Is active/Available for admissions
To set the course as being active then select this box here, otherwise it will not appear on the grade report or available for courses. Subjects can be incorporated into the admissions process, and students can apply directly to enrol on subjects within your educational establishment. 
6. Description
Use attachments, hyperlinks, and set out guidelines for educators to follow. The description section will be viewed by Teaching staff within your school.
7. Period per week/lesson & index
Set the number of periods for the subject, and the index number when it appears in a list. 0 is the default value, then subjects are classified by alphabetical order.
Promotion & Enrolment
You can set the promote to feature when creating a subject, this will make the rollover automatically create these subjects, and allow promotion of students attached to the these subjects.

By setting the enrolment rules, then MySchool will automatically place the subject within a class level, and if selected will make it mandatory for students within that class level. Simply add enrolment rule for other levels if applicable. 
Setting the assignments
Assignments are the regular coursework given by Teachers. These are managed via the subject, to ensure that all Teachers of the attached courses are applying the same teaching standards to their courses. There are four settings that control the grade grid, and eventually the marks applied within the grade report. 
1. Grade average calculation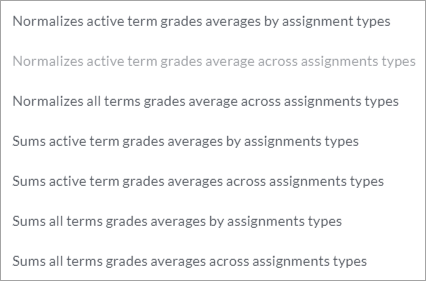 The administrator of the subject can set how the grades are calculated across terms and assignment types.
2. Assignment categorisation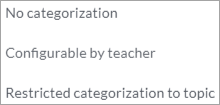 Select here how to categorise the assignments to group types together for grading. This allows Teachers to group per topic within the assignment grade grid.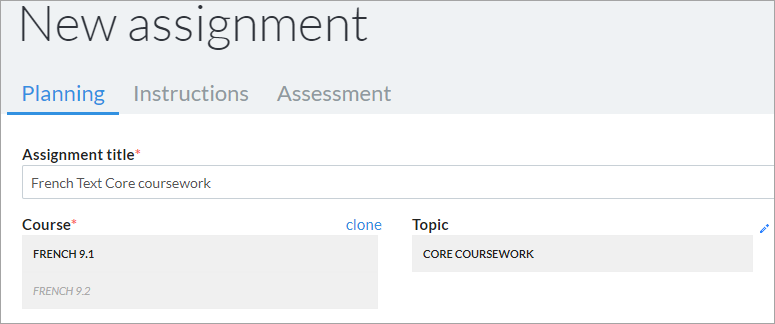 3. Assignment types
To link which types of assignment can be attached to a subject then choose from the drop down list. The types of coursework will be the ones available to Teachers. These can be configured and edited via the Assignment configuration feature.
4. Grade scales
Heads of subjects are able to determine what type of grade scale to apply to a subject. Some may have a simple percentage grade or number scale. In other cases, an effort scale can be created and applied at subject level. These can be selected at assignment level and used as evidences within a learning outcome. The grade scales are created via the assignment configuration menu, and attached to learning outcomes, have a look here to find out more about applying assessment scales to grade reports.
Managing the curriculum
Within MySchool we have created systems which are both interdependent, and dependant. A subject needs to have courses attached, which again can have Assignments linked into specific learning outcomes. For basic use, the system does not need to be configured with everything linked. To obtain maximum monitoring, then we advise looking into the options and creating the links. Making subjects work for your school will make it easier when applied to Assignments, Grade grids, and Grade reporting. 
Use the Subject Specifications/Learning outcomes to monitor and to assist Teachers in monitoring students efforts. Include standards, and attach teaching guidelines for the course Teachers to follow.
New subjects can be imported via the import tool, if needed we can assist with advice on how best to implement changes. If it is a whole new curriculum then talk to our support before entering the information.