User security and access is key to MySchool. With a quick easy functionality, administrators and staff can add students and guardians, activate, lock, archive and send passwords via the system. Use the mass edit tool to apply account statuses to users across your school community.
User access
In the classic MySchool setup, then users need an active profile, a primary email to which they have access, and have received a secure randomly generated password. This password can be rest using the edit my account feature located in the Quick actions toolbar.
We do have the possibility for schools on communicate contracts and above to implement SSO login as well. We can provide a landing page, for users to have a hybrid solution where students and staff login via SSO, with guardians being still able to log in using the default set-up.
How to access sending invitations
Depending on whether you wish to send for a group or an individual, there are various ways of sending the invitation to log in. Administrators can use the Advanced Options in the Administer menu header. Then search for Send invitations to MySchool in the list.
If you do not have access to mass edit, then contact our support team so that they can add this functionality to your system.
Logging in for the first time
When invites are sent to users they will receive a mail, which can be modified to suit your school's needs. In this article, we describe how to edit the default messages in the system. In the mail, they will be invited to click a link that validates the account.
On the first login, the user follows the on-screen instructions to set their password.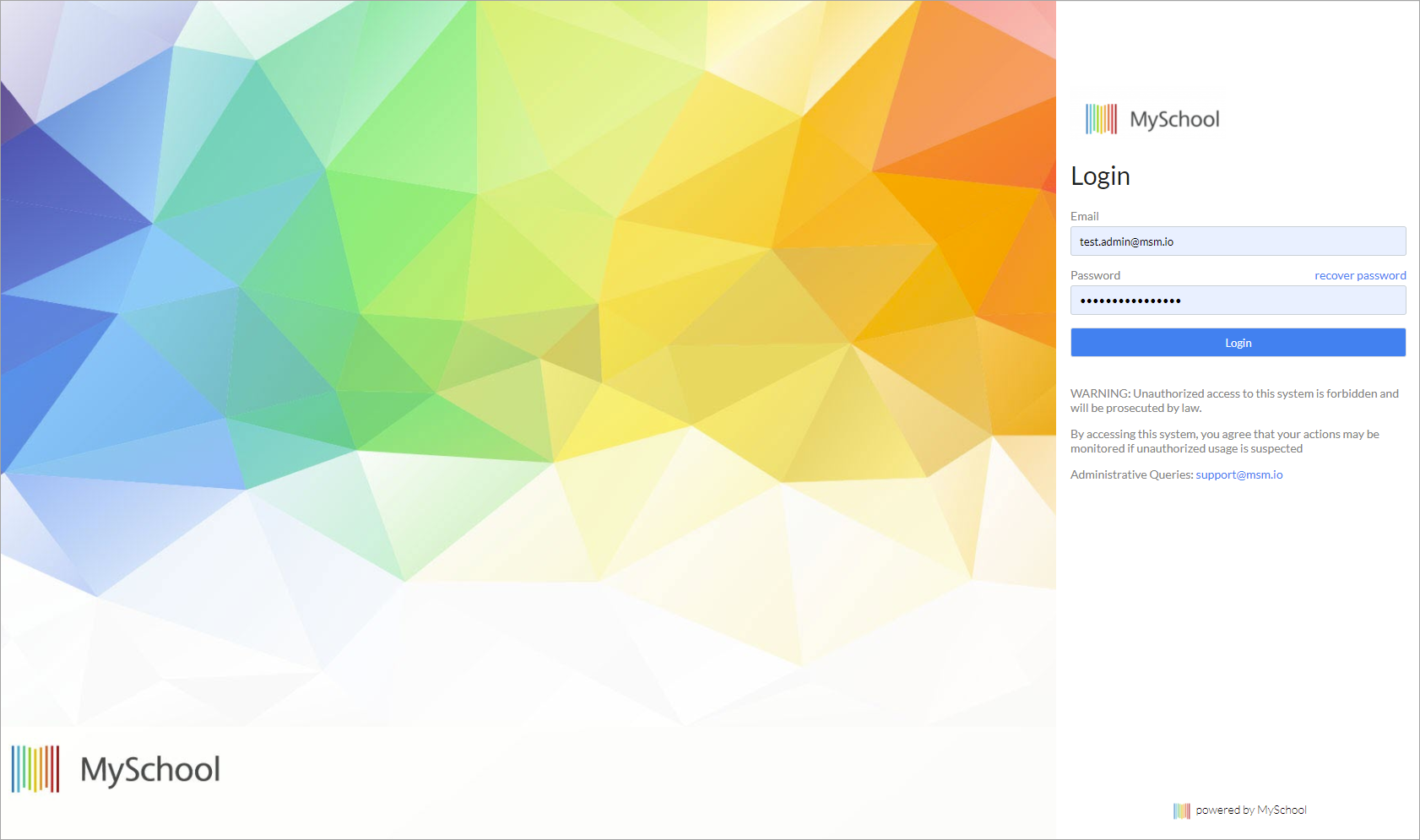 Don't forget you can now customise your login screen. Check out this article and send us your logos to test. Why not create a competition for students to design this.
Group Invitation
Open the invitation page, and select your target population from students, staff or guardians. The user field will open the people picker.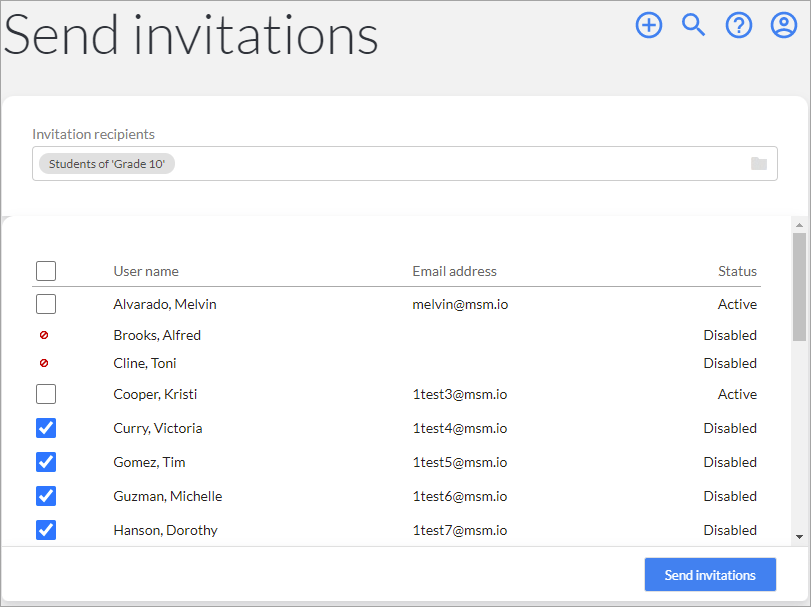 MySchool will then fetch the name, the email, and the status of the target population. If the user is already active, you will notice the checkbox is not ticked, so no invitation will be sent. If you see the red no entry sign, this means that no primary email is recorded in the profile. Users cannot log in without a primary email. If the user account status is disabled then an invitation will be sent for them to activate their accounts.
When a student or user is created manually, they are automatically set to active. The system will ask for a primary email to be added before allowing you to save the profile. Of course, you can save a profile with no email address, but their account would need to be archived. Imported users are always set to disabled, so must be activated by sending an invite or manually.
What do they receive?
The default template will give them the URL of your MySchool system, and a randomly generated password. This template can be customised with your own words should you wish. Before doing any changes please speak to your CRM who will explain the magic tag system. All the new users need to do is to click on the link and type the password.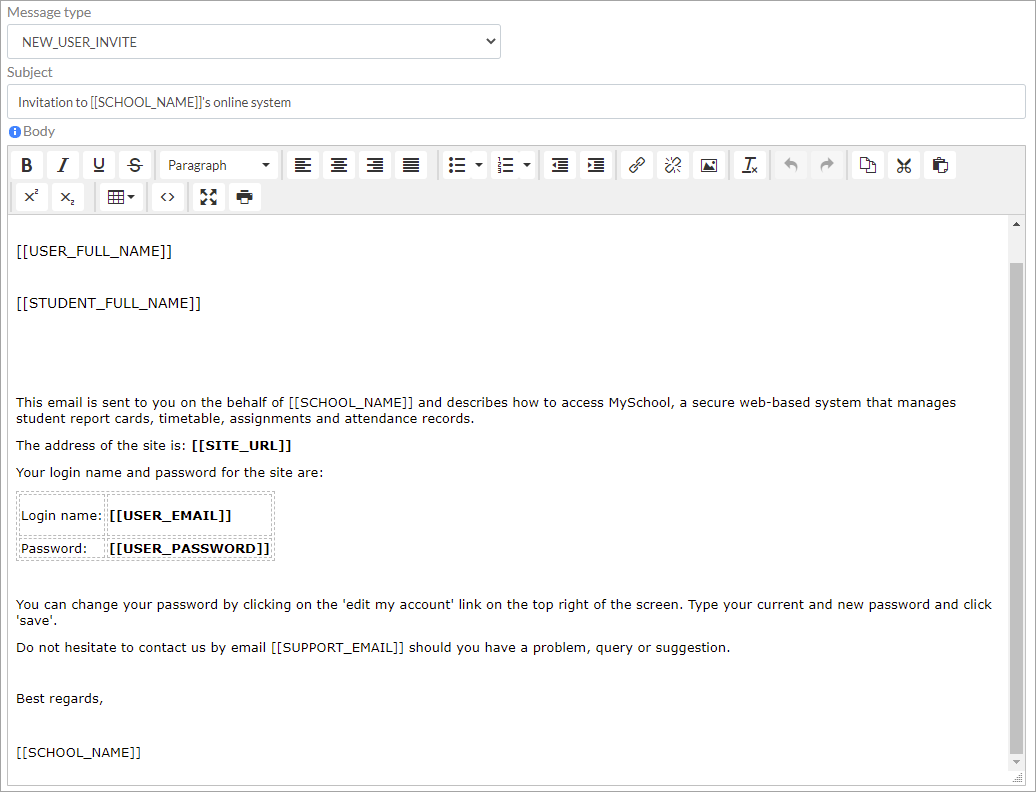 Manual activation and password management
Super admins with the permission to change passwords can activate profiles, send individual invites, or manually set a user's password. Go to the Security tab and in edit mode click on send login invite. This will generate the above-mentioned message template with a new password.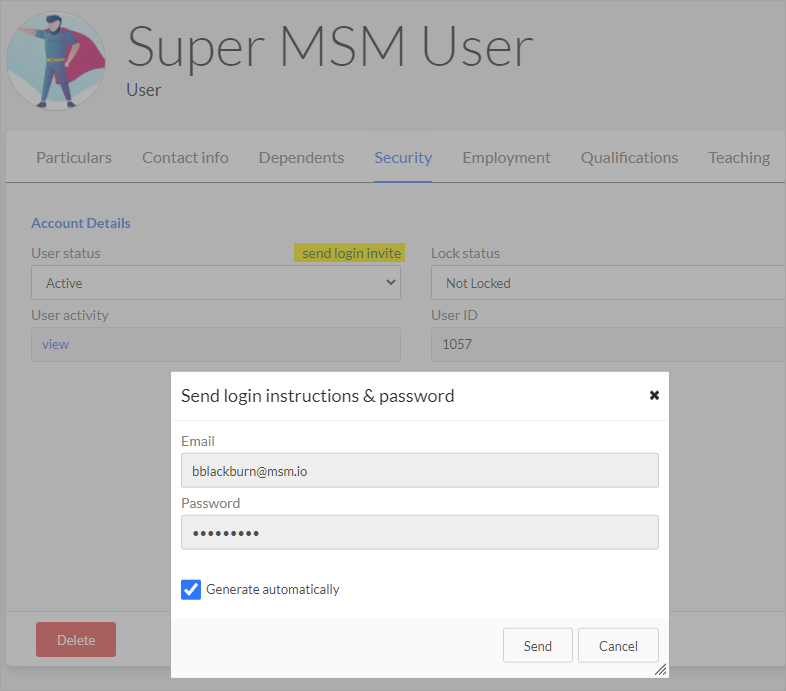 If you need to set a user's password due to access issues then uncheck the Generate automatically box, and manually enter a password. Please note passwords are case sensitive. If you are setting someone else's password to a generic password, please advise them to manually change this on the first login.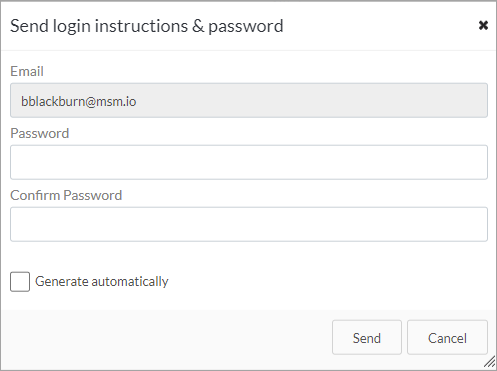 Using mass edit to activate accounts
We have added the functionality to either individually edit system access, or mass apply the system access to a group of users. This makes activating new accounts quick and simple. However, it will not send an invitation and password link. Have a look at the article explaining the mass edit tool.