MySchool is designed for all users to have quick and easy access to the information they need. Guardians/Parents have their own entry portal, with information related to their dependents.
How to access
Once the Students profile has been created, then a Guardian can be attached to that record. Once details entered they can receive an invitation to log into MySchool. Simply open by clicking the URL provided in the mail.
If the user is a staff member then they do not need to have a separate guardian account. They can log in with their staff credentials and switch between the staff and guardian portals.
User Interface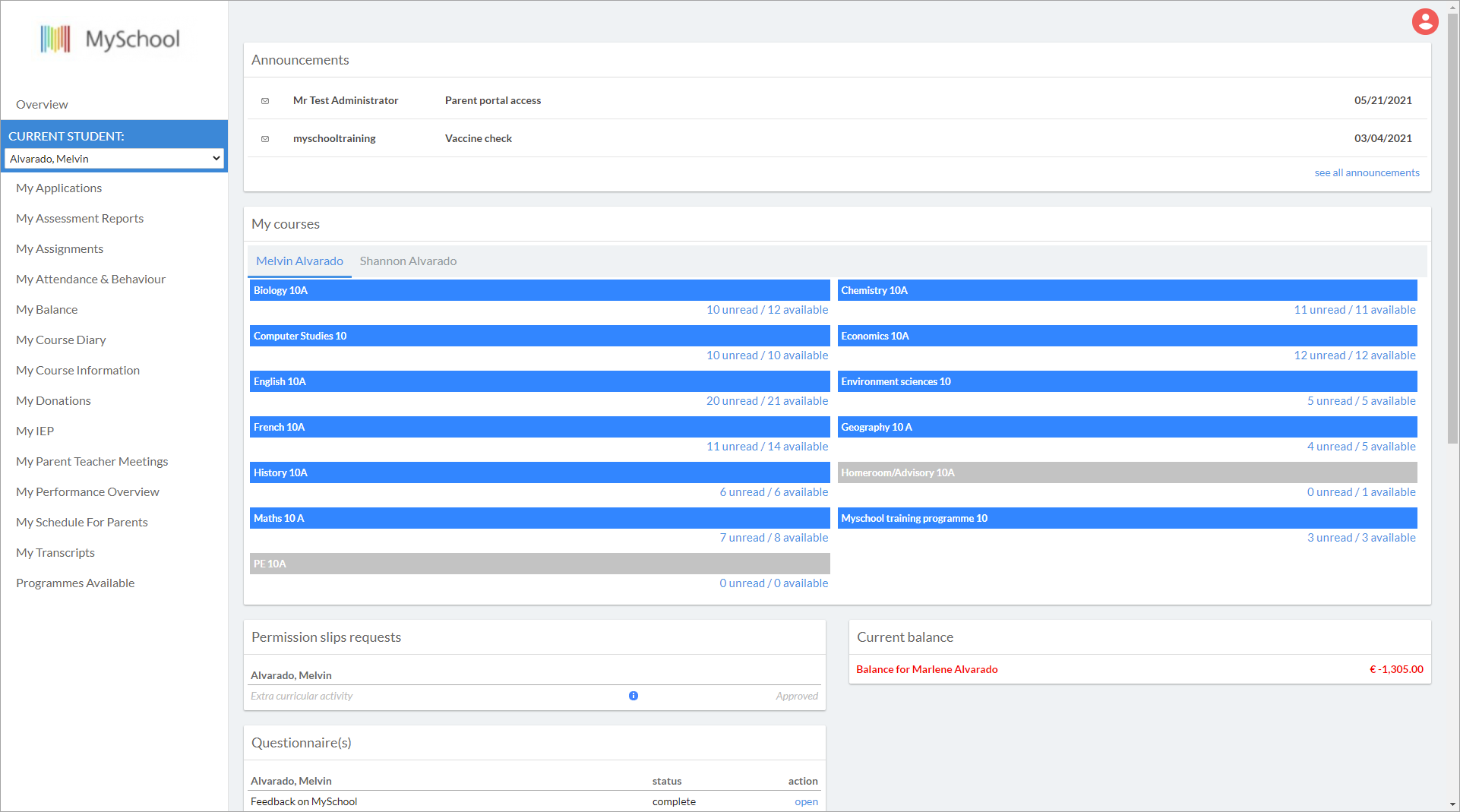 The User Interface (UI) for parents is split into different windows, dashlets, and configurable menu headers. If the user is attached to multiple students then they can choose which record to view by switching between them.
Menu Headers
Overview
This brings the user back to the home page.
Current student
Change between student views if more than one dependant is attached to the Guardian.
My Applications
Allows guardians to start applications for new dependants if the school is using the admissions module.
My Assessment reports
If your institute uses the assessment module within Myschool, then once the report is published it will become available on guardian and students portals. The guardians can access all reports that have been published during their dependants time in the school. MySchool actively supports all effort to reduce paper usage.
My Assignments
One of the detailed pages, used mostly in connection with VLE course resources. It provides a very detailed view for guardians for them to monitor assignments both in terms of grades, feedback, submitted and returned work.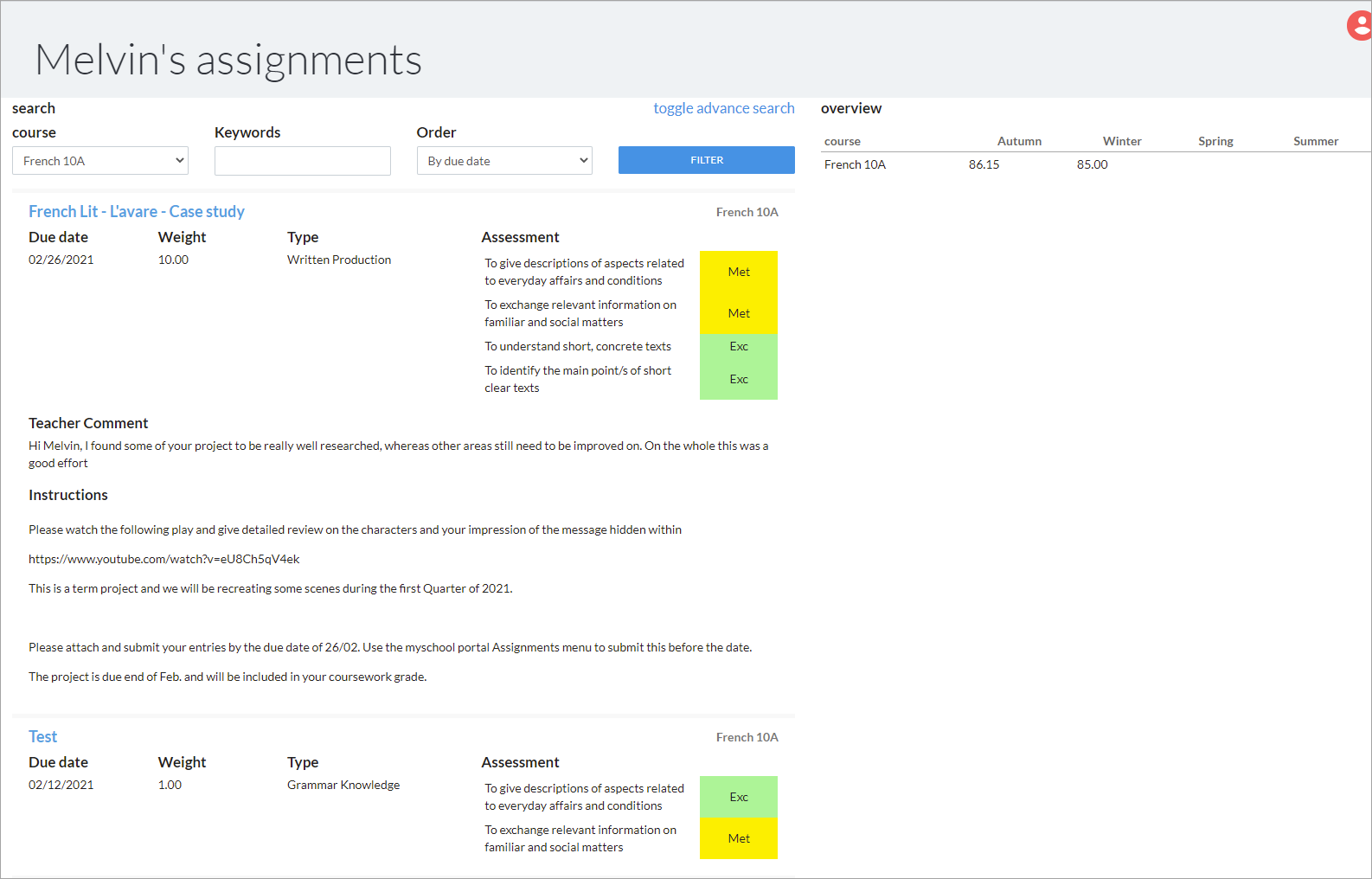 My Attendance & Behaviour
When a student is classed as absent or late then this event is logged and stored within this page. Equally if your institute uses the behaviour events module, then guardians can have access to the details within this menu header.
My Balance
If you are issuing invoices with the finance module, then guardians have access to all their invoices and payment details. Once an invoice is published, guardians are invited to log into the portal to download the PDF. A complete record is kept for that financial year.
My Course diary
Course teachers can make an entry via their schedules, to enter notes relating to a specific scheduled lesson. It is a great way to put reminders to bring equipment or prepare for an assessment. It can also be used to give a summary of topics covered during a specific lesson.
My Course information
This gives information with regards to the course teachers contact details, and course description fields.
My Donations
Once a receipt has been printed and published the guardians who are also donors can access the receipt directly from the portal.
My Files
Guardians can also have access to shared documents the same as students. Share course content, institution guidelines, or promotional content.
My IEP
The IEP module allows institutes to build detailed reports for students with special educational needs or individual education plans. Once a report is created, mentors can publish directly to the guardian portal.
My Parent teacher meetings
A great module to help you organise parent teacher events, create a detailed schedule with slots, and either set those for the guardians or allow them to choose which teachers they would like to deal with.
My Performance overview
A different perspective for guardians to follow assignments, grades and feedback. Your institute can choose to have all or just one option mapped.
My Schedule for parents
Parents can have access to the students timetable if courses have been scheduled in a MySchool timetable.
My Transcripts
Students and guardians can download copies of their transcript showing their academic achievements if these have been created using the assessment mdoule within mySchool.
Dashlets
In the main window, the guardian has access to some great features which can make your daily data manegment easier and up to date.
Top Tip: Contact our support team to discuss what can be displayed in this view. We can work out a format, and create a personalised view for your school.
Announcements
MySchool understands the importance of communication between the School and the Guardians, we suggest to always leave Announcements available and at the top of the page. This article gives a step by step guide on how to mange this feature.
Questionnaires & Permissions

Any questionnaires or up and coming activities requiring parental consent are listed here. These are specifically sent to a target population. Encourage the parents to submit their answers via the portal to ensure that all information is centralised and protected.
My Balances
A simple quick summary of the outstanding balance if the finance module is used to issue invoices and payments received.
Assignments
Parents are able to view the students up and coming workload, and can support them and also follow the progress. There is the possibility to control whether the Guardian has viewed the pending assignments, by impersonating the user and checking to see if the message has been read.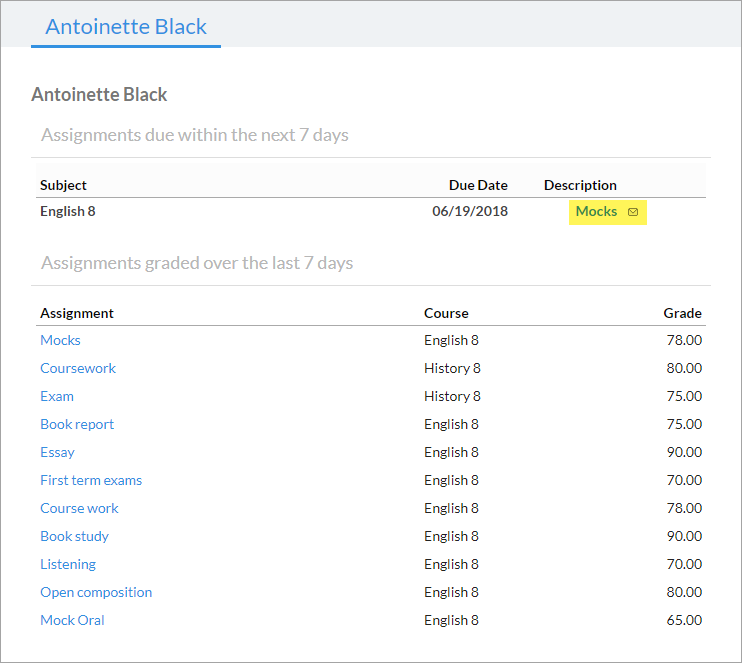 Attendance
Linked with announcements, the guardian/parent is able to view attendance data over the the scholastic year. Green blocks show present, Orange represents half days, whereas red are for absent full days. The guardian can interact with the Red/orange days and an information box will appear on screen. Have a look at the comprehensive Attendance section on the help desk.
How to encourage user interaction
We understand that the system works perfectly in a perfect world. We also understand that some users may show resistance to change, or may have limitations that stop them from interacting with the application. Here are some useful tips to improve user interaction:
Hold a training session internally to promote the ease of access. We all have different levels when it comes to adopting new technology. Try small class groups, and invite the students to help their parents if needed!
Communication is key. Whilst Onboarding or during the early phases, you may have to continue to use paper or mass mails to inform parents of events. Continue to reinforce the benefits and information that is available on MySchool.
Offer a reward system for both parents and students as part of the academic reporting mechanism throughout the year.
Create a video and post it to your schools website, make sure this video explains all the benefits of using MySchool for the students.