Throughout your MySchool system, you will be required to filter audiences, target report content, or just select a random group of users. In many of the cases, you will be presented with our own People Picker. A powerful tool which removes the need to create and maintain mailing lists on your system. Within a few simple clicks you can send a communication to all your main guardians within your community.
Where to find the people picker
Mostly the people picker is used to select users to populate lists. These lists are found in communication, class/course enrolment, and certain reports. The version listed below will be patched to all select functions across the system.

How to use the People Picker
Depending on how your school is configured, the people picker represents the users in a logical step order. Category > Sub Category > Individual.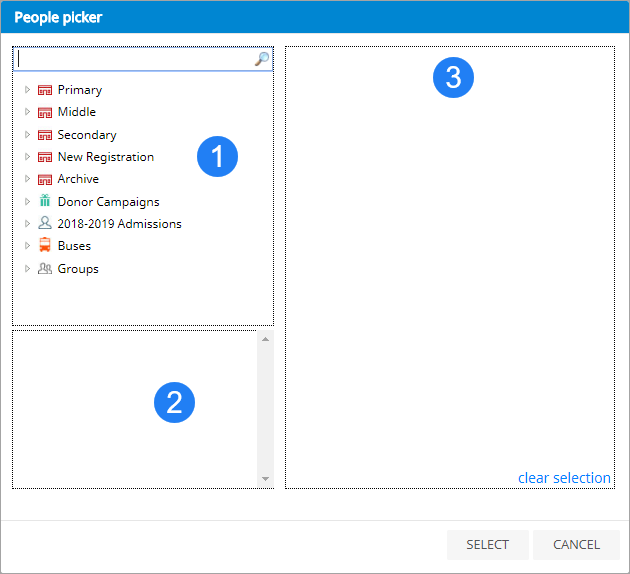 1. Main categories
The list of school levels, registrations (Applications), archived users (Withdrawn), Bus groups, and Custom built groups (Distribution Groups) appear in this window.
If you know the user, then start typing into the search field

, and a drop down list will appear .
The Red School Icon represents the School level. Under this you can find the Classes attached along with a Course list attributed to the classes and school level, the Teaching staff, and all other staff.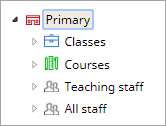 To bring up the selection, click on the Name of the category as above. In this case we have selected the whole population of the 'Primary' school level.
2. Contact subcategories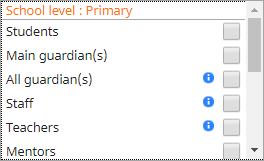 Within the target category, the People picker asks which type of contact you wish to choose. Check the boxes to include as many as you need. The people picker works from the information in the user profiles, in the case of Emergency contacts, then this needs to checked on the guardian profile.

The main category controls the level of contacts shown. Multiple categories can be selected, with the same subcategory (e.g. Primary > Students, Middle > Students).
3. Target Contact Population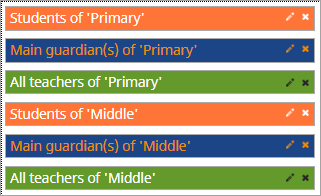 Once the subcategory has been selected they will then show in window number 3. If you wish to delete a subcategory then select the X icon. Equally, at the bottom of the window you can delete the whole list by clicking on Clear selection.
If the people picker is used for communicating with groups, and some members do not receive the mail, then check the User group list, to make sure the person is listed in the correct groups.
Once confirmed, you will be returned to the previous screen and your selection is shown in the head icon field. Simply click on the head icon again to edit if needed.

Where is the People Picker used?
The function appears mainly within communication features, where the User is required to contact small individual specific groups, or a a wider school level contact type. It can be found in Announcements, SMS, and Permissions. Variations of the tool are used to select customised report groups.