If you are using Microsoft education package within your school, we now offer a tool which can synchronise with your MySchool rosters.
Students, Teachers, classes and courses can be pulled from MySchool to your MS Teams for example. Please note that there are steps within this process for which you may need to contact Microsoft directly.
We are unable to assist with configuration or settings within Microsoft.
Do students and Teachers need an outlook primary email?
If you are using any other email (school, personal etc) as login/primary email then the synchronisation may cause duplicate new users to be created when you try to synchronise. Please update your primary email fields with their Microsoft emails. We have a mass edit page to make this easier. Requests to update larger populations by the development team will be considered by the support unit. These requests are dependant on activity and availability, but may take a minimum of 30 days.
What does this synchronisation do?
It will allow your MySchool data to update your Microsoft One roster data every night, around 00h00 CET. If you change enrolment details for a student on MySchool, then this will show on Microsoft rosters the next day.
The data available for Microsoft is listed below;
Academic Years
Terms
Classes

Includes enrolled students
Includes Teachers

Subjects

Course relationship to the subject

Courses

Includes enrolled students
Includes Teachers

Teachers
Students
Can we synchronise if we have Teams set up already?
Yes. Microsoft integration requires you to choose whether you pull information from MySchool to update New/Existing users on Microsoft education. So both are possible.
Can we synchronise future and past years data?
We can only synchronise for the active MySchool year. Time travel will not be taken into consideration for synchronisation purposes. You could roll your system back or forward to resolve this if required.
What about assignments?
We do not have the possibility to synchronise with the assignment module in Teams.
So what are the steps?
1. Find your tenant id from Microsoft and inform our support team of your intentions. You need to provide an email address for your key contact. This person will be responsible for the integration process. We advise that the user must have knowledge of Microsoft education administrator functions. This person can be an external to your school or a non support user. They must have the authority to receive and handle sensitive security access tokens.
2. Our support team will map two new features to your MySchool system. These pages can be found in Administer/Advanced Options/LIS Courses and LIS Classes. We will map them to the role, and will ask to which user group this can be assigned to.

3. Once this has been accepted by Microsoft, MySchool will show in the list of API providers on One roster. If you cannot find us on the list, then you can choose OAUTH2 instead. Our integration team will send you a token via email with the security credentials needed to add to your One roster configuration. Access to the login information will last 24 hrs. You can now confirm the synchronisation.
If you do not wish to start the synchronisation process immediately after then please do not request the token. It will take time for us to resend another access.
4. Open the new pages LIS courses & LIS classes and check the Should sync school option.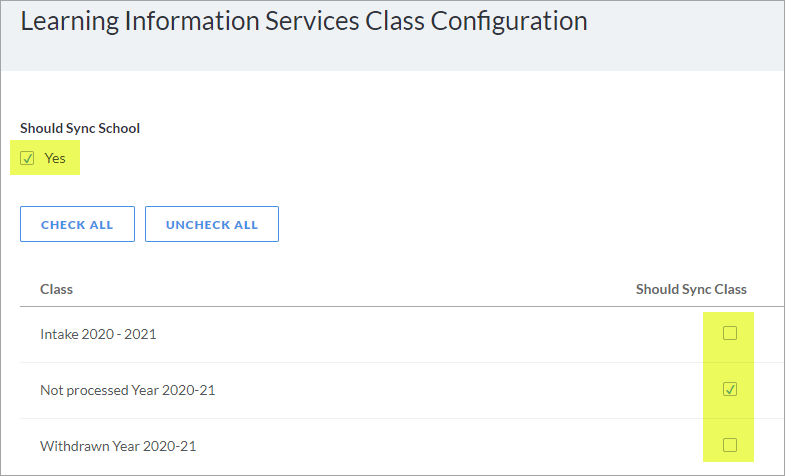 Then select the classes that need to be synchronised. Do the same for the courses.
5. Synchronisation is not automatic. It will happen during the night around 00h00 CET. The first time may take 6hrs. This is dependant on the amount of data being pulled. MySchool support can run a one time script if needed, however due to system load we cannot run this multiple time during the day.
6. Your rosters should now be synced with your Microsoft suite.
Useful documents
Please make sure you have a full understanding of Microsoft documentation.
Here is the full help base for school data sync
We sync via API ONLY
The configuration steps are listed here as a checklist. Please go through these before requesting the token
There is also a video which can also help guide you on the process