Do your users wish to receive a daily or weekly digest of all communications sent from your MySchool platform? This is possible with MySchool announcements. Super Key Users need to activate this functionality for your community. The best way to achieve this would be;
Activate the digest settings in the Announcement configuration panel.
Check out the template and amend it if needed. Please do not delete the key tag in the template. [[digest_content_linked_to_portal]] This creates the list view of announcements.
Send a general communication informing users about the feature. Why not share the user-facing article explaining all new features for managing inboxes. They will need to opt into receiving this. Don't forget to tell them the time you have set, it is dependent on server activity and may not be exact. This time is local to your school's time zone.
Please make sure they retrieve any information from their spam folder to avoid being temporarily blacklisted from receiving MySchool announcements. Check out this article to make sure your users are connected.
Create a test staff user/guardian and opt-in to make sure the message received is in line with your school's communication policy.
Configure the digest
Super users with access to the announcement configuration panel can activate the digests for your community.

Use the slider, and add a time and a day. Note that all time values in MySchool are in a 24hr format. This is connected to your system time setting. Ask the support team to verify what time zone your system is configured for as the message send time is linked to this.
Edit template
If you want to change the wording or an image to the digest, click the edit template pen icon. A rich text slide-over appears.

In the subject line, you can a list of personalised tags that can be added to the template.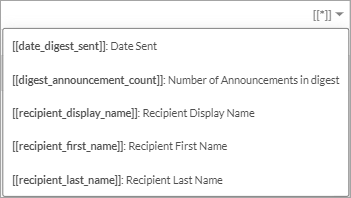 Again as stated above, please do not remove the tag [[digest_content_linked_to_portal]]. This creates the list for the digest. You can preview your changes, or even send yourself a copy of the template before going live.
Understand the send options to override the settings
Make sure your staff users understand that when users opt into the digest they will not receive individual emails. If the mail needs to bypass this then users can check the 'send immediately' box.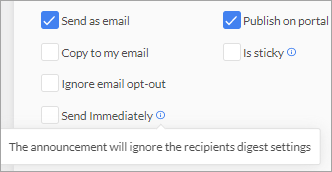 NB: Ignore email opt-out is for users to send a mail which bypasses the essential mail opt-out activated by users. It will still apply to digests if a user has opted out of receiving non-essential mail.
Opt-in for the digest
In the bottom right-hand corner of all user's inboxes, you will see subscription options. Users must set these personally within their own MySchool platform. The slide-over will only show the digest options once these have been activated on the configuration panel. Users with no primary email will not be able to receive digests.