MySchool is a Management Information System (MIS), all the data is stored and managed within levels (tables).  From a school configuration point of view, we have school levels, class levels, and classes. The educational curriculum is layered within Subjects, and Courses. These are then stored within the scholastic years.
School Management
It is important to understand how MySchool differentiates between Districts/Schools/School Levels and Class levels.
We can create multi school instances upon request. Each will be independent, but central control and access can be given to trust managers, district administration or central governing bodies.    Contact our product team for further information.
School levels
The term Schools, refers to the distinction between school levels, which in a default setup would be Primary, Middle and Secondary/High School.
These School levels can have different labels depending on your specific naming convention (e.g. Junior High, Senior school).

When setting staff employment access, users can control the security context for access levels between the school levels. 
Changes made at this level effect all below them, such as Year management, Currency, Country, and reporting. Logo's, addresses for grade reports and invoices are controlled at this level.
New registration, Withdrawn, and archived are school levels. Give access only to staff who deal with profile management and admissions.
Class levels (Grades/Years)
Classes are groups of students within a class level (or at times called year or grade). Every class level within a particular school can contain any number of classes.
Class level controls timetables, terms, and certain reports. Grade reports are structured at this level. 

Class
A single class is a group of students, within a class level (Year/Grade level). If you wish to have all students in one class per class level, then this will not affect assessment criteria, but would affect Grade report features such as review/publish.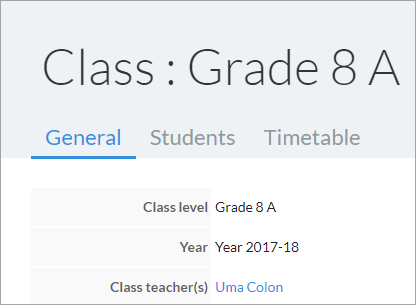 Curriculum
Within MySchool, the curriculum defines the educational goals and content which a student follows over their scholastic journey in your system. MySchool manages this using Subjects which are set on a class level. Learning outcomes are created for these subject levels. Courses are attached to a subject level and students enrolle. Assignments set at course level provide the evidence to the learning outcomes. Therefore a students curriculum can be mapped via the subjects and courses followed over the years.
Subject
The subjects are set at class level (Year/Grade). Learning outcomes are attached at this subject level. A subject needs to be created,for a course to be attached. This is how the students interact with the subject specifications.
Courses
Courses are the lessons themselves. These are allocated to a Teacher and are scheduled into a timetable. The students are then enrolled into these courses.

Examples of structure
In your MySchool instance, you will be required to create subjects, then attach courses.
For example, the English curriculum for a primary school student from grade 1-4 would be built as follows. Using the subject label plus a numeric scale to designate the class level or year. The Course would then have the subject level numeric scale, with the name of the class it is given to to.
| | |
| --- | --- |
| Subject  | Course |
| English 1 | English 1 Whales |
| English 2 | English 2 Tigers |
| English 3 | English 3 Elephants |
| English 4 | English 4 Badgers |
In a more advanced phase of the English curriculum, the student in grades 10-11 would then have different subjects attached to the English curriculum, and courses attached to their class.
| | |
| --- | --- |
| Subject  | Course |
| English Lit 10 | English Lit 10.A |
| English Lang 10 | English Lang 10.A |
| English Lit 11 | English Lit 11.A |
| English Lang 11 | English Lang 11.A |
New to MySchool, welcome on board!
When on boarding, you will be asked for your schools setup, we will recreate this for you. If ever you need to change this, then let us know, we would need to assess the request depending on your historic data setup. 
Have a look at the steps you will need to take if you are new to MySchool.