MySchool is a Management Information System (MIS), all the data is stored and managed within levels (tables).
Our instances (Systems) are configured on an individual school, or multi school level. Users can switch between school data sets, or be restricted to just an individual school.
Inside the school, we can create school levels, class levels, and finally classes.
The academic structure is created using subjects, and courses. These are applied at a class level.
MySchool works with a scholastic year setting, the system stores, archived years, operates within the current year, and allows you to build for the coming years.
School Management
It is important to understand how MySchool differentiates between Districts/Schools/School Levels and Class levels.
We can create multi school instances upon request. Each will be independent, but central control and access can be given to trust managers, district administration or central governing bodies. Contact our product team for further information.
School levels
In a default setup these would be Primary, Middle and Secondary/High School. They are used mainly for security access and permissions. Some reports are built on a school level only.
These School levels can have different labels depending on your specific naming convention (e.g. Junior High, Senior school). You will asked to confirm these during onboarding.

When setting staff employment access, users are given a security context for access. e.g. User A has access to primary school level only, whereas User B can have access to all of the school levels. Administrators would also be given access to the New registration, and Archive levels.
New registration, and Archived are system school levels. They are used with the Admissions module for new students, and to hold Withdrawn and Graduated students during the current scholastic year.
Class levels (Grades/Years)
Classes are groups of students within a class level (or at times called year groups, forms or grades). Every class level within a particular school can contain any number of classes.
Class levels are important for many areas of MySchool, notably timetables, Attendance configuration, term management, and certain reports. Grade reports are structured at this level.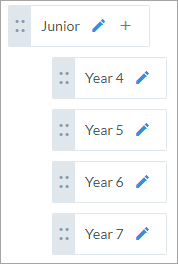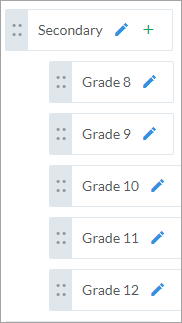 Class
A a class is a group of students, within a class level. If you wish to have all students in one class per class level, then the system will allow for this, however, certain functions maybe affected, such as Grade report reviewing, Access, and Publishing.

Academic structure
Within MySchool, the system is designed to set assessments, educational objectives and assignments which a student will follow over their scholastic journey within your school or institution. MySchool manages this using Subjects which are set on a class level. Subjects control assessment criteria such as Learning outcomes.
Courses are attached to a subject and students are enrolled into the subject via this method. Assignments used for continuous assessment purposes allow educators to set tasks during a term period, and follow their students progression using evidences.
Subject
The subjects are set at class level (Year/Grade). Learning outcomes are attached at this subject level. A subject needs to be created before courses. Each subject has it's own specifications and assessment criteria.
Courses
Courses are the lessons themselves. Students are enrolled into a subject through a course, Staff users become Teachers when they are enrolled into a course.

Examples of academic structure
In your MySchool instance, we advise firstly to create subjects.
For example, the English for a primary school level maybe from grades 1-4. They have Maths as one of the core subjects. You would need to create a subject per class level for assessment purposes, and to allow for promotion from one year to the next.
Courses are used to enrol students into the subject. They compromise of students from within the same class or from multiple classes within their class level.
The best way to understand this is to think about a Teacher who gives Maths lessons to a group of students in grade level 1, on a Monday morning. This would be the Maths 1.1 course. In the afternoon, she holds the same lesson for the remaining students of her teaching, which would be for Maths 1.2.
| | |
| --- | --- |
| Subject | Course |
| Maths 1 | Maths 1.1, Maths 1.2 |
| Maths 2 | Maths 2.1, Maths 2.2 |
| Maths 3 | Maths 3.1, Maths 3.2 |
| Maths 4 | Maths 3.1, Maths 3.2 |
In another example, the English curriculum in a secondary school level. The student in grades 10-11 would have different subjects for language and literature. As the subjects would have separate assessment criteria. There may also be subjects for creative writing or classical literature.
| | |
| --- | --- |
| Subject | Course |
| English Lit 10 | English Lit 10.A |
| English Lang 10 | English Lang 10.A |
| English Lit 11 | English Lit 11.A |
| English Lang 11 | English Lang 11.A |
New to MySchool, welcome on board!
During onboarding we will help you build your school structure, and advise you on the academic set up. A few key questions will be:
School name for the for the browser tab
School address and a generic contact email for announcements
Date format (dd/mm/yyyy or mm/dd/yyyy)
Timetable times (when does school start and when does it finish)
How many days would you like in the schedule