The assessment module provides our users with an easy to use suite of tools in order to collect, review, and publish their report cards. With configurable term reporting, your grade reports are created when the term is set to receive an assessment. These can be half yearly, end of year, or simple progress reports on a bimonthly rotation. They may include exams, Teacher comment, continuous assessments and learning outcomes. MySchool provides schools with a complete process from collecting Teacher contributions to publishing grade reports simultaneously per class level.
How to access
Subject administrators, curriculum heads, or school clerks, would have access to the full list of functions in the grade report menu header. The Subject specifications can be known as Curriculum, Learning outcomes, or Learning standards.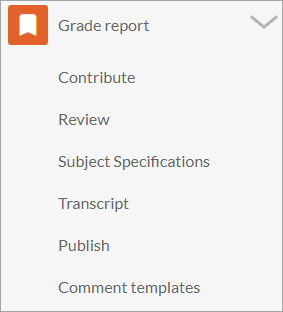 Teachers will be limited to Contribute and the Comment templates.
Contributing to the Grade report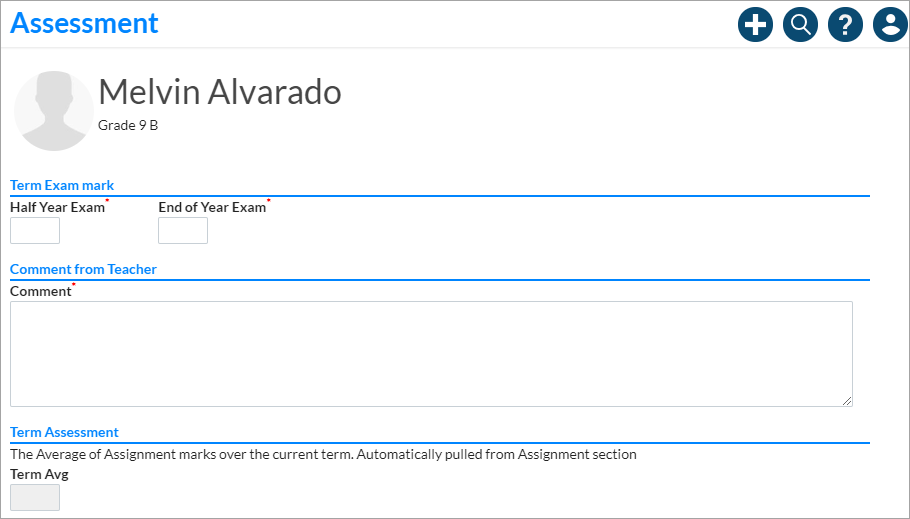 Created at course level, and can be completed from an individual student list, or from a course participant grid. Contributions are set from the subject specifications. Schools can design their own assessments. Use your own scales, weights and objectives in order to customise the final report for your school. This article explains how teachers contribute to the report.
Reviewing contributions
After Teachers have contributed from a course level, then class Teachers or subject heads can review the grading and comments for the whole class.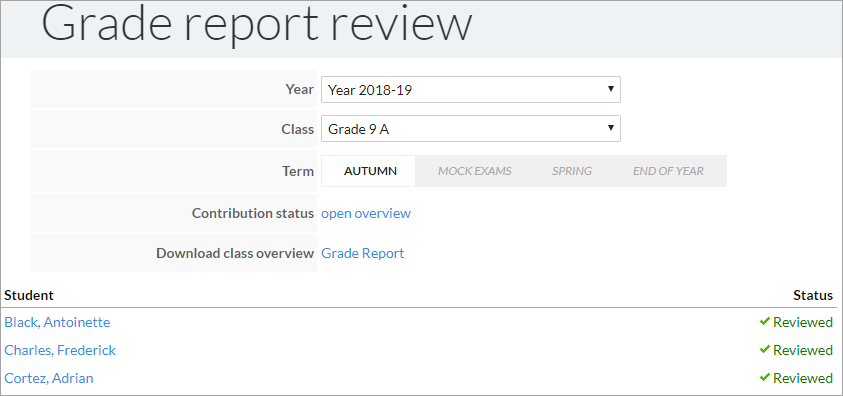 To assist in the process MySchool has a built system of Contribution > Review > Edit > Publish. A complete overview is given of the contribution status, and an overview on pdf is provided for printing or sharing outside of the system.
Subject specifications
Schools can set their learning outcomes, and configure how the grade reports are to be assessed. Set these between subjects for the appropriate school level. These can be used in assignments and are collected as evidences during the assessment period.
We are developing ways to allow student reflection, discussion threads, and evidences to be attached to the outcomes. These features are available in the new version of MySchool.

Transcripts
The transcripts provide schools an overview for single/multiple students academic results within your school. These can be designed to show academic, and attendance statistics.
MySchool can provide custom transcripts, in line with the International Baccalauréat. Talk to our account team for information.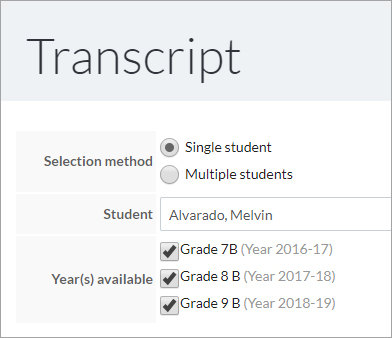 Publish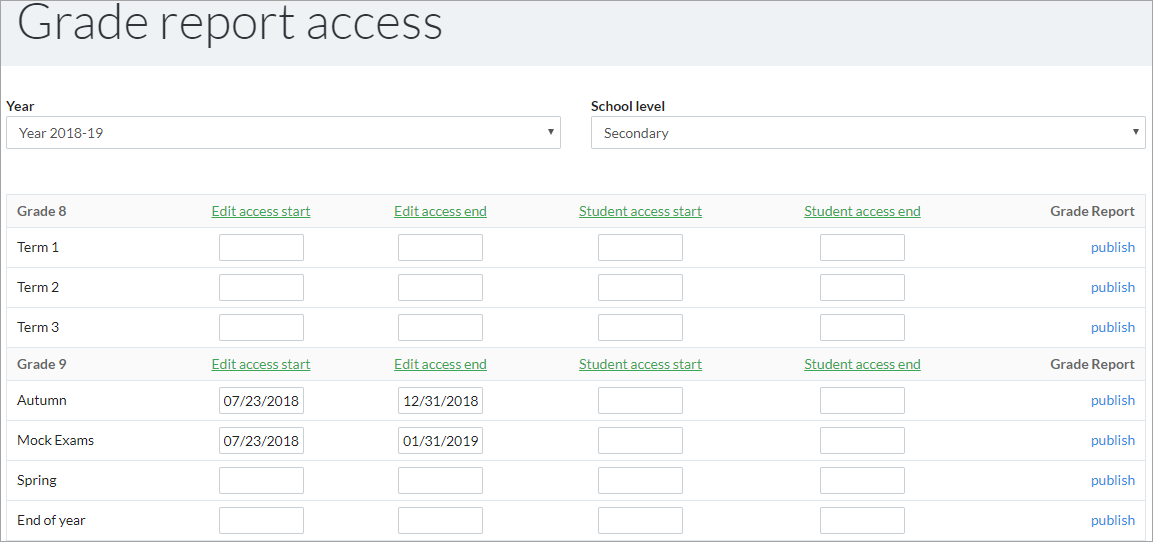 Grade reporting periods can be set for access and publishing purposes. Students can also access their reports during set periods. Publishing an entire school level in one go, allows complete transparency for students and guardians, as all will receive their results at the same time.
Comments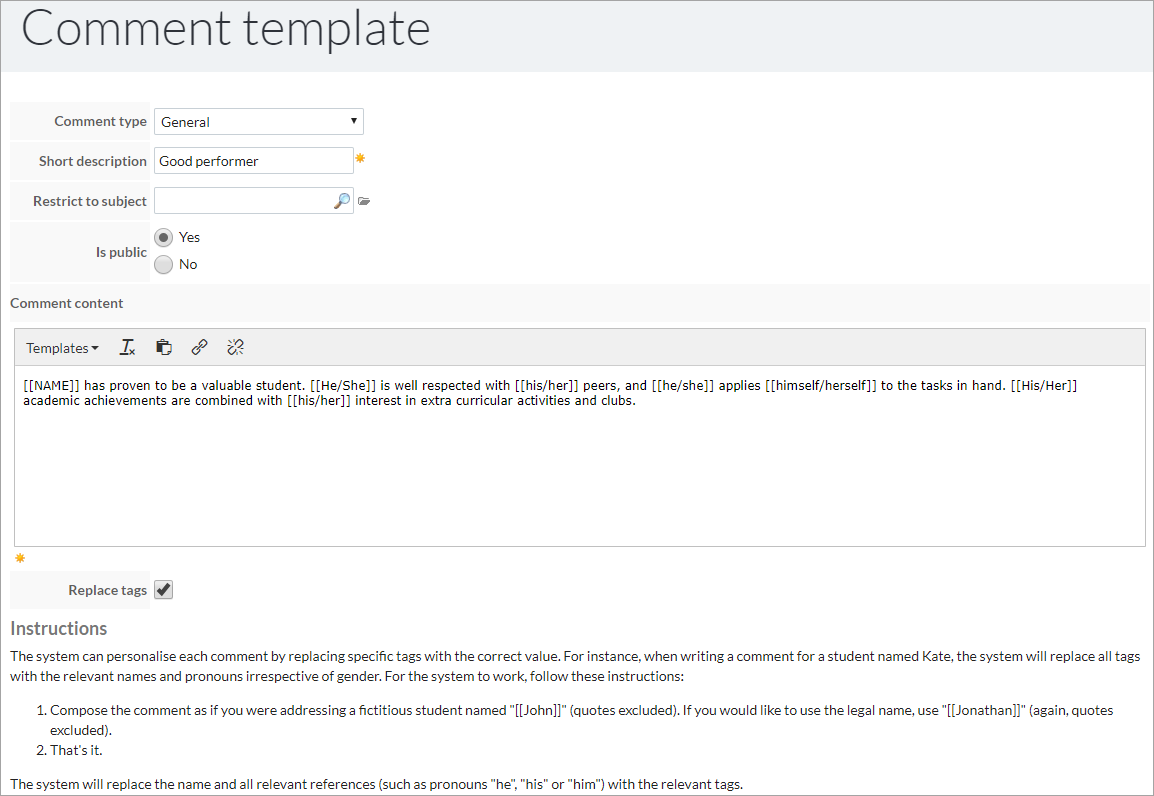 A great function, used by Teachers and reviewers of grade reports, is the comment section. Automated tags allow teachers to use templates for common feedback messages, and personalise them with adapted pronouns, and adding the name of the student.
Setting up your schools assessment
The process can be a simple process of setting the end of year term as an exam period, and requesting teachers to provide feedback into a comment box. The system is designed to adapt to your schools reporting needs. The process is explained in this article.
Our aim is to provide our clients with a full suite of features, enabling them to control their assessment as they wish. In terms of producing grade reports, we will ask your requirements during the on boarding phase, and discuss how best to assimilate your needs. We ask for your co-operation in terms of timing and requirements, as grade reports need to be programmed into our development process. To understand how to work with us, then read through this article explaining how to submit tickets.