Access control for modules and information in MySchool is extremely flexible allowing you to define what information and modules your users can access by creating custom user groups configured and fine tuned with security roles. 
How to access
Administrators will have access to see User groups that are not hidden. The main groups may not be visible, nor configurable by Schools.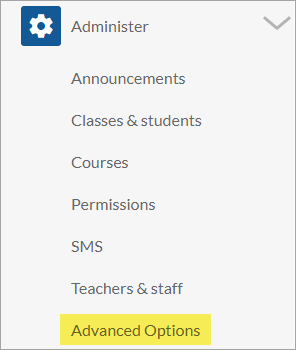 Go to Administer, then Advanced options, then look down to the bottom of the list and find User Group. 
User group
As we outlined in the first article, there are default groups which are normally hidden for non MySchool Administrators. These are Inherent groups, we can activate their access rights for you.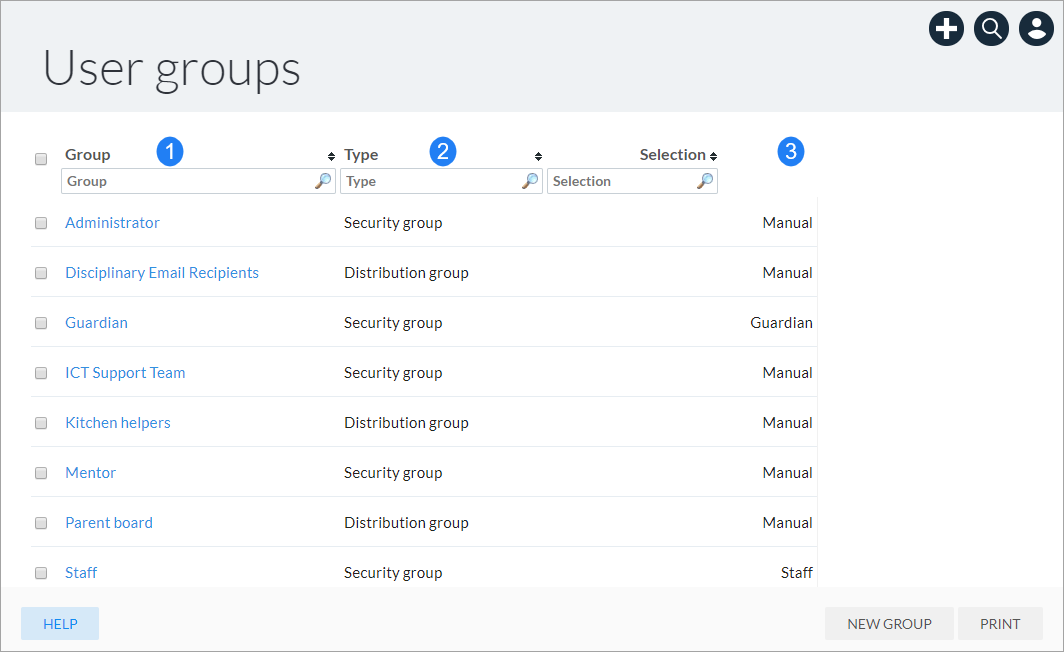 1. Group name
We can change the labels to represent your current organisation. Send us a ticket with your schools set up, and we can change this for you. Type the first few letters of the group name in the search field to filter the results.
2. Type
There are three types of User group types in the system
Security - Assigned to groups and determines their access rights and roles.
Distribution - If you need to create a contact group which will appear in the people picker. Used when you have users from different user groups within a certain committee or organisation.
Security & Distribution - Combines both access and adds them as a separate group in the people picker.
3. Selection
This shows how users become part of the group. There are three ways users can be added.
Inherent - As explained, if a teacher is assigned to a class or a course, then they have Teacher Access automatically. If a user has a dependant relationship, they inherit Guardian access.
Picked (Manual) - Administrators can assign Users to these groups manually.
Dynamic (SQL) - Our Dev teams can set up dynamic user groups, depending on a series of qualifying statements. e.g. All teachers with a specific language or skillset, All parents who are donors and parents etc.
User Roles
The list is comprehensive, and can be quite complex as there are dependencies attached to different roles.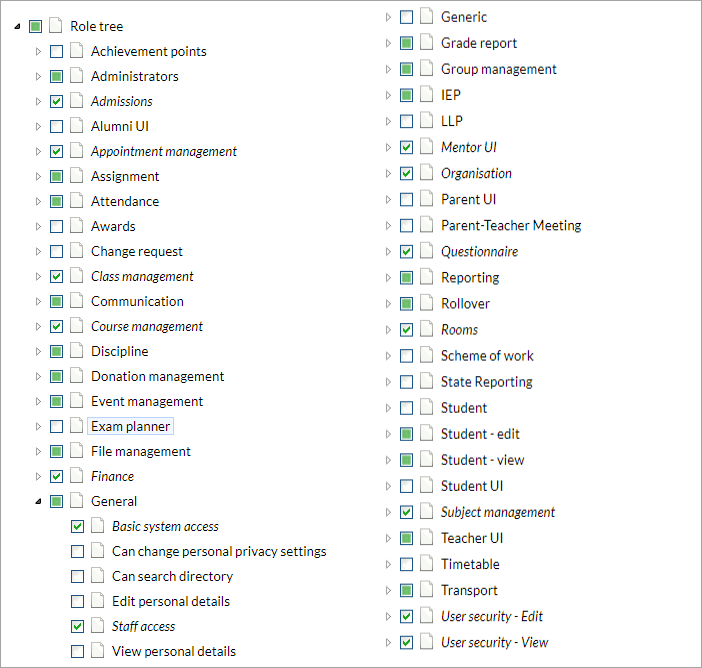 Security roles are what make user groups so powerful. The security roll 'tree' allows you to control access levels for User groups. A Teacher may not have access to Subject management, but this can be configured to allow them.  
If you create a user group for Admissions and choose the Admissions role > admissions administrator the system will warn you that will also need to choose Staff access in the General role branch - this is what is meant by 'dependency'.
The system will also tell you where that dependent role is located, in order to activate it.
Setting up a User Group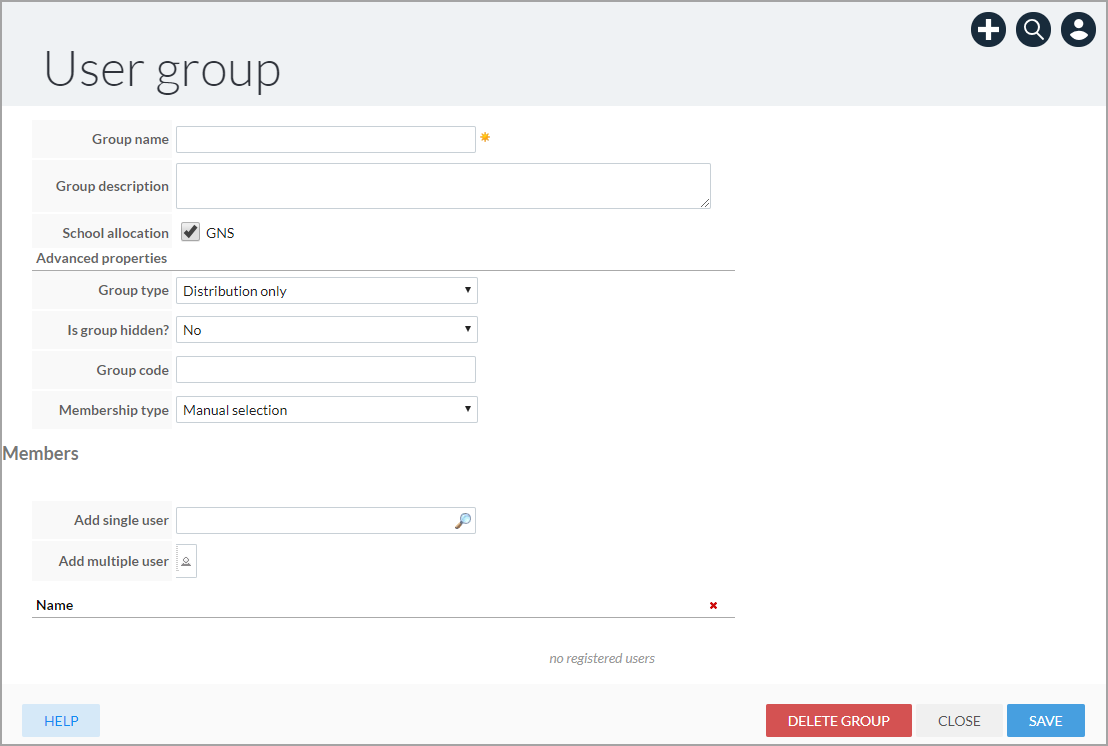 Open a new group by pressing NEW GROUP in the user group list page. Name your group and describe it. A description will be useful in helping you and other administrators understand the purpose of the group in the future.
School allocation is to allocate to another school if you have more than one school within the system.
Advanced Options
The group type is as described above. As we discussed, the group can be hidden from Administrators if needed. The membership type determines how users become part of this group. Once you've created a User Group, you can assign MySchool users as members of the group.
Assigning members to a group
You can only add members if 'Manual selection' is selected. Add users individually via the 'add single user' search box, or use the people picker to add whole groups of people like schools, classes, grades, teachers, etc. 
When you add the users, there is a possibility to set a further security context which will restrict the user view to a school level. 
Key point: User access is not based on an individual account basis, it is based on roles. We advise you to plan your user access carefully. Do not cross populate Users too much, and put clear descriptions to keep a trace on what the group is intended to do.