Access control for modules and information in MySchool is extremely flexible allowing you to define what information and modules your user's can access.
This is an advanced feature and we invite you to contact our support team or your CSM for advice when dealing with security and access.
How to access
Access to view and edit user groups is restricted to an administrator level. Some key security groups are classed as restricted, and we invite you to discuss these with our support team before changing the settings.
Go to Administer, then Advanced options, then look down to the bottom of the list and find User Group.
User group

1. Group name
There are certain restricted groups which we advise to maintain as system defaults. Otherwise you can label as you need either on creation or when editing. Teacher (course), and teacher (class) for example are for all of your Teachers within the school.
2. Type
There are three types of User groups in MySchool
Security - Assigned to groups and determines their access rights and roles.
Distribution - If you need to create a contact group (announcements, SMS, and certain reports) These groups allow you to create custom groups for communication purposes.
Security & Distribution - This combines both the security access, and creates a contact group. Examples of this would be School Management, Medical staff or Curriculum team.
3. Selection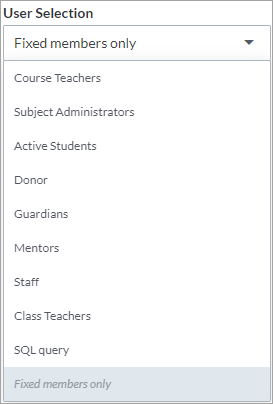 There three main ways to become a member of a user group, Inherently (via a role), SQL query (Custom group creation), or Fixed members only (Manual).
Inherent

Course Teachers - When a user is added as a course teacher to an active course
Class Teacher - When a user is added as a class Teacher
Active students - When a student is enrolled in a course/class.
Staff - When the user is selected as an active employee in their employment tab
Guardian - When a user has a relationship set with a student dependant. (Added as a contact to a parent).
Mentors - When a user has an attached mentored student.
Donor - When the user is activated as a donor in the donor tab of their profile.
Subject Administrator - When the user is added as an administrator within subject.

SQL query
If you need a very specific group of users/students then this can be created using the quick reports, View filter SQL. Please contact our support team for assistance with the set up.
Users can be manually added to the group, using the people picker. In the case of a distribution group then both students and users can be added. For security groups then you must keep students/users separated.
User Roles and context
The user roles are an advanced feature within MySchool, which allows our schools to configure their users access based on their functional needs. Each role permits users to access information based on security restrictions and a context.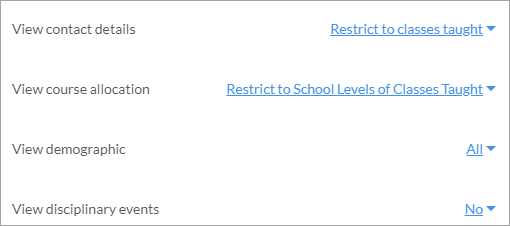 The options available for access are:
No - This is no access.
Yes - Access dependant on the role (Guardian UI for guardians Yes/No
All - Access to all levels within the system. For multi school instances this allows users to access this information across schools.
Restrict to school levels of classes/courses taught - This means that course/class teachers will be access the school level information (Primary, Middle, Secondary etc). Certain functionalities and reports have this level as mandatory.
Restrict to courses/classes taught - This is the minimum level for course or class Teachers. This will allow them to see only the courses/classes in which they are enrolled. There is no distinction between a main Teacher and a secondary Teacher.
Restrict to school level of mentored students - The mentor function works with slightly different access, as in certain functionalities, the mentor will only be able to see their mentored student, so will not be able to access other profiles.
Restrict to security context - This will appear in fixed member groups. It allows access based on the level set in the Members tab when creating a user group and adding users.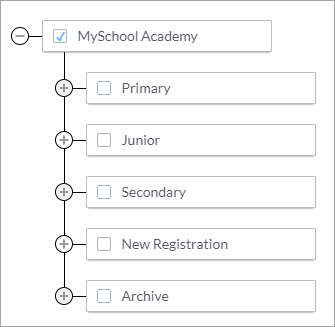 Please contact our support team to discuss your security groups before amending any access rights. We are more than happy to assist with these. Certain functions are limited to certain secuirty functions.
Setting up a User Group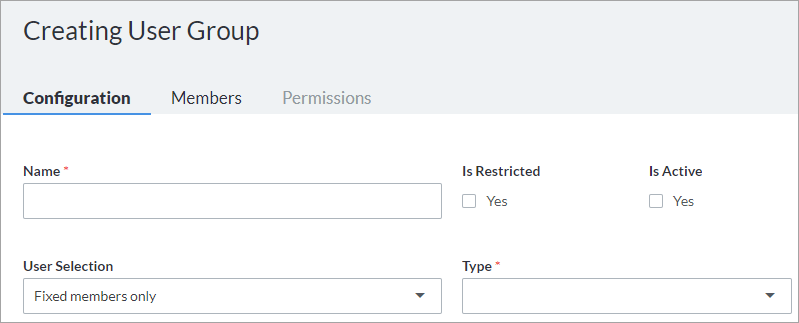 In full admin mode, when you create a user group, you firstly attribute an appropriate name. After you can choose how the group should be populated. If you use the inherent groups such as Teachers or students then note that the secuirty settings will be applied to ALL students or Teachers in the system. Then determine the type;
Is restricted - This issued to hide the default system groups, and also sensitive user groups from normal admin view.
Is active - This makes the user group active and available.
If you have selected a fixed member security group then you must set the security context for access. This can also be done individually from a users profile if you have the appropriate permission. When you have added the people, there is an orange warning sign which shows that no context has been set.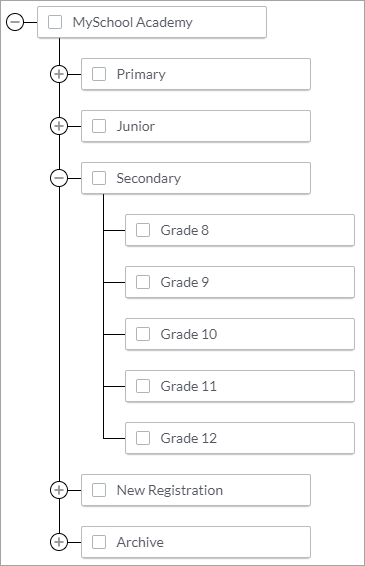 You can then chose the level of access appropriate for the users. If you select the school or a school level then the users will gain access to all the corresponding levels below them.
FAQ on user groups
My staff user group gives access to a blank portal, is this is normal?
Yes, in our default group settings, staff access is limited to announcements, personal details and nothing else. Your staff users gain context based on their inherent roles, and their fixed member user group.
Why can't I see the Teacher, student, or guardian user groups in the user group list ?
These are system user groups, and only users with the role Manage advanced groups can manage and view these sensitive groups. Contact our team to help understand how to change these.
Why can't I see Teacher, student, or guardians options in the security tab of a user profile ?
To become a member of one these groups, the profile needs to be either added as a Teacher to course or class, enrolled in class or course or added as guardian to a student profile.
Can access be restricted so that nurses only see the medical tab of the students profile?
Yes, in fixed member groups, you can create access for certain groups to only view information relative to their roles within your school.
Can Teachers only have access to their class or course students profiles ?
Yes this can be restricted to class/courses taught. However there are certain reports and functionalities that cannot be restricted to this level.
I want to create a distribution group for guardians in the middle school?
No need, before creating distribution groups, then make sure these are not available via the people picker. Distribution groups are really used for 'ad hoc' groups such as Student Sports committee, School concert organisation, or PTA members. If you need help then contact our support team to discuss your needs.
How do I check my group membership?
The easiest way is to go to the profile icon in the quick action bar, and select edit my account. Here you can see you secuirty access and which roles you have access to. Users with the impersonate functionality can also verify access levels this ay to help trouble shoot access problems.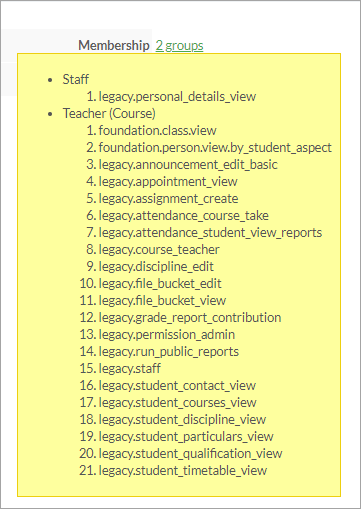 Can security rights be customised for one user?
No, roles are set within a user group and not to an individual. However, you can create a user group and only have one member.
Can I test access before I make changes?
Yes we can create a custom user group and test access using the generic roles. Please contact your CSM to organise a meeting. For larger instances we can create a staging site, and use this to verify access.