As attendance is a key component within MySchool, the attendance taking screen can be customised according to your schools requirements. This is an administrator function and not available to the Teacher user group.
How to access
To fully configure the Take attendance screen, go under Administer, and select Advanced options.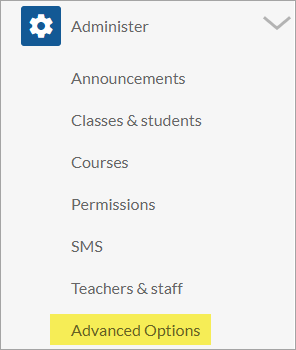 In the Advanced options list, find Attendance Configuration or Attendance Types in the list.
Changing the attendance layout
The configuration screen allows the Administrator to change the labels, reorder the fields, assign short codes, and associate the attendance status with a subsequent action.
To reorder the fields, select the icon

next to the status name, and drag and drop to the required level. This will affect the layout of the take attendance screen.
Note that the first three labels ONLY will appear in full on the take attendance screen, the other labels will be under Others. Assess which are the most common for your users.
1. Name
The status name that appears in the reports and on the register when taking attendance. Try not to use too many statuses, as this would cause undue lengthy reports with very little data.
2. SC
The short code appears in the various reporting features, such as Attendance: History.
3. Status Configuration
These check boxes are important as they will change the behaviour of the status in the attached reports and screens. Changing the status will affect the historic data. Here is a brief description of the configuration boxes :
Enabled - Actively visible status
Absent - Sets the status to log as absent
Not Exc - The absence status has no justification noted to the entry
Med - Medical Certificate required for the Absence
Com - Will use the SMS communication feature if enabled
Dash - View the absence in the different Overview menus
Psr - Specific function for mandatory reports in Canada
Late - Absence to be noted as late
4. Add Student Attendance status
As MySchool Administrator you can add fields to the list if needed. Click on the field, and a blank row will be added to the default list. Enter the fields as described, and place the status in the list by dragging the four dot square to the left.
After configuring the status fields, and any edit, press Save. The system will note the changes and confirm they have been saved correctly. You may need to logout of the current session to refresh the views and reports.
Deleting Statuses
If you have created a custom status, you will notice a red cross appearing on the right hand side of the row. This means that no student has been noted with this status, and if required it can be deleted.

If the status has been used, and data attributed, the X will disappear and the status can no longer be removed. Changing the labels after data has been attributed will affect historic data as well.