Want an overview of all courses and contributions as an overview? Need to check comments, and grades before publishing? Want to publish or unpublish an individual report card? Add an overall comment from a head of year or class Teacher. You need access to the Grade report - Review page.
Review is the second step in the assessment of grade reports. Once Teachers have set their contributions to complete, then it is advisable to review these. The Head of year or subject can then review these grades as well before publishing them to student and guardian portals.
What permissions are needed to review?
The review page is connected to the permission of Review grade reports in the user groups. Two options available;

Restricted to security context and
Restricted to school levels of classes taught.
All/No
Administrators and other fixed group members will have access depending on their assigned school levels in their respective user groups, whereas Educators would need to be assigned a class Teacher. They will however be able to view other classes within their school level.
Review options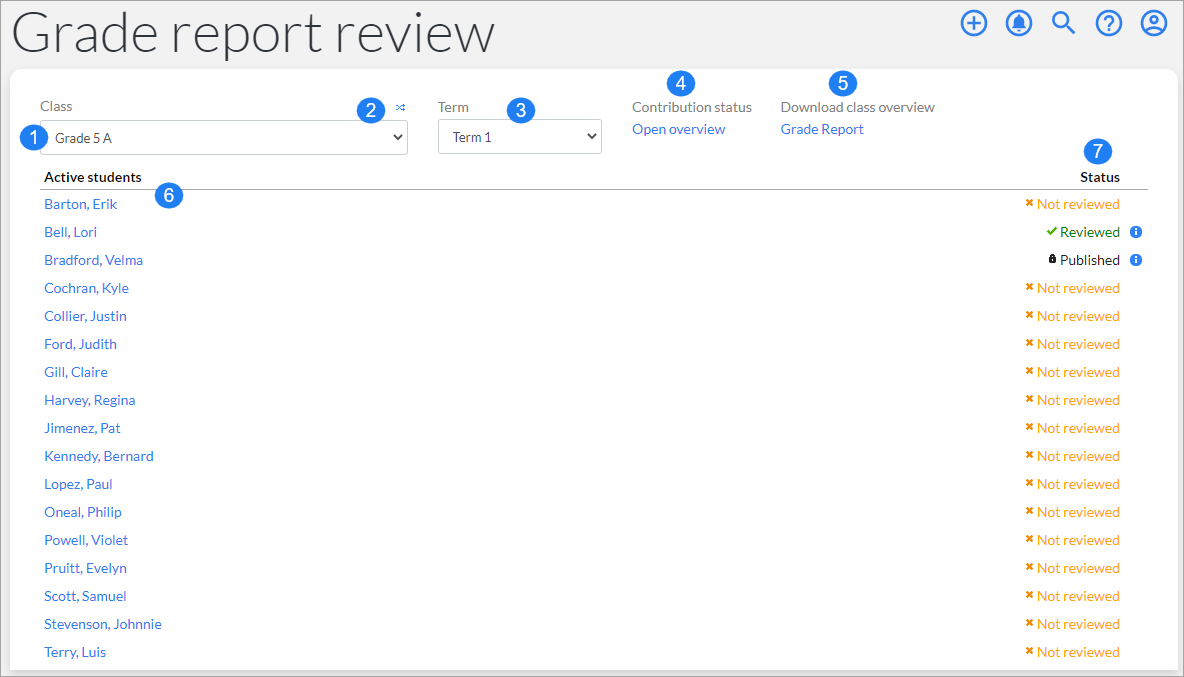 1. Class selection
As explained, reviewers will review the entire class. They will also access other class levels within their designated school level.
Top tip: Review is connected to the system year. You can time travel to review from previous or future years if needed. You must have permission 'set within the same user group as you have the right to review. The user must also be assigned to the target class within the target year.
2. Course review
If you select the arrow symbol, you can switch to a course view for the student list. It will still show the same information as the class view.
3. Term
The current term will default be selected depending on the user's system date. Select the appropriate term for review.
4. Contribution stats
This will show a table with ticks when a student's contribution has been marked as complete in the assess grid, or a red circle if it is still set to incomplete. It will help to give an overview of any contributions that are outstanding before publishing.
5. Download class overview
This is a quick download of the grade reports. As this is a large PDF file, it can take time to generate depending on the size of each individual grade report. There may be formatting issues, and it is advisable to download them individually if you need an exact copy of what will be published.
6. Status
There are three statuses that will appear on the review screen;
Not reviewed
Reviewed
Published
When a student has been saved as complete, the status will change to show reviewed. This will block the assess grid from further edits or new contributions. To reset this status then open the student and save as draft to revert to not reviewed.
If the report has been set as published, then the PDF will be available on student/guardian portals. You cannot edit before publishing or republishing.
Reviewing and editing
Start by opening a student's review panel by clicking on their name.

Information section
In this section, you can see the student's name, and class, Clicking on the Download Grade report will produce the PDF version of the grade report. It will not publish the report.
Overview
This section is by default. It is the overall comment from the reviewer. It will show on the report card if this is configured to show 'user comment'. Check out the article explaining how to set up the MySchool report card.
Course list and review
The blue line will show all the courses in which the student is enrolled for that assessment period. Select the course and it will show the assessments in read mode. Click on edit to make changes. If edit is not available then the report card has been published and will need to be unpublished first.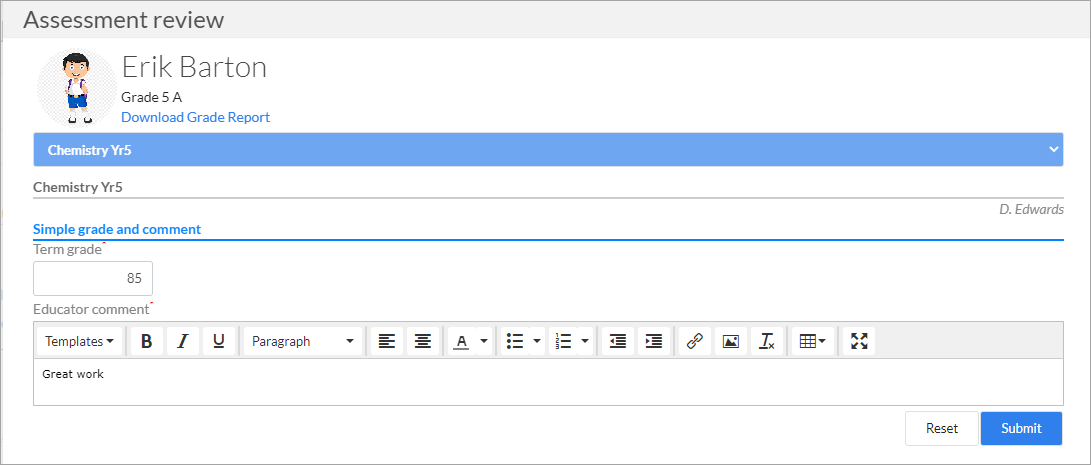 Each course change will need to be submitted before the course list will be re-enabled again. These changes will appear on the assessment grid even if the contribution is set to complete.
Action buttons
At the bottom of the individual review panel, you will see various action buttons. This will differ depending on the status that is set.

Save as reviewed - This is the first step in confirming the grade reports. Once set, the assess grid will no longer function for contributions. It will set the review status to Reviewed.
Save as draft - This can be used to confirm any edited changes, but also to reset the save as reviewed status to allow for further contributions to be made in the assess grid. The status will be set as Not reviewed.
Cancel - Will clear any changes and return you to the review list.
Publish - This will generate the PDF report. This will be saved on the student profile assessment tab, and student and guardian portals. The Published status will block any further adjustments even in review.

If you need to amend a published report, then you can unpublish then publish it as before. Otherwise, make the amendments and re-publish directly from here.