MySchool provides users with the possibility of accessing disciplinary events logged via the system. These can be viewed directly in the App, exported to excel, or printed to pdf. According to the user role and privileges different reports can be created. 
How to access
The disciplinary event history can be accessed via the Discipline menu header. It is mainly used for internal reporting purposes.
Report Filters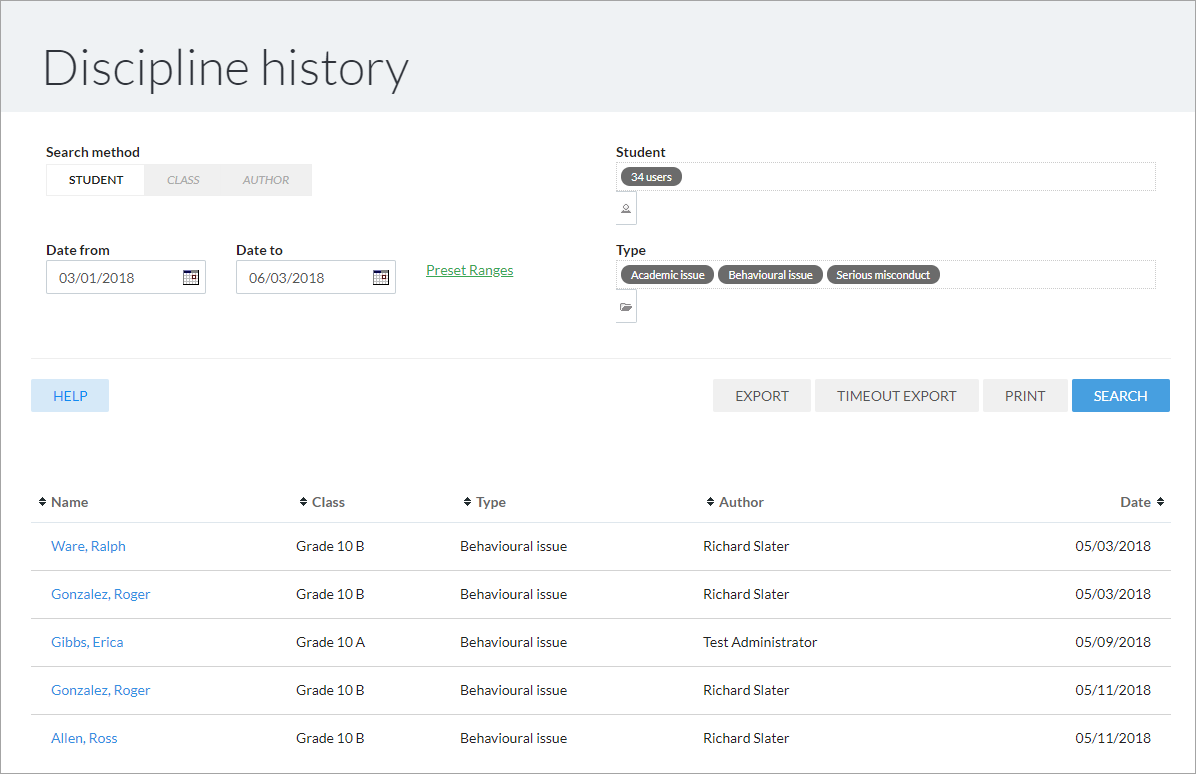 There are various ways to filter the on screen list.
The search method allows the administrator to create the view for a single student, class, or author. When selecting the student, the people picker field will appear. To select by class a new window will appear, with year, school level and then class listings appropriate to the group. To select by author, the search field changes to show the magnifying glass icon, and by typing a few letters of the users name, the valid users will appear in the list below the search field.
The report can be configured by date range, by pressing the calendar and selecting the appropriate dates.
Clicking on the preset date ranges, MySchool will propose default time ranges from Today, This Month, or This Scholastic year. 
Equally the list can be filtered by three default types of disciplinary event, these are explained in the Add disciplinary event section. Click on them to de/select the options. 
Press search to bring up the list of events according to the filters. These lists can be sorted by the column headings such as name of student, class, type, author, and creation date.
Exporting the reports
There are three ways of exporting the list from the MySchool app. The Export button will create a default excel file and start downloading via your browser or system. The Timeout Export will just create a report where the events with timeouts are reported. The Print section will bring up your browser Print screen and print the list as per your current filter view. 
If you need any further assistance configuring or personalising these reports then please contact our support team, support@msm.io