With the ever changing legal framework surrounding online privacy, MySchool fully understands the needs of schools to be able to manage consent for publication, and participation in certain subject areas (i.e Religious studies, Yearbook, Website etc). Myschool facilitates collecting this information and storing within the Legal tab. If you need to ask permission for outings or events then use the permission tool.
How to access
To create the consents, go to Administer/Advanced options/Consent Management. This access will be controlled by the permission 'Super administrators'. Consents are collected from main guardians relating to their dependant students. For staff consents these need to be manually updated in their profile.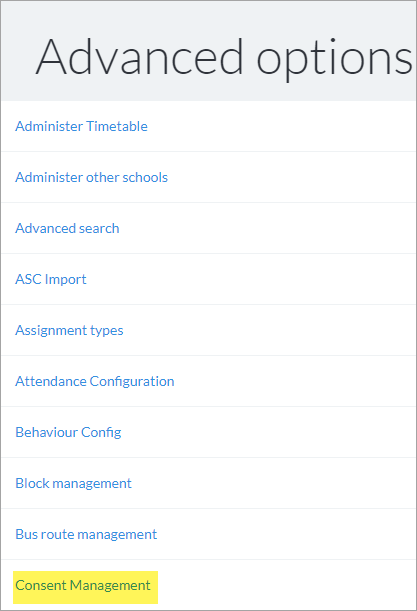 Consents are connected to questionnaires and admissions module for existing or new students. Create a new consent by clicking on the button in the bottom right hand corner of the list page.
Configure and collect
Consent type will be listed on the student/staff profile in the legal and employment tabs respectively. It will also be shown as the label on the questionnaire for guardians.
Consents can be directed to staff and student portals. Staff consents are not attached to the questionnaire module, and need to updated manually.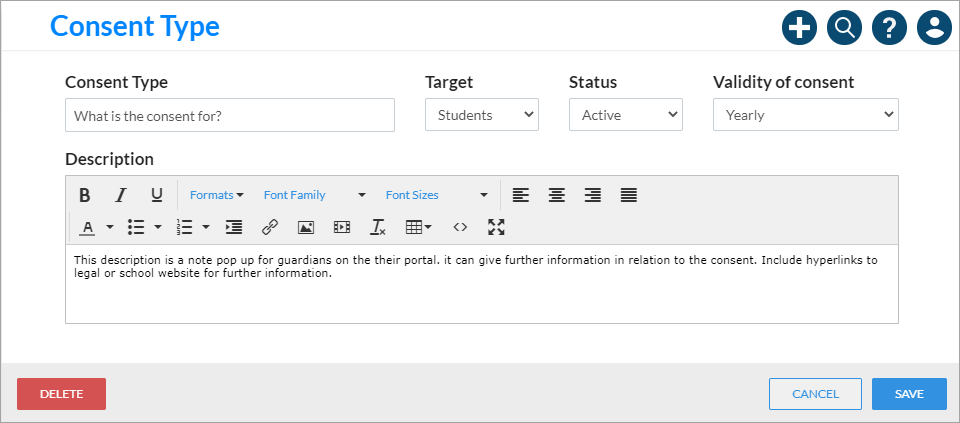 The validity field has two options; yearly or upon enrolment. Yearly means that the consent will be reset on each rollover (i.e change of system year). Upon enrolment is once only, normally used in connection with the admissions module. It can also be set via questionnaires for student who did not apply via MySchool admissions.
Check out the admissions formbuilder for instructions on how to apply the consents to the form.
The description will appear as a tool tip when consulting the consents within the student profile.
Setting the questionnaire
Use the section type, confirm existing data, and find the relevant consent in the confirm fields. Choose the whole school or newly processed class, depending on your target audience.