When you create a new IEP, you can add collaborators and plan and document meetings between all parties. Let's have a look at the collaboration tab on the IEP.

Case managers/Team managers/Consulted Guardians
Add the LSE or Mentor or a staff member who will be dealing with the student on a 1-2-1 basis. The drop-down list will show all active staff members within your MySchool system. You can add as many users as needed to the field. Team members can be used to add the class Teacher or a specific course educator to the IEP. Add the consulted guardian from the active guardian list. These fields are not restricted, but easily searchable by a minimum of three letters in the search field in edit mode.
Please note this will not assign the staff member as a mentor, this still must be done in the teaching tab of the staff user profile by adding a mentored student.
Meeting log
To ensure that all meeting notes are collected in one place securely in your system, then use the meeting management functionality to organise and invite users on using the My Schedule/timetable module in MySchool.

In edit mode, use the add meeting button to open the options to book a meeting.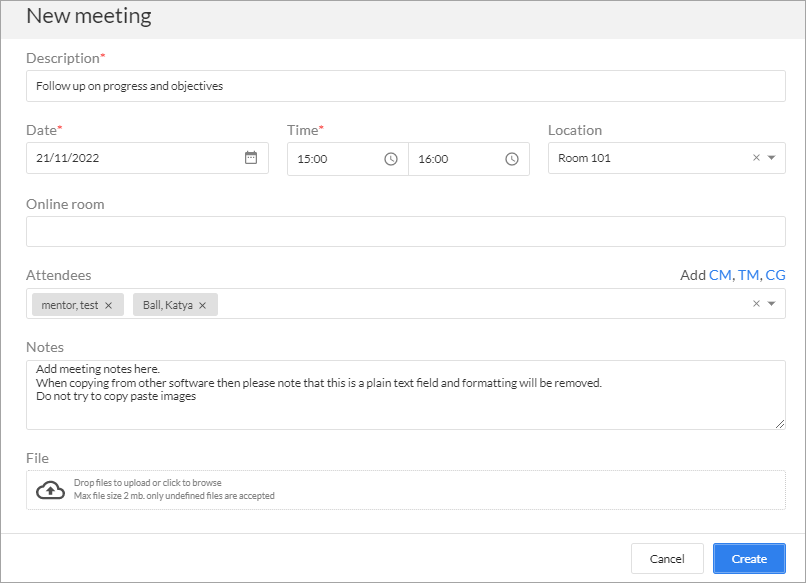 Description - Add the title which will appear in the schedules of the invited parties.
Date/Time - Select a date from the calendar pop-up by clicking on the day within the calendar. The time needs to be entered manually. note that these fields are in a 24hr format.
Online room - Copy and paste the meeting URL from your video conferencing software for virtual meetings.
Attendees - Either add individuals from the staff user drop-down list or click on CM to add case managers, TM for team managers or CG for guardians.
Notes/Files - Add notes from the meeting as a guide for the meeting. Please note that this is a plain text field and cannot support formatting if copied from another platform. File sizes are restricted to 2mb. For larger files consider using My Files.