If you wish to add additional information regarding the student, then use the category folders to add specific text fields. Open the IEP configuration panel and select the student profile tab.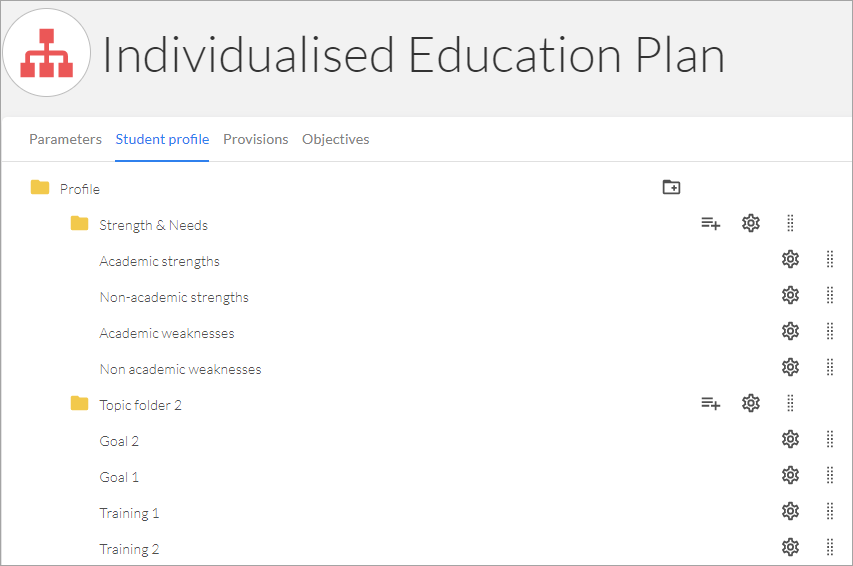 Open the student profile config panel, and you will be able to build section folders (Categories) and add various fields depending on your school's needs.
Adding the category
Categories are used as a section header to group content, in the example above, we used strengths & needs. It is shown in blue on the student profile tab when creating an IEP.

Click on the folder icon to add the category, a slide-over will appear with a text field. Enter the details for the section. You can edit this field by using the cog icon. You can drag and reorder the folders, by using the dots icon.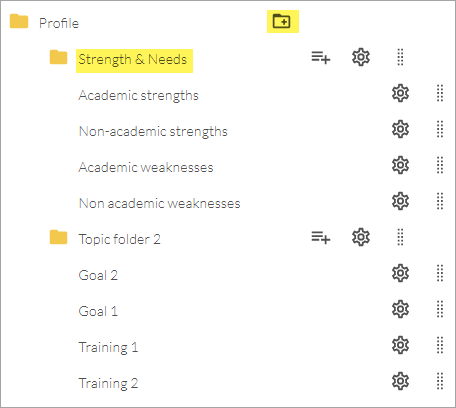 To add a field, click the line icon, and a slide-over will appear.
In the content slide over there is a limited text field, and this is for a text entry. Enable the required slider (Req.) to make an entry mandatory when creating a new IEP. if you wish for this to be included in the IEP template then enable the slider Inc Temp.
Please note that once created the name field will not be editable. You can only delete it if no data has been entered on a student IEP.
On the individual IEP, the content fields read from left to right in columns of three. You can reorder this in the config panel.

Please note that these are plain text so any formatting will be removed when copying from external sources.