Myschool is available for all approved users to access the system, this is totally dependant on your schools policy. We have designed different access levels which can accommodate your schools needs. 
Different Access levels
When entering a new Guardian/Parent, this allows you to determine the relationship, and what level of access is allowed. If you are in a Student profile, then go to Contacts tab, and open a NEW CONTACT.

The Family members/Attached Guardians are controlled by the relationship tab. They can be entered as individuals or as in the screenshot above, as a household. Each member or household or organisation will receive information appropriate to the User group in which they are placed.
Top Tip: Households share the same physical address, so when mail lists are created, multiple labels will not be created. Use the people picker to choose household instead of main guardian.
Use case
Attaching a family member as an individual
When attaching a Grandmother to a record, as they are to be used as an Emergency contact in certain situations, and have pick up rights. However, access to MySchool may not be of use to them. After adding a NEW CONTACT, go to the Particulars tab to add some details.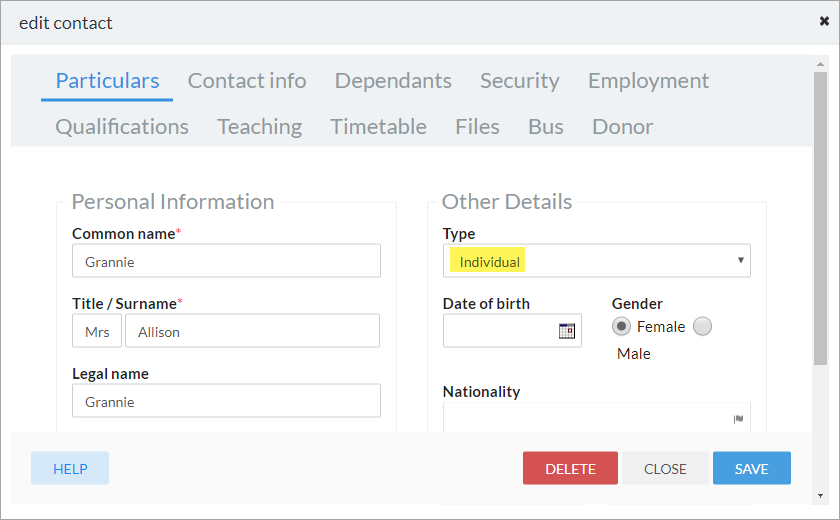 Start by entering the Grandmother as an individual contact. Just the common and Surname is mandatory to have an entry in the system.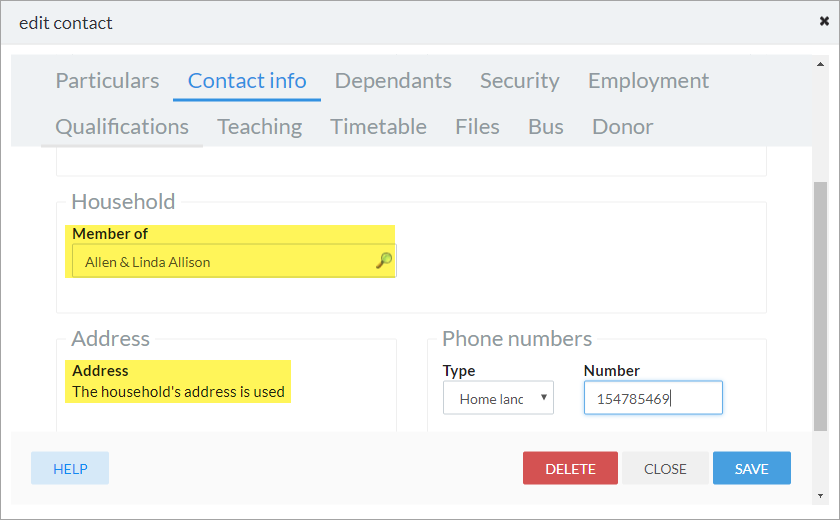 Then go to Contact info, the email can be entered if needed, but it is not mandatory unless they want to have access to the system. In this case we will say that they reside with the family, and share the same household. Searching for the parents household, then the address will be shared across contacts.
Then on the students profile in their Contact tab. The record should be entered as Emergency and Pick Up. This way they can be picked up in the Emergency Contact report, and also Pick Up rights report. However they will not have access rights to MySchool and to the student data held within.

Separated two main guardians
In the case that there are two main guardians then, MySchool can also manage the access. Via the student profile, then NEW CONTACTS can be added to represent this. 

In this case both the Mother and the Father are classed as Main, and have permission to access the MySchool. The stepmother is added as an emergency contact and can pick the student up from school. Both father and step mother share their household details.