Data security and access are key features to MySchool. Understanding user access, and the different roles is essential for new Administrators. Here is a simplified explanation of how it works, and how to create custom groups.
What is a User group?
Simply put, it is a collection of users all with access to modules and features relevant to their role. Users can be attached to any number of user groups if needed. In certain contexts, you can determine the level of access individually. In MySchool, there are Security groups for access, and Distribution groups for communications and reports. The main default groups are :
Students
Guardians (Parents)
Teachers
Staff
These groups are known as inherent groups, students become students when they enrolled in a class.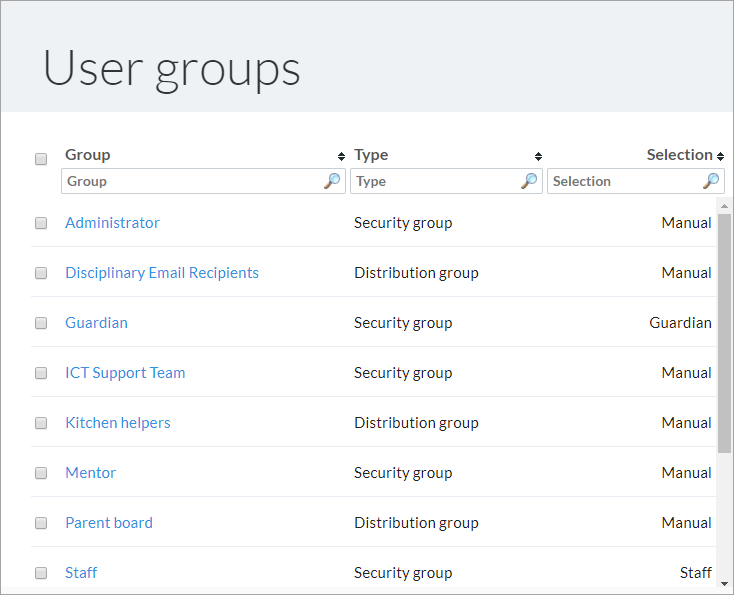 Students
Students have their own profile, with specific data fields. Create new students via the Administer menu header, Classes and student, and Create new student. It is also available via the quick links Student menu option. Have a look at this article which outlines how to create a student profile. Students will have access to their courses, assignments, and schedules via their own Student portal. Students must be enrolled in a class or course.
Guardians
Guardians are users attached to a student profile as a dependant. This creates a relationship between the user and the student. They will inherit the rights of a guardian. They have access only to the student records to which they are attached. They have their own view in the Parent Portal. Access levels are set by permissions.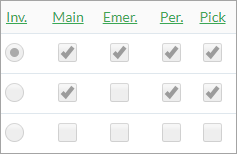 Teachers
Teachers have a user profile as well. Create new users via the Administer menu header, Teachers and Staff, New user. They will inherit Teacher access once they have been enrolled into a class or a course. Their view is restricted in terms of information regarding the students, This is reduced to their own classes, courses, assessments, disciplinary notices, and timetable. This article explains Staff management
Staff
The same process is used to create staff members, as it is for Teachers. The only difference being that staff members will not be attached to classes or courses, and will have access across school and class levels. Determine access levels via the employment tab. Admin staff will need access to new registration and archive levels as well.
This User group can be broken down into different sub groups with specific roles if required. (i.e. admissions admin, medical staff, receptionist etc). It is advisable to have a basic staff access then give users specific access depending on your internal needs.
Administrators
As an administrator in MySchool you will have a full suite of functionalities, enabling you to view all users, all data, edit, modify, delete, and create. Admins can move users from group to group. Create subjects, classes and courses. You are the primary contact between our team and your school.
Other roles
There are special user roles for Mentors and Alumni. Mentors will have access to the Mentor UI, and security access to specific students. Alumni will still have access to MySchool, and be able to follow donation campaigns, and communications.
Why not create your schools alumni network on MySchool. Ask permission to share contact details in the Directory. Organise events for your schools present and past students.
Can Users be attached to different User Groups?
Yes they can. A staff member can have parent and staff access. You can be a Teacher and part of the super user team. If you wish for some Teachers to have access to multiple classes (e.g. Heads of year or subject admins), then we can create a new group and adapt access as needed.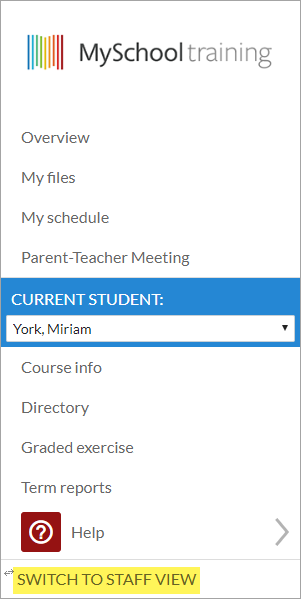 Can we set up our own roles?
Our support team are available to discuss user mapping. There are certain system limitations to specific modules. Start by listing the functions you think the new user group will need e.g. Student contact details, Medical History, Invoices etc). Then we can help you build access rights.