It is quick and easy to create classes manually even in larger schools as an alternative, but if you have a complex configuration, then the import tool can help.
Note that class creation import can be used for rollover or recreating historic enrolment data. The target year field will determine the system year where the classes will be created. If you do not see future years in the drop-down, these can be entered in your year management screen.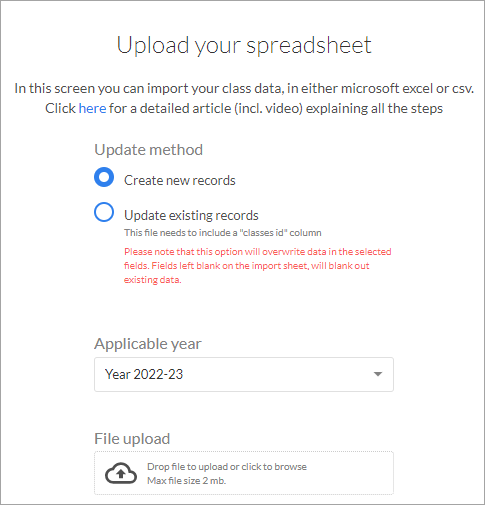 Options for class creation import
The mandatory fields for class creation are Class level and name. The system will use the class level's exact name as the class name's stem, the same as you would do when creating manually.
| | |
| --- | --- |
| Class level in MySchool | Unique name for a class |
| Grade 5 | A |
In the example above, a class will be created in Grade 5 called 'Grade 5A'. There are other fields that can be imported such as Teacher assignment, and if you have a custom class field these can be imported.
Here is a list of the import possibilities;
| | | | |
| --- | --- | --- | --- |
| Legacy system ID | Class level (ID or exact name) | Class name | Teacher 1 (Legacy ID, MSM UID, or Name) |
| Teacher 1 type (Main/Secondary) | Teacher 2 (Legacy ID, MSM UID, or Name) | Teacher 2 types (Main/Secondary) | Custom fields |