Myschool provides a customised reporting tool, which allows users to create their own specific reports. These can be viewed on screen, exported to excel or create labels. The main data points which are stored within your MySchool instance can be extracted using this tool.
How to access
Within the Data reports menu header, search for Quick reports. Click to open the filters. This report is classed as a restricted report, and would be limited to the Administrator level. If you would like other user groups to have access to this tool, then contact MySchool support for further advice.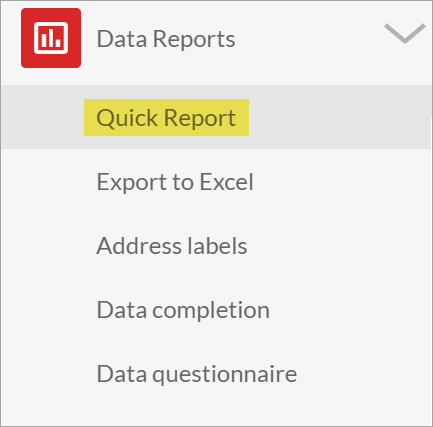 How to filter data from MySchool
There are two stages to creating a report, firstly filtering the population then exporting the details. These stages are separated into tabs for the quick report. The filter stage allows Administrators to target specific data fields in the user profiles, and filter the results. Here are the steps to creating a report;
1) Which user type are you targeting
The two main user groups in MySchool are Students and Users (Guardians, Teachers, Staff). 

Change the drop down, and the options to filter the data fields will change in accordance with the profile.
2) Set up the filter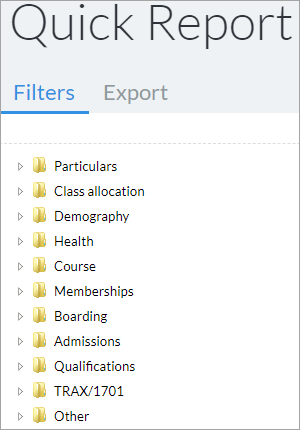 For students, you are provided with a list of folders containing filters. Click to see what filters are available. You can use as many filters as you like across the data folders. Once you have the filter then click to apply this. Further editing will be needed in the second filter window. As an example below, we have requested all new starters (2018/19) who are boys, and are enrolled in Biology grade 8-12.

Don't forget to save the filter to reuse the report. Open the Save/load filter buttons. 
3) Check to see if the data has been found
Below the filter options, you cna find the Apply Filter button. MySchool will produce the list of students/users who fall within your set filters. Use the check boxes next to the students name and send them an announcement if you wish, or use multi update to set them all to a class or a course. Open the first few students in a duplicate window tab, to check that they fall within your target group.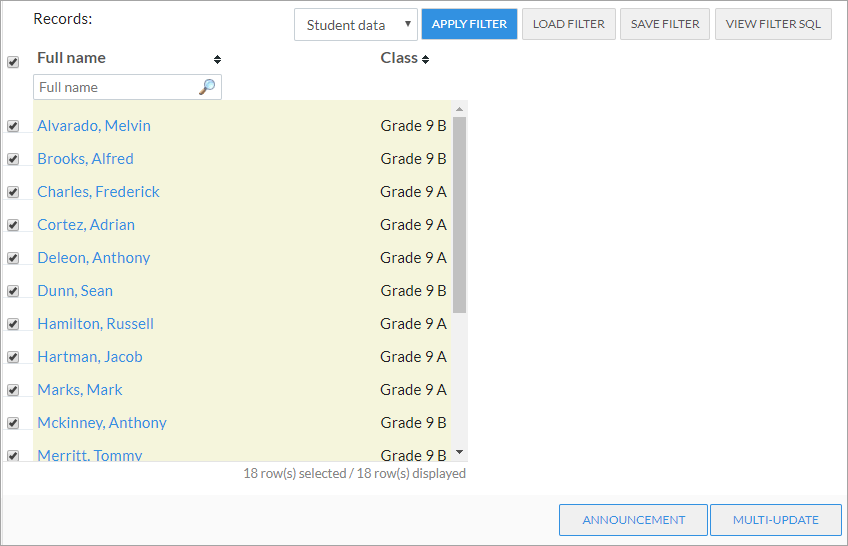 Exporting the data
Once you have the target data, then you can switch tabs and prepare the export stage. This is where you set what data is to be extracted to excel from the target population.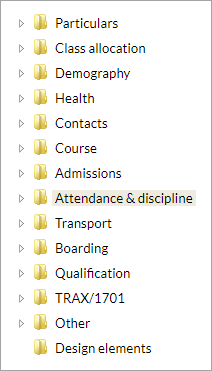 Information such as name, ID, class level, and contact details can be exported for the filtered population group. 

Either export to excel for further analysis or create labels for printing address labels or ID badges for an event. MySchool will extract and produce a simple table of the data, once the Export button has been pressed.
Use cases
If you use custom fields within your user profiles, then these may not be available as filters. You may need to contact our support service to extract the information. However the quick reports has many useful applications:
1) Calculating starters/leavers, and exporting names, and contact details for guardians
2) Exporting consent of in terms of publication or website
3) Create address labels for specifically filtered class levels or groups and organisations.
4) Export reports in connection to demography, and languages. 
If you cannot find the information then maybe this is available under the default, export to excel report.